Main content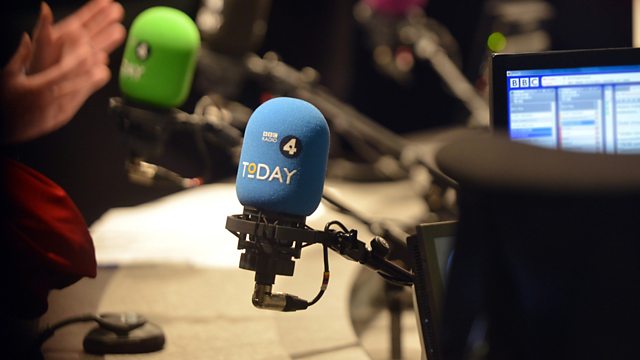 04/03/2015
Morning news and current affairs. Including Sports Desk, Yesterday in Parliament, Weather and Thought for the Day.
Last on
Today's running order
0650
Emergency medicine doctors are claiming that a "derisory" amount of extra money, allocated to help the NHS in England deal with winter pressures, actually reached frontline A&E departments. The Royal College of Emergency Medicine has called for funding to be released directly to hospitals in the future. NHS England said the Royal College's report contained some "blatant inaccuracies". Dr Clifford Mann is president of the Royal College of Emergency Medicine and Barbara Hakin is Chief Operating Officer of NHS England.
0655
In July 2011 Anders Behring Breivik killed 77 Norwegians when he detonated a bomb beside government buildings in Oslo before going on a shooting spree at a youth summer camp in Utoya. How and why did it happen, and why wasn't Breivik stopped sooner? Author Asne Seierstad lived five minutes away from Breivik and in her new book, One Of Us, she attempts to find out how her neighbour became a terrorist.
0710
Average household incomes are back to the levels they were at before the financial downturn struck, the Institute for Fiscal Studies (IFS) has found. But the recovery in living standards has been much slower than after previous recessions and changes to spending patterns suggest that people think their income prospects have taken a permanent hit, the IFS warned. Younger people, people on higher incomes, and people without children tend to have come off worse than those in other groups in recent years, according to the findings. Chris Leslie is Shadow Chief Secretary to the Treasury.
0715
Police in Bristol have until this afternoon to question two people on suspicion of murdering Becky Watts. Officers investigating the 16 year old's disappearance have found body parts at a property in the city. Her stepbrother and his girlfriend are being questioned over the girl's kidnap and murder. John Brain is our correspondent.
0720
MPs have said that the government's financial management of Kew Gardens is a "recipe for failure". A Science and Technology Select Committee report warns that cuts in government spending risk damaging the organisation's science status. Kew is facing a financial black hole of more than £5m a year. Richard Deverell is the Kew Gardens Director.
0725
Care worker Debra Claridge has faced a struggle to be paid money that she is owed by her employer. In 2012, Claridge had called an HM Revenue and Customs hotline to complain that the care company she worked for wasn't paying her the minimum wage. HMRC agreed that she was owed some pay nut 26 months on from that initial phone call her case has yet to be resolved. Zoe Conway reports.
0730
The UKIP leader Nigel Farage is setting out his party's policy on immigration, saying it would set up a migration control commission with a remit to reduce net migration into the UK. UKIP are also announcing a five year ban on visas for unskilled workers and re-stating previous commitments to set up an Australian-style points-based visa system to allow highly-skilled workers to enter the country. In an article in the Telegraph Mr Farage says his party will not set "arbitrary targets, which only result in broken promises". Nigel Farage is the leader UKIP.
0740
In the latest of the programme's look at 100 constituencies in the run up to the election reporter Tom Bateman is in Tottenham looking at how the area has changed since the 2011 riots.
0750
The Israeli Prime Minister Benjamin Netanyahu has launched a fierce attack on the deal being negotiated between Western powers and Iran on Tehran's nuclear programme. Mr Netanyahu said that rather than curbing Iran's nuclear ambitions, the deal would pave the way for Iran to acquire nuclear weapons. To standing ovations, he told Congress that Iran remained America's enemy and the world must stand together to stop what he called its march of conquest, subjugation and terror.  President Obama responded to the speech saying that there was nothing new in it and that President Netanyahu has not offered any viable alternatives. Today John Kerry will travel to Saudi Arabia to reassure Gulf States that any deal would not strengthen Iran's position in the region. Richard Nephew is a former US negotiator on Iran talks and current fellow at the Centre on Global Energy Policy at the Columbia University.
0810
Average household incomes are back to the levels they were at before the financial downturn struck, the Institute for Fiscal Studies (IFS) has found (see 0710). George Osborne is Chancellor of the Exchequer.
0820                                                            
On the final day of his visit to China, Prince William has been focusing on a cause dear to his heart. He's been visiting a centre for the protection of elephants in China's southwest province of Yunnan. Chinese demand for ivory is one of the greatest threats to the elephant in East Africa. But in China poaching is punishable by death and elephants there face a very different threat as our China Editor Carrie Gracie now reports.
0830
The parents of a murder victim, who last summer heard a judge question the significance of impact statements given by bereaved families, say they have been let down again by both the Parole Board and the Ministry of Justice. The judge's remarks came at a Parole Board hearing to decide whether one of the killers of Geraldine and Peter McGinty's son should be moved to an open prison. In the controversy which followed the Justice Secretary, Chris Grayling, ordered a review of the case and told the family they would be kept informed. They have now learned that the case has been re-considered without their knowledge and both their son's killers have been recommended for a move to an open prison. Geraldine and Peter McGinty join us.
0835
Today is the third day of Iraq's offensive against Islamic State positions around Tikrit – the biggest operation yet against a stronghold of the Sunni militants. Islamic State militants are reported to be well dug-in and Iraqi government forces and allied Shia militia have already sustained a number of casualties. Rafid Jaboori is spokesperson for the Iraqi PM.
0840
Benjamin Netanyahu stood up in front of the US Congress yesterday to lambast Iran as a global threat. But at the same time an Iranian military commander was helping coordinate the fight against IS in Iraq, and the country seems to have been a willing partner in talks about its nuclear programme. What are we to make of them? Our reporter Kevin Connolly reports.
0845
The election is getting closer and we can expect the political parties to throw a lot of numbers around in the next sixty days or so. But will they be the right numbers, used in the right order? The UK Statistics Authority is the watchdog charged with making sure there's no dodgy use of official statistics. What's its message for politicians, and for voters, as we approach the campaign season? Sir Andrew Dilnot is chairman of the UK Statistics Authority.
0850
Some university vice chancellors have been given pay rises of more than over 10% and been allowed to run up bills amounting to thousands of pounds for hotels and flights, often travelling in first or business class, according to a report by the union which represents lecturers.  The University and College Union (UCU), which obtained the data through freedom of information requests, said staff and students would be "amazed" at the size of university leaders' salaries and the "largesse" displayed by some in expenses.  The findings come at a time when vice-chancellors' salaries are increasingly under the spotlight. Last year, ministers publicly criticised spiralling pay, saying they had serious concerns about the "substantial upward drift" of salaries, and that university leaders should show "much greater restraint". Sally Hunt is General Secretary of the Universities and Colleges Union (UCU).
0855
The artist who painted an official portrait of Bill Clinton has revealed that he worked a secret reference to Monica Lewinsky's infamous blue dress (the stains on which proved the pair had had sexual relations) into the artwork. Nelson Shanks, who also painted portraits of Princess Diana and Pope John Paul II, says the shadow cast in the portrait is supposed to be of Lewinsky. Shanks says the Clintons know about it and are trying to get it removed from the National Portrait Gallery. Daphne Todd is a former president of Royal Society of Portrait Painters and Georgina Adam is editor-at-large of the Art Newspaper & Financial Times columnist.
All subject to change.
Broadcast