Main content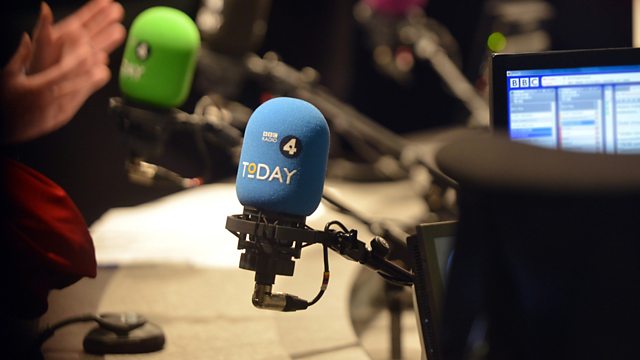 02/03/2015
Morning news and current affairs. Including Sports Desk, Weather and Thought for the Day.
Today's running order
0645
Plans are being unveiled in the UK today to generate electricity from the world's first fleet of tidal lagoons. The lagoons will create power by capturing the tides behind giant sea walls, then using the weight of the water to power turbines. One lagoon at Swansea is already awaiting government approval with detailed plans for a second in Cardiff being published today. The other prospective sites are Bridgwater, Newport, Colwyn Bay and Cumbria. Anglers oppose the plans but the Energy Secretary, Ed Davey, has told the BBC he hopes to back them as they could produce 8% of the UK's electricity with minimal pollution. Roger Harrabin reports.
0650
Australia, Indonesia and Malaysia are to trial a new method of tracking planes, almost a year after a Malaysia Airlines flight disappeared. The trial system enables planes to be tracked every 15 minutes, an increase on the current 30 to 40 minutes. It uses technology already installed on most long-haul jets and the system is expected to increase the tracking rate to five minutes or less if there is any deviation from a plane's expected route. Sir Angus Houston is chairman of Airservice Australia.
0655
Prince William has presented China's president with an invitation to visit Britain this year. The Duke of Cambridge is the most senior British royal to visit China since the Queen's own tour of China nearly 30 years ago. Our China Editor Carrie Gracie reports from Beijing.
0710
Gita Sahgal made headlines in 2010 when she was left her job at Amnesty International in protest against the charity's association with Mozzam Begg and his organisation Cage – known then as Cageprisoners. She argued that Amnesty's women's rights campaign was being undermined by its work with an organisation she described as being ideologically 'pro jihadi.' Gita Sahgal is founder of the Centre for Secular Space, formerly head of Amnesty International's Gender Unit.
0715
Of the 3 West African countries at the centre of the Ebola epidemic, it was Liberia that was hit hardest; more than 4000 people have died. There have not been any confirmed cases now for more than a week in Liberia, and the Ebola treatment units are mostly empty. Our Africa correspondent Andrew Harding has been out with Liberia's 'Ebola detectives', as they attempt to bring the caseload down to zero.
0720
The Royal Mint unveils the new image of Her Majesty the Queen that will adorn one side of the nation's coins at the National Portrait Gallery later this morning. This new effigy is only the fifth portrait to have been created during The Queen's 63 year reign. Dr Kevin Clancy is director of the Royal Mint Museum.
0730
New regulations to crack down on motorists driving under the influence of drugs take effect from today across England and Wales. Drivers will be prosecuted if they are caught exceeding new legal limits which have, for the first time, been laid down for eight illegal drugs and eight prescription drugs. The levels for the illegal drugs, which include heroin, cocaine and cannabis, virtually mean there will be zero tolerance for drivers apprehended with these substances in their system. It's hoped it will now be easier for police to catch and convict drug drivers - with the introduction of roadside testing kits. Natasha Grove is mother of Lillian a 14-year-old who was killed by a driver on cannabis, who has campaigned for stricter legislation, and whose campaign, called Lillian's law, prompted the law change and Professor David Taylor, Professor of Psychopharmacology at King's College, London, member of the Department for Transport advisory panel on drug driving.
0740
There's considerable anticipation surrounding the new novel from Kazuo Ishiguro - because it's his first for ten years. One of Britain's most celebrated writers - awarded the Booker prize for The Remains of the Day which was later turned into an Oscar-nominated film. His new novel, which is called The Buried Giant, is unlike anything he's written before. It's a fantasy fable set in the Dark Ages - and features ogres, pixies, knights and dragons. Our arts correspondent Rebecca Jones has been to meet him.
0750
Thousands of people have marched through Moscow to pay tribute to the murdered Russian opposition politician, Boris Nemtsov. The protesters chanted "Russia without Putin" and carried banners saying "I am not afraid". The protestors walked in the rain past the spot on a bridge near the Kremlin where Mr Nemtsov was shot dead on Friday. There was also a large demonstration in St Petersburg. His supporters have blamed the government for the murder. President Putin denies involvement and has promised to find Mr Nemtsov's killer, calling his death a provocation. The US Secretary of State, John Kerry, urged Russia to carry out what he called a thorough, transparent and real investigation. Mikhail Kasyanov is co-leader of the opposition People's Freedom Party, of which Nemtsov was another co-leader, and former prime minister of Russia. He led the march on Sunday
0810
The former head teacher of the secondary school attended by the man identified as Jihadi John has told the BBC the school should not be blamed for his radicalisation. Mohammed Emwazi went to the Quintin Kynaston academy in north-west London. Speaking for the first time since he was identified as Jihadi John, the school's former head teacher insisted he had shown no significant problems while at the school. It's been reported that two other pupils from the school also went to fight in Somalia and Syria. Over the weekend, the Department for Education said officials would review any evidence from the school linked to extremists to see if any lessons can be learned for dealing with people who may become radicalised. BBC's Special Correspondent Lucy Manning and Jo Shuter, former head teacher of Quintin Kynaston academy in London (2002 - 2013).
0820                                                            
Will our jobs be taken over by robots? For a long time it's been debated hypothetically... but is it now becoming reality - with driverless cars, drone deliveries and robotic medical processes all being seen as the future. Tonight, the subject will be debated in London in an event organised by Intelligence Squared, entitled "Be Afraid, Be Very Afraid: the robots are coming and they will destroy our livelihoods". Two of the debaters are here to preview for us the arguments they will be making for and against. Andrew Keen is an internet entrepreneur and author of "The Internet Is Not The Answer", he is in favour of the motion and Pippa Malmgren is co-Founder of H Robotics, which makes flying drones for commercial use, she is against the motion.
0830
Today is National Offer Day when more than half a million children in England will learn if they have won a place at the secondary school of their choice. In Sevenoaks in Kent the issue is particularly fraught as there are no grammar schools in the town and parents have been campaigning for years to get one. Standing in the way are rules which prevent the establishment of new grammar schools; it was thought a way had been found to get around this when two existing grammar schools came up with rival plans to set up annexes in Sevenoaks, but both were turned down by the former Education Secretary, Michael Gove. But now one of the grammar schools has come up with another, revised proposal and a decision is expected on that soon from Mr Gove's successor, Nick Morgan. As part of our visits to 100 constituencies over 100 days, Sanchia Berg reports from Sevenoaks and we speak to the Conservative leader of Kent County Council, Councillor Paul Carter.
0840
Gita Sahgal made headlines in 2010 when she was left her job at Amnesty International in protest against the charity's association with Mozzam Begg and his organisation Cage – known then as Cageprisoners (see 0710). Steve Crawshaw is deputy director of Amnesty International.
0850
Four punk rockers with learning disabilities will compete for Finland in the Eurovision Song Contest semi-final after winning the Nordic country's national qualifying contest. The group Pertti Kurikan Nimipaivat, or PKN, was formed in 2009 at a workshop organized by an association that provides support for people with disabilities. The members have diagnoses such as autism and Down's syndrome. The group were chosen by Finnish viewers on Saturday and have now been ranked by bookmakers as among the favourites for the contest. Sami Helle is PKN's bass player.
0855
As the General Election approaches, Panorama releases a new series - "What Britain Wants". It is divided in 4 episodes; Love, Live, Work and Hope, and explores what makes UK voters tick: relationships and a sense of community; a secure home; a secure job; and a belief life will get better for us and our children. Values that used to define the good life in Britain for generations. Danny Kruger is former Tory advisor and now Chief Exec of Only Connect, a crime prevention charity and Hilary Cottam is a social entrepreneur, founder and Chief Exec of Participle, an organisation providing services for social health and wellbeing.
All subject to change.