Main content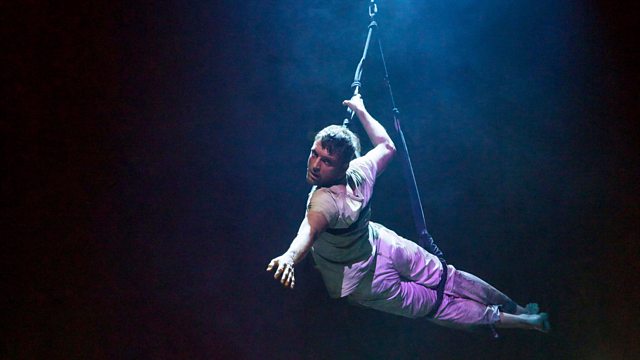 Monteverdi's Orfeo
From London's Roundhouse, a Royal Opera production of Monteverdi's opera Orfeo, with Gyula Orendt in the title role and Mary Bevan as Euridice. Christopher Moulds conducts.
Claudio Monteverdi's first large-scale opera "Orfeo" from the Roundhouse in North London, as the Roundhouse and the Royal Opera collaborate for the first time in this new production by the director, Michael Boyd.
Hungarian baritone, Gyula Orendt sings the title role in this story of Orfeo, the musician who travels to the underworld in a valiant but failed attempt to bring his wife, Euridice, back to life. Soprano, Mary Bevan sings the roles of Euridice and Music and mezzo-soprano, Susan Bickley is the Messenger.
Emotions run high in the music and text, both intertwined like vines, but it is love and its expression of thrilling elation through to deepest despair that is at the core of Orfeo's psychological journey. Christopher Moulds directs a young cast of soloists, a chorus from the Vocal Department of Guildhall School of Music and Drama and musicians from the Orchestra of Early Opera Company in this production which is sung in English in a new translation by the poet Don Paterson.
Orfeo.....Gyula Orendt (Baritone)
Music/Euridice/Echo.....Mary Bevan (Soprano)
Silvia (Messenger).....Susan Bickley (Mezzo-soprano)
First Shepherd.....Anthony Gregory (Tenor)
Second Shepherd/Apollo.....Alexander Sprague (Tenor)
Third Shepherd.....Christopher Lowrey (Countertenor)
Charon.....James Platt (Bass)
Proserpine.....Rachel Kelly (Mezzo-soprano)
Pluto.....Callum Thorpe (Bass Baritone)
Nymph.....Susanna Hurrell (Soprano)
Early Opera Company Orchestra
Christopher Moulds (Conductor).
Synopsis
Prologue
Euridice/Music addresses the audience and a court presided over by Pluto and Apollo. She introduces the mythical singer Orfeo and calls for silence while his story is told.
Act I
Her story begins with the wedding day of Orfeo and Euridice. A Pastor orders their companions to celebrate with songs. The friends praise Hymen the god of marriage. Orfeo is overjoyed that Euridice has married him, and she promises eternal devotion to him. The Pastors order the company to the temple to celebrate the marriage. Euridice leaves with her friends to prepare for the wedding night. Orfeo returns from the temple with the Pastors and his friends;
everyone is delighted at the singer's happiness.
Act II
Orfeo's celebrations continue and he sings that marriage to Euridice has turned his sorrow into joy. The First Pastor urges him to sing more, but before Orfeo can do so Euridice's friend Silvia arrives with dreadful news: Euridice has been bitten by a snake while gathering flowers and has died, calling out Orfeo's name. Orfeo's companions lament the cruelty of fate, and Silvia determines on a life of solitude. Orfeo declares that he will bring Euridice back from the dead and leaves for the Underworld.
Act III
One of the Pastors guides Orfeo to the gates of the Underworld, but can go no further with him and leaves. Charon, ferryman of the River Styx, will not allow Orfeo to enter the Underworld, so Orfeo attempts to charm him with song. Charon is unmoved, but Orfeo manages to lull him with his lyre and crosses the Styx. Pluto's court sing in praise of man's achievement.
Act IV
Orfeo's pleas have moved Pluto's wife Proserpina, who begs Pluto
to release Euridice. Pluto agrees, making two conditions: that Orfeo
does not turn to look at Euridice until they have returned to the upper world, and that Proserpina does not neglect her marriage bed.
Orfeo leads Euridice away from the Underworld, praising the power
of his music. However, he soon finds himself doubting Pluto's promise. Is Euridice really following him? Might she be seized and taken back to the Underworld? There is a mysterious noise, and Orfeo turns to see if Euridice is there. Euridice sings her final farewell to Orfeo and returns to the realms of the dead, as Orfeo is forced back into the upper world, alone.
Act V
Orfeo returns to the place where Silvia brought the news of Euridice's death, and bitterly determines that he will never fall in love again. Apollo arrives and rebukes Orfeo for being a slave to his emotions. He invites Orfeo to leave for heaven, assuring him that he will see the form of Euridice in the stars. Orfeo complies.