Main content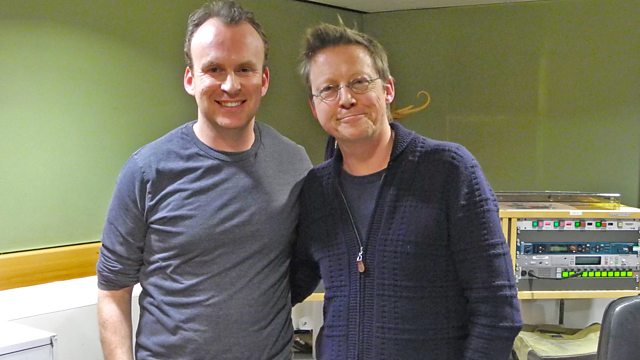 Matt Haig
Author Matt Haig talks to Simon about his book Reasons to Stay Alive, described as a moving, funny and joyous exploration of how to live and love better.
Author Matt Haig talks to Simon about his book 'Reasons To Stay Alive' which is described as a moving, funny and joyous exploration of how to live better, love better and feel more alive.
Aged 24, Matt Haig's world caved in and he could see no way to go on living. 'Reasons To Stay Alive' tells the true story of how he came through this crisis, triumphed over an illness that almost destroyed him and learned to live again.
Last on
Music Played
Elvis Presley

vs

Junkie XL

A Little Less Conversation

Bryan Ferry

Driving Me Wild

Haircut One Hundred

Love Plus One

Pelican West - Deluxe Edition.
Cherry Pop.
002.

Kirsty MacColl

Don't Come the Cowboy With Me Sonny Jim!

Rosanne Cash

Sea Of Heartbreak (feat. Bruce Springsteen)

David Bowie

'Heroes'

David Bowie - Best Of Bowie.
EMI.

Eric Church

Springsteen

Chief.
Wrasse Records.
1.

First Aid Kit

Master Pretender

Stay Gold.
Sony BMG.
001.

Zac Brown Band

Chicken Fried

Shaun Escoffery

Nobody Knows

In The Red Room.
Dome Records.
3.

Little Milton

All Around The World (Grits Ain't Groceries)
SUPPORT ORGANISATIONS
Samaritans is available for anyone struggling to cope round the clock, every single day of the year. They provide a safe place to talk where calls are completely confidential. Get in touch by phone or email or find the details for the local branch online
Phone: 08457 90 90 90
Email: jo@samaritans.org
PAPYRUS and HOPELineUK
If you're a young person and you're considering suicide, or you feel depressed or like you're not coping with life, HOPELineUK, provided by the organisation PAPYRUS, is a confidential helpline service staffed by trained professionals who can give support, practical advice and information.
PAPYRUS can also offer help and advice if you're concerned about someone you know.
Helpline: 0800 068 41 41
Email pat@papyrus-uk.org
Text 07786 209 697
CALM, the campaign against living miserably is a charity aimed at preventing male suicide in the UK. Calls to their helpline are anonymous, confidential, free from a landline and will not appear on itemised bills.
Helpline: 0800 58 58 58 (daily 5pm-midnight)
Lifeline is the Northern Ireland crisis response helpline service for people who are experiencing distress or despair. No matter what your age or where you live in Northern Ireland, if you are or someone you know is in distress or despair, Lifeline is here to help.
Freephone: 0808 808 8000 (24 hours a day)
Community Advice & Listening Line offers emotional support and information/literature on mental health and related matters to the people of Wales. Anyone concerned about their own mental health or that of a relative or friend can access the service. The C.A.L.L. Helpline offers a confidential listening and support service.
Freephone: 0800 132 737, or text "help" to 81066.
Breathing Space is a free, confidential phone and web based service for people in Scotland experiencing low mood, depression or anxiety. They are there in times of difficulty to provide a safe and supportive space by listening, offering advice and information.
If you think you need Breathing Space call 0800 83 85 87 (6pm til 2am Monday to Thursday and 24 hours at the weekend).  A BSL service is also available via the website.
www.breathingspacescotland.co.uk
Survivors of Bereavement by Suicide exists to meet the needs and break the isolation of those bereaved by the suicide of a close relative or friend.
Phone:  0300 111 5065 (9am to 9pm daily)
Family Rights Group is a charity in England and Wales that advises families whose children are involved with or require children's services because of welfare needs or concerns.
Their advice service is available if you are a parent, friend or relative and social workers are involved in your child's life, or you need extra support from Children's Services: 0808 801 0366.
Email: advice@frg.org.uk
Home-Start is a national family support charity which helps families with young children deal with whatever life throws at them, helping them to build better lives for their children. They provide support in a variety of situations including isolation, bereavement, domestic abuse, multiple births, mental ill health and depression. Home-Start will also help where there is poverty, poor or inappropriate housing, drug and alcohol addiction, illness or disability.
Information Line: 0800 068 63 68
Changing Lives provides specialist support services for thousands of vulnerable people and their families across the UK. They work with people who are or have been homeless, people in addiction and recovery, and a range of other problems by helping people in vulnerable situations get the help they need to make positive changes to their lives, as well as offering specialist support services for women and families and help with employment. Services offered vary from region to region.
Phone: 0191 273 8891
http://www.changing-lives.org.uk
The Freephone 24 hour National Domestic Violence Helpline, run in partnership between Women's Aid and Refuge, is a national service for women experiencing domestic violence, their family, friends, colleagues and others calling on their behalf.
Helpline: 0808 2000 247
www.nationaldomesticviolencehelpline.org.uk
The Child Death Helpline is a national charity that offers support to anyone affected by the death of a child of any age, from prebirth to adult, under any circumstances, however recently or long ago.  The Helpline is staffed by bereaved parent volunteers supported by a professional team.
Helpline: 0800 282 986 and Freephone for mobiles: 0808 800 6019 (every evening 7pm to 10pm; weekdays 10am to 1pm; Tuesday and Wednesday 1pm to 4pm)
The Compassionate Friends is an organisation of bereaved parents and siblings offering support, understanding and comfort to others similarly bereaved after the death of a child, of any age, from any cause.  The charity offers a national helpline, staffed by bereaved parent volunteers, a website, online community forum, local one-to-one and group support, retreats and supportive weekends, publications and leaflets.
Helpline: 0845 123 2304 (daily from 10am to 4pm and 7pm to 10pm)
Email: helpline@tcf.org.uk
SANE provides emotional support and information to anyone affected by mental illness. Their services are confidential and whatever your problems or concerns, you will receive non-judgemental emotional support. There are a number of ways to reach them:
Helpline: 0845 767 8000  (available 6pm – 11pm every day)
Textcare: http://www.sane.org.uk/what_we_do/support/textcare/
Support Forum: http://www.sane.org.uk/what_we_do/support/supportforum/
Website: http://www.sane.org.uk
SANE on Suicide is a resource for anyone affected by suicide or who'd like to understand more about it
http://www.sane.org.uk/sane_on_suicide
Depression Alliance brings people together to end the loneliness and isolation that so often comes with depression. Their support network is a safe, friendly and easy way to share understanding, information and friendship through depression and recovery. Whether you're currently going through a period depression or you're exploring recovery, they can put you in touch with others who understand; this may be through their self help groups, or through Friends in Need, a supportive community for people living with depression.
Depression Alliance is a leading charity in the UK for anyone affected by depression, and they can help you meet and chat to others in your local area, join a self help group, and learn more about depression, treatment and recovery. They also campaign to end the stigma of depression and to raise awareness of what it means to live with it.
Email: information@depressionalliance.org
Friends in Need
Mind is a leading mental health charity in England and Wales. It provides advice and support to empower anyone experiencing a mental health problem. The charity campaigns to improve services, raise awareness and promote understanding. The Mind infoline provides information on a range of topics including types of mental health problem, where to get help, medication and alternative treatments and advocacy. They are also able to provide details of local help and support.
Phone: 0300 123 3393 (weekdays 9am - 6pm)
Email: info@mind.org.uk
Rethink Mental Illness is a charity that believes a better life is possible for millions of people affected by mental illness. They can provide practical advice and information about issues such as therapy and medication, benefits, debt, criminal justice and your rights under the Mental Health Act, as well as operating support groups across England.
Rethink Information and Advice Line: 0300 5000 927 (Monday-Friday 10am-2pm)
Email: advice@rethink.org
Drinkline is the National Alcohol helpline. If you're worried about your own or someone else's drinking, you can call the free helpline in complete confidence. They can put you in touch with your local alcohol advice centre for help and support.
Helpline: 0300 123 1110
Broadcast