Main content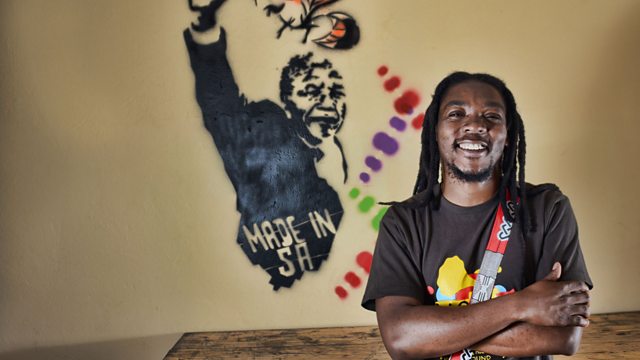 Poet Thabiso Mohare looks at the literary and spoken word scenes in South Africa 20 years into democracy, and the challenges facing writers now.
A picture of South Africa now, as seen by a new generation of writers and poets.
In the second programme of the series Johannesburg-based poet Thabiso Mohare looks at the challenges, tensions and solutions facing South African writers. He talks to publishers, writers and poets about the issue of a small book-reading culture being exacerbated by the high cost of books in the country, and looks at how the spoken word scene has grown in the past twenty years to provide an outlet for new voices. And he travels to the University of Stellenbosch, once the intellectual engine-room of apartheid, to talk to two poets who have managed to create a rare thing: spoken word sessions in a township that are attended by a truly diverse and mixed audience of poets and aspiring poets, where poetry in any of the eleven official languages of South Africa is welcomed.
In a three part series, poet Thabiso Mohare ('Afurakan'), looks at South Africa through the themes the post-apartheid generation of writers are choosing to engage with in their work. These authors, poets and playwrights are exploring the past and present, from apartheid's legacy to political corruption, and the chaos of the inner city; some are exorcising ghosts, and some tackling current issues, or looking to an imagined future. There is plenty to write about after the end of the struggle. Other outlets for storytelling too - poetry and spoken word events, plugging into older traditions - are supporting the flowering of a diversity of voices as hoped for when the political landscape changed so radically in 1994, with writers of all ethnicities pitching in to the fray. Radio 4 explores the range of voices now being heard, some of the challenges they face, and the picture they present.
Featured
Poets in order of appearance

Extracts of poems by Adrian van Wyk, Vuyisa Zibeko, Vuyo-Booi, Kyle Louw, Verrasings

'Reaching Shore' by Pieter Odendaal
British Council interactive conversations on contemporary literature, spoken word and poetry scenes in South Africa.