Main content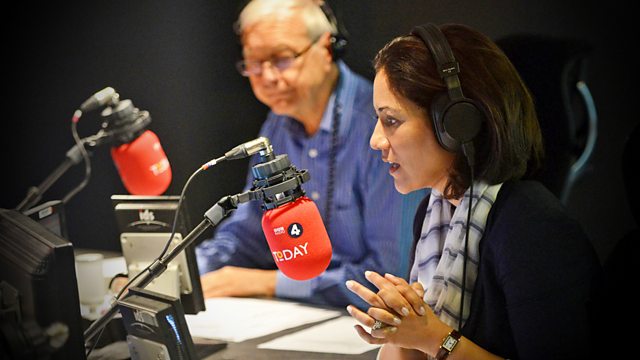 25/02/2015
Morning news and current affairs. Including Sports Desk, Yesterday in Parliament, Weather and Thought for the Day.
Clips

Today's running order
0650
Crucial details of exactly how the Government's overhaul of retirement savings is set to work are still missing with less than six weeks to go before people are handed new freedoms over their pension pots, the director general of the Association of British Insurers (ABI) will warn in a speech later today. Huw Evans is director general of the ABI.
0655
A former Marine was convicted yesterday in the deaths of the ``American Sniper'' author and another man at a shooting range two years ago, as jurors rejected defence arguments that he was insane and suffered from psychosis. The trial of Eddie Ray Routh has drawn intense interest, in part because of the blockbuster Oscar-nominated film based on former Navy SEAL Chris Kyle's memoir about his four tours in Iraq. Alistair Leithead is our correspondent in Los Angeles.
0710
New rules making it easier to prosecute companies responsible for nuisance marketing calls are being announced by the government today. Claimants will no longer need to prove 'substantial damage or substantial distress' has been caused by the calls before the Information Commissioner acts against companies found to making nuisance calls. And the government will look at ways to hold 'board level executives responsible'. Richard Lloyd is executive director of the consumer group Which?
 0715
British soldiers are to be deployed in Ukraine to advise and train Ukrainian forces (David Cameron announced this). Meanwhile Russian-backed rebels in eastern Ukraine say they've begun pulling back heavy weapons from the frontline, in accordance with the peace plan. But Ukraine says it fears the rebels are moving their heavy weapons towards the strategic port of Mariupol. Rory Stewart MP is Chairman of the Defence Select Committee
0720
David Blunkett, who introduced tasers when he was Home Secretary, has called for a review of their use. He made his comments after Home Office figures obtained by 5 Live Breakfast showed that more than 400 under 18s were tasered in 2013 in England and Wales. (431 children were tasered in 2013, an increase of 37% on 2012). The Government says the figures may not be wholly reliable as some of the ages of people tasered are estimates. BBC reporter Rowan Bridge and Ken Marsh is vice-chairman of Metropolitan Police Federation
0730
A new BBC poll suggests an overwhelming majority of British Muslims oppose the use of violence against people publishing images of the Prophet Mohammed. A 1000 people of Muslim faith were surveyed in the weeks that followed the Charlie Hebdo attacks in Paris.  It also found that 1 in 4 Muslims have some sympathy with the motives behind the shootings.  Nearly half said they felt this country was becoming less tolerant of Muslims, and prejudice against Islam was making it more difficult for them. Reporter Sima Kotecha spoke to some Muslim college students in Bradford and Shaikh Tauqir Ishaq is a senior member of the Muslim Action Forum.
0740
The Bosnian artist Šejla Kameric was commissioned in 2013 by the Wellcome Collection to make a new piece of work for the exhibition Forensics: The anatomy of crime. Her installation, which opens on Thursday at the Wellcome Collection in London, is the culmination of 2 and a half years of detailed research and features over 30,000 individual video clips recording images, documents, news reports in an attempt to piece together the tragedy of the war and its murdered and missing. Justin Webb went to meet her.
0750
Greater Manchester is to take control of its entire £6 billion NHS budget as part of English devolution. The ground breaking agreement will be confirmed by the Chancellor George Osborne on Friday. Hugh Pym is the BBC Health editor and Philip Blond is director of ResPublica, an independent think tank, which proposed the devolution of health care spending to Manchester in their DevoManc report in September last year.
0810
A new BBC poll suggests an overwhelming majority of British Muslims oppose the use of violence against people publishing images of the Prophet Mohammed (see 0730). Reporter Sima Kotecha has been speaking to people in Bradford and Baroness Sayeeda Warsi who was until last year Minister of State for Faith and Communities, and former foreign office minister before that. Baroness Warsi is also former co-chair of the Conservative Party and was the first Muslim to serve in a British cabinet.
0820
The BRIT Awards take place tonight - the music industry get together to celebrate the best artists and albums of the past year. Ed Sheeran, Clean Bandit and Sam Smith are among the nominees. However, 38 years since it launched, the main awards categories haven't changed; they remain 'Best Album', 'Best Group' etc. Have the Brits lost touch with the way modern music is created and shared? Edward Adoo is a broadcaster & Evening Standard columnist and Clara Amfo is the presenter of BBC Radio 1's Chart Show.
0830
This week is six months since the ceasefire in the seven week conflict between Israel and the Palestinians. Just after the conflict began, we spoke to two women on different sides of the Gaza border. Now, with Gaza still in ruins and perpetual fears that the conflict will re-ignite, how do they feel about the aftermath of the war? Lyse Doucet is  Chief International Correspondent and in the destroyed Gazan neighbourhood of Shejaiya, one of the poorest and most overcrowded in Gaza and Abeer Barakat, a mother-of-four, lived through the war in Gaza and Adele Raemer is a mother and grandmother living in a kibbutz just over the border from Gaza.
0840
The FTSE 100 share index has hit a new high, passing through the previous record set on 30 December 1999. Robert Peston is the BBC's Economics Editor.
0845
If some early polling is to be believed, a Northern Ireland political party could hold something close to the balance of power after the General election. If the Democratic Unionists secure eight or more seats, Labour and the Conservatives may well explore the possibility of securing their support. Their leader Peter Robinson and Deputy Leader Nigel Dodds have already suggested that they've been wooed by the big parties. But what would the cost be, and what is on their shopping list? As part of our visits to 100 seats in the 100 days before the election, Andy Martin's report begins in the Unionist heartland of Shankill Road in west Belfast.
0850
A "game-changing" trial has shown that rates of HIV infection can be slashed by treating actively gay men with an anti-viral drug when they are healthy. The study, conducted in England, provides the first evidence that prophylactic (barrier) HIV treatment is highly effective in a real-world setting. It showed that taking the HIV drug Truvada - when people don't have HIV can reduce the risk of infection in men-who-have-sex-with-men (MSM) by as much as 86%. Dr Mitzy Gafos is senior social scientist at the Medical Research Council.
0855
Green Party leader Natalie Bennett has apologised to party members for what she said was a "very bad" radio interview about its housing policy. Ms Bennett said she had suffered a "mind blank" during the "excruciating" exchange, where she tried to explain how the party would fund a pledge of 500,000 new social rental homes. She was speaking as the Greens launched their election campaign, with a press conference later in the day. The embarrassing episode has led some to question if the Greens are really a credible political party. Professor Jane Green is Professor of Political Science at the University of Manchester and Jim Waterson is Deputy Editor of Buzzfeed who was at yesterday's press conference.
All subject to change.