Main content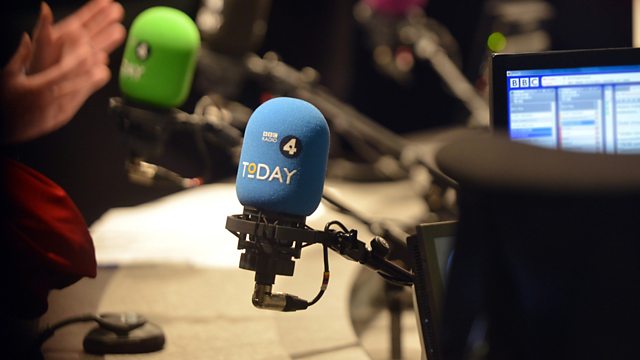 24/02/2015
Morning news and current affairs. Including Sports Desk, Yesterday in Parliament, Weather and Thought for the Day.
Last on

Clips

Today's running order
0655
The 2022 World Cup in Qatar can only be held in November and December, says the head of FIFA's taskforce looking into possible dates for the tournament. Sheikh Salman bin Ebrahim Al-Khalifa has ruled out a May tournament, the European leagues' preferred option. Qatar's bid proposed a summer tournament, but temperatures in the Gulf state are believed to pose a potential risk to players' health. Our sports editor Dan Roan.
0710
The Green Party launch their election campaign today. Along with some of the other political parties they are announcing their election themes, which include "ensuring that every young person that wants to can access quality education" and "rebuilding our economy so everyone gets a fair share". The forthcoming election will see the most number of green candidates standing – in almost 90% of constituencies. Natalie Bennett is Leader of the Green Party.
 0715
Researchers have found that black rats may not have been to blame for the outbreaks of bubonic plague that devastated medieval Europe, as previously thought. They say gerbils may have been responsible. The scientists found outbreaks of the disease in Europe were strongly linked to periods of warm and wet weather in Central Asia - conditions in which the population of gerbils, and the fleas living on them, boomed. The rodents passed the disease onto domestic animals and traders travelling along the Silk Road. The research was published in Proceedings of the National Academy of Sciences. Professor Nils Christian Stenseth of the University of Oslo, is one of the authors of the research.
0720
Legislation allowing DNA from three people to be used in the creation of embryos will be debated by the House of Lords today. The Commons voted to approve the measure earlier this month. For the families affected by mitochondrial disease, this is the only option for a healthy child. While some people argue changing mitochondria is akin to a blood transplant the implications are much wider, some people argue we are now on a slippery slope to further genetic modification of children. Shahana Hashmi, mother of Zain Hashmi who was diagnosed with the blood disorder beta thalassaemia major when he was four months old.
0730
Turkey criticised Britain on Monday for taking too long to inform it about three London schoolgirls who travelled to Turkey last week possibly en route to join Islamist militants in Syria. The three London schoolgirls arrived at Istanbul airport on Feb. 17 and British authorities, concerned that they were travelling to join Islamic State fighters, informed Ankara on Feb. 20. There have been relatively large numbers of girls travelling to Syria via Turkey in order to become so-called 'jihadi brides'. Anira Kokhar is spokesperson for the family of Yusra Hussien, who fled to Syria last year and Mussurut Zia is general secretary of the Muslim Women's Network.
0740
How will the fall in oil prices affect Russia? The question is of pretty obvious importance given the ambitions of President Putin and the sense of grievance that many Russians have about the way the world treats them. The BBC's economics editor Robert Peston went to Moscow.
0750
Lincoln could become the first place in the UK to ban legal highs today. The council is due to vote on proposals to stop the use of the substances in public places under a Public Space Protection Order (PSPO). It's expected that the plans will be approved, and will come in to force on 1st April. Sam Barstow is Service Manager for Public Protection and Anti-Social Behaviour in the City of Lincoln Council and Julie, who runs Bulldogs Bong shop in Blackpool.
0810
Federica Mogherini was appointed as the EU's high representative of Foreign Affairs in November. She takes over at a time that many see as critical for Europe is terms of influence over foreign policy. With a threat from Russia in the East and growing instability in the Middle East – how should Europe now collectively respond to these international problems? Today Mogherini is in London to meet several senior British Ministers including the Foreign Secretary, Philip Hammond and the Defence Secretary, Michael Fallon. Later this evening she will make a speech about how the EU can best respond foreign affairs and to security challenges in the EU's neighbourhood.
0820
A new exhibition salt and print photography will open at Tate Britain tomorrow. It will be the first exhibition in the UK featuring the earliest form of paper photography. In the 1840s and 50s, the salt print technique, which was invented in Britain, introduced a revolutionary new way of creating photographs on paper. The ninety photographs are among the few fragile salt prints that survive and are seldom shown in public. Carol Jacobi is the curator of the Salt and Silver: Early Photography 1840-1860 exhibition at the Tate and Dr Michael Pritchard is historian of photography & Director General, Royal Photographic Society.
0830
Researchers from King's College London have shown for the first time that eating peanut products early in life can prevent young children from becoming allergic to them. The trial involved more than five-hundred babies who were at high risk of developing peanut allergy. Allergy specialists have described the results as "striking and compelling" and called for new guidelines to be produced "very soon". Gideon Lack is Professor of Paediatric Allergy from King's College London.
0835
The ex-wife of a millionaire racehorse surgeon has been told by an appeal court judge to get a job as she had "no right to be supported for life" at his expense. In what's been called a significant judicial intervention, the judge said divorcees with children over seven should go to work. Denise Lester is a solicitor who sits on the family law committee of the Law Society.
0840
South Africa is amongst the teams struggling to make their mark in the cricket World Cup in Australia and New Zealand, they were thrashed by India at the weekend. Cricket is still seen very much as a white sport in the country, there's only one black-African player in the World Cup team, a generation after the end of racial apartheid.  As our Africa correspondent Andrew Harding reports, despite much talk about transformation the game, change is coming very slowly.
0845
A US court in New York has found the Palestine Liberation Organization and the Palestinian Authority liable for attacks in Israel over 10 years ago and ordered them to pay more than $218m compensation to the victims. Nitsana Darshan-Leitner is a lawyer for the families of victims of attacks in Israel in 2002 and 2004.
0850
Over 850,000 people in the UK have dementia, and finding treatments and understanding the disease is one of the greatest challenges in medical science, but at the moment less than 5% of people with dementia take part in research studies. The lack of access to willing volunteers is holding back critical research into the condition, according to the National Institute for Health Research, which is teaming up with Alzheimer's charities to launch a nationwide service that helps people volunteer for research studies. Professor Martin Rossor is National Institute of Health Research (NIHR) National Director for Dementia Research, who developed the service.
0855
Now that it's being suggested that gerbils – not rats – were the source of the outbreaks of bubonic plague in the Middle Ages, is it time for a cultural image change for rats? Less "you dirty rat", more "you lovely rat"? Nick Tucker is a former University teacher at Sussex and author of books on children's literature and Lauren Child is a children's author and illustrator who wrote "That Pesky Rat", the story of a homeless brown rat who finds a home.
All subject to change.
Broadcast