Main content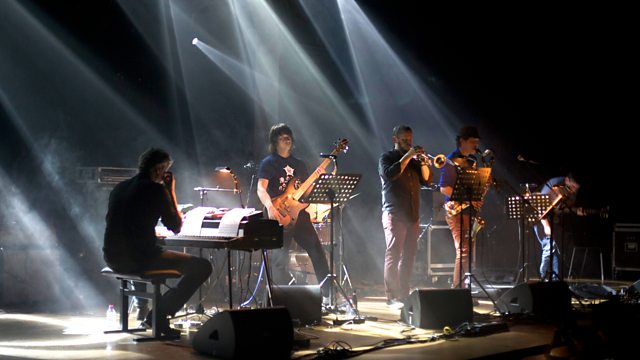 Bureau of Atomic Tourism
Jez Nelson introduces drummer Teun Verbruggen's improvising group Bureau of Atomic Tourism performing at the Vortex jazz club in London.
Transatlantic improvisers Bureau of Atomic Tourism perform at the Vortex Jazz Club in London.
Founded by Belgian drummer Teun Verbruggen in 2011, the Bureau of Atomic Tourism first joined forces following a request by Follow the Sound Festival in Antwerp to create a band that could explore the space between jazz, rock, noise and electronics. Bringing together some of the finest players from all fields - and from across the world - Verbruggen landed on a powerful collective capable of bridging the gap between intricate compositions, textural explorations and raw, intense improvisation.
American horn players Andrew D'Angelo (alto sax/bass clarinet) and Nate Wooley (trumpet) take the lead in a searing front line, whilst Icelandic guitarist Hilmar Jensson and Belgian keyboardist Jozef Dumoulin join in frenzied grooves. Alongside Verbruggen in the engine room is American bassist Tim Dahl - whose presence in bands named Pulverize the Sound and Retrovirus hints at the heaviness in store.
Also on the programme, Jez is joined in the studio by drummer Antonio Sanchez, composer of the soundtrack for the award-winning film Birdman, for an interview and exclusive solo performance.
Presenter: Jez Nelson
Producer: Chris Elcombe.
Clips

Music Played
Bureau of Atomic Tourism in concert at The Vortex, London on 5 May 2014

Drummer and composer Antonio Sanchez on creating the Birdman soundtrack

Bureau of Atomic Tourism in concert at The Vortex, London on 5 May 2014

Music writer Daniel Spicer interviews Andrew D'Angelo and Teun Vebruggen from Bureau of Atomic Tourism

Jazz on 3 correspondent Rob Leurentop picks tracks from the Belgian jazz scene
Line up:
Andrew D'Angelo (alto sax, bass clarinet); Nate Wooley (trumpet); Hilmar Jensson (guitar); Jozef Dumoulin (Fender Rhodes); Tim Dahl (bass); Teun Verbruggen (drums)
Bureau Of Atomic Tourism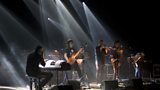 Photo by Roger Laute © 2014
Jez Nelson and Antonio Sanchez