Main content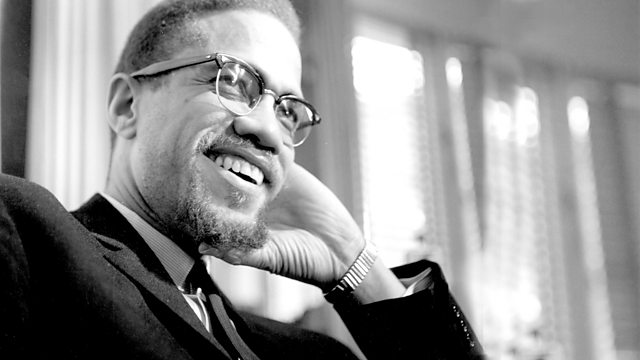 Malcolm X and the 'American Nightmare'
Writer Gary Younge, rapper Tef Poe, poet Sonia Sanchez and history professor Peniel Joseph consider race in America 50 years after the assassination of Malcolm X.
Four unique American voices consider the presence of Malcolm X in post-Ferguson USA.
The refusal of the US grand juries to indict police officers involved in the deaths of unarmed black men led to protests in 170 cities. National Guard troops were ordered to Ferguson, Missouri, "Die-ins" were staged in several cities and thousands took to the streets in New York.
The protests have been referred to as a "new Civil Rights Movement", with the name of Malcolm X, and some of his quotes, used on placards and in chants. Many protestors demanded the angry, stronger response reminiscent of his philosophy.
On the 50th anniversary of Malcolm X's assassination, it seems that the Civil Rights leader's legacy is being revived by a new generation - perhaps becoming even more relevant than that of Dr. Martin Luther King, Jr.
With the events surrounding the recent killings of unarmed black men as backdrop, this programme explores the newly framed race problem in the States.
British-born writer Gary Younge considers Malcolm X's life and how he would assess Ferguson.
Rapper-turned-activist Tef Poe describes his experience of the protests in his hometown of St. Louis. Several of his songs invoking the name of Malcolm X have become protest anthems.
Black Arts Movement poet Sonia Sanchez remembers her encounters with Malcolm X in the 1960s.
Professor of History Peniel Joseph examines the current generation's relationship with Civil Rights.
These powerful voices are played against archive of recent American protests and the speeches of Malcolm X, who in some ways may be considered to be talking about today as much as the 1960s.
Produced by Colin McNulty
A Whistledown production for BBC Radio 4.
Last on
Broadcast