Main content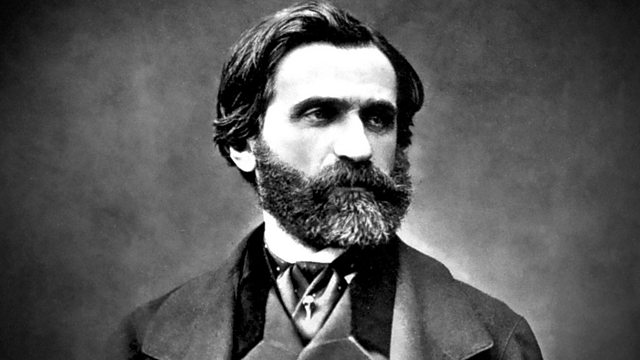 Enough Work to Fell an Ox...
Donald Macleod explains how in 1854 Verdi was behind schedule and had to rush to complete his first work for the Paris Opera: the Sicilian Vespers.
Donald Macleod explores Giuseppe Verdi's "middle period". In 1853 Verdi was on the crest of a wave of immense popularity. He had been working unmercifully hard and had completed what became known in Italy as his "popular trilogy", Rigoletto, Il Trovatore and La Traviata. Not that La Traviata had been an instant success with audiences - that didn't happen until it was revived a year later. Verdi was in Paris by then though, behind schedule and slogging away to catch up on his next work: the Sicilian Vespers, which he composed for the Paris Opera - his first experience of dealing with the management of what he called "La Grande Boutique."
Il Trovatore, Act 2 (The Anvil Chorus)
Orchestra and Chorus del Maggio Musicale Florence
Zubin Mehta, Conductor
La Traviata, Act 1 (Libiamo ne lieti calici)
Giuseppe Di Stefano, tenor
Maria Callas, soprano (Violetta)
Orchestra and Chorus of Teatro alla Scala
Carlo Maria Giulini, Conductor
Les Vepres Siciliennes (Overture)
Berlin Philharmonic
Claudio Abbado (Conductor)
Les Vepres Siciliennes (Palerme! O mon pays! Pays tant regrette)
Ayhan Baran, bass (Jean Procida)
BBC Concert Orchestra and Chorus
Mario Rossi (Conductor)
Les Vepres Siciliennes, Act III, S2 (Les Quatre Saisons - Spring, Summer)
Metropolitan Opera Orchestra
James Levine, Conductor
I Vespri Siciliani, Act IV (O sdegni, tacete! / Arrigo! Ah, parli a un core)
Cheryl Studer, soprano (Elena)
Chris Merritt, Tenor (Arrigo)
Orchestra and Chorus of Teatro della Scala
Riccardo Muti (Conductor).
More episodes
Previous
You are at the first episode