Main content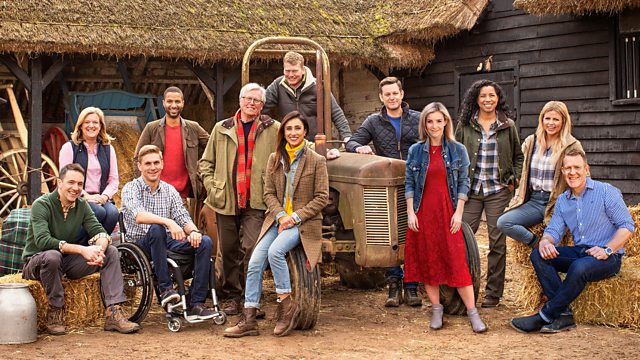 Leicestershire
Ellie Harrison reports from Leicestershire on the drastic decline in farmland birds and joins farmers learning how to spot rare birds.
Ellie Harrison is in Leicestershire reporting on the drastic decline in farmland birds. She joins the farmers learning how to spot rare birds and hears how they are creating the right habitat for wild birds back on their farms.
Ellie then visits an alpaca farm where the animals are not being bred for their valuable fleeces or even their meat but for use in therapy for people with mental health problems.
Over the border in Rutland, Matt Baker tells that wetland birds are in decline too. He joins the volunteers on Rutland Water, helping to survey the migrant bird population and lending a hand to restore the habitat of one of Britain's rarest wetland species, the bittern.
See what Adam Henson is doing to encourage wild birds back onto his farm. He is joined by wildlife cameraman Richard Taylor Jones to see if they can catch a glimpse of rare corn buntings, once common in the Cotswolds but now seriously in decline.
Wind turbines - love them or hate them, they now produce so much electricity every year that we have to pay millions of pounds to turn them off. So is it time to stop building onshore turbines? Tom Heap finds out.
The Charnwood fossil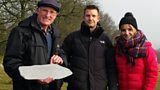 When Charles Darwin published On The Origin Of Species in 1859 the earliest known fossils appeared to have been made by complex organisms. This was a dilemma for Darwin, who believed all creatures evolved complexity over a very long period of time – surely life on earth couldn't have begun with creatures as advanced as these? Helen Skelton meets Roger Mason who, almost a century later, was in the Charnwood Forest with some school friends when they came upon a fossil that would change our understanding of life on earth. It was the imprint of an organism that ruled the deep ocean floor 600 million years ago: the earliest evidence of life on earth and the missing link in the fossil record that had stumped Darwin. Helen then meets the team investigating the mysteries of these creatures of the deep and finds out how they are working to protect them.
The Big Farmland Bird Count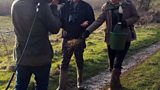 Between 7th and 15th February, the 'Big Farmland Bird Count', run by The Game and Wildlife Conservation Trust, will take place all over Britain. This UK conservation charity is asking farmers, landowners, birdwatchers and gamekeepers to spend 30 minutes recording the species and number of birds seen on a particular area of their farm. Ellie Harrison heads to the GWCT's research farm in Leicestershire to join a group of farmers taking part in a Bird Identification Day. She meets Peter Thompson, the Trust's Biodiversity Advisor, to discover the challenges facing our farmland birds and how we can help them to flourish once more.
Take part in the Big Farmland Bird Count
Helping the Bittern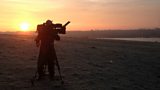 Matt Baker is at Rutland Water taking a lesson in bird-ringing from Lloyd Park, Britain's youngest bird-ringing trainer, to help the Leicestershire and Rutland Wildlife Trust team monitor their wintering wildfowl. He then tries to catch a glimpse of the elusive bittern amongst the reed beds. This bird became extinct in the UK in 1886, due to persecution and loss of habitat, but today it's a happier picture as breeding pair numbers are on the rise. They remain one of our most endangered species however, so managing the reed beds on which they so heavily depend is vital for their future survival. Matt joins a team of volunteers who are doing just that.
Find out more about Rutland Water Nature Reserve
Wind turbines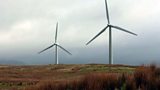 There are now four and a half thousand turbines in the British countryside and over the next few years there are likely be thousands more. Tom Heap learns how these turbines are helping the UK to reach its renewable energy targets and hears from those who believe that the harnessing of wind power has been a great success. But Tom also discovers that there are still major reservations about the impact that turbines have on the landscape and the cost of using them. Plus he discovers that wind energy is being wasted because the National Grid cannot always cope with the power it supplies. 
Alpaca therapy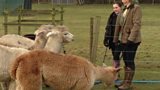 Six years ago Chris Deakin was watching Countryfile and was so taken by a story featuring alpacas that he decided to become a full time alpaca breeder. Ellie Harrison visits Chris on his Leicestershire farm to discover what goes into looking after these incredible animals and help out with some monthly herd checks. Ellie also meets pupils from a local school who have benefitted from weekly visits to the farm. The calm and gentle nature of alpacas has helped to reduce anxiety and anger levels in children from the school who suffer from behavioural issues such as autism.
Find out more about Chris' alpacas
Adam's farmland birds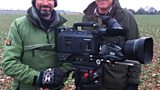 Farmland birds have been in decline over past few decades, so farmers like Adam Henson are being encouraged to plant special areas on their land to encourage and help birds and other wildlife to thrive. Adam has invited wildlife cameraman Richard Taylor-Jones and Natural England bird expert Neil Harris along to his farm to see if the planting is having an effect and see if they can spot and film some of our rarer farmland birds.
Credits
| Role | Contributor |
| --- | --- |
| Presenter | Matt Baker |
| Presenter | Ellie Harrison |
| Presenter | Tom Heap |
| Presenter | Adam Henson |
| Executive Producer | William Lyons |
| Series Producer | Joanna Brame |