Main content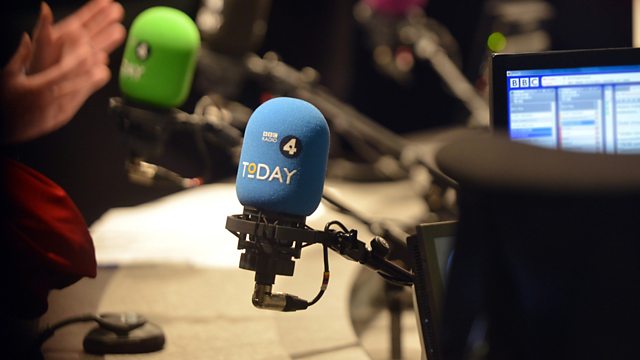 20/02/2015
Morning news and current affairs. Including Sports Desk, Weather and Thought for the Day.
Last on

Clips

Today's running order
0645
The film industry is preparing for the biggest night in showbiz on Sunday, the Oscars. Birdman and The Grand Budapest Hotel lead the race for this year's Oscars with nine nominations each. There was good news for British actors as Benedict Cumberbatch, Eddie Redmayne, Rosamund Pike, Felicity Jones and Keira Knightley are all nominated. Our correspondent Alistair Leithead.
0650
Earlier this week President Obama attacked European efforts to regulate technology companies such as Google. The government's advisor on technology, Martha Lane Fox, has told Rory Cellan Jones she is shocked by this response.
0655
An increasing number of people with diabetes are being fined by the NHS for claiming free prescriptions without the correct paperwork, according to the charity Diabetes UK. Inquiries made by BBC also reveal that many have never been told that the rules around prescription exemption certificates in England changed in 2002. The charity Diabetes UK says the far more rigorous checking system now being used is unfair.  But the NHS says it's the patient's responsibility to check they have a valid certificate, and that refunds won't be given to people who were unaware of the new system. Barbara Young is Chief Executive of Diabetes UK.
0710
Greece heads to another round of negotiations today after dropping key demands for a bailout settlement, but still faces stiff opposition from lead lender Germany, which criticised Athens' latest proposals as a ``Trojan horse'' designed to dodge its commitments. BBC's Economics Editor Robert Peston.
0715
There's no doubt the NHS has been under strain this winter, we've heard of A&E departments struggling to cope and hospitals telling patients to stay away. The problem isn't just the volume of people needing treatment; it is the inability to get people out, often the elderly, back home or into care homes. The latest figures on this show that 4,480 patients were delayed leaving hospitals in England in December last year, in that month alone there were 139,156 days where patients were stuck in beds, unable to leave. This programme has been given access to one hospital in Southampton, where management have told us one in seven beds are taken up by people who don't need to be there. Professor Chris Ham is Chief Executive of the King's Fund.
0720
The latest volume of the BBC's official history reveals that in the 1950s and 60s all staff entering the BBC were routinely vetted by the Security Service MI5, despite attempts by MI5 to restrict vetting, and that vetting continued into the 1980s, despite public denials.  The book's author, Professor Jean Seaton, quotes files in the National Archives and the BBC's own records which show the Corporation was worried that without vetting it might recruit communist sympathisers and other potentially subversive types. Nick Higham reports.
0730
What issues matter to students in the coming election? Tuition fees, immigration, the economy?  They make up just 3 per cent of the UK's population but the British Election Study says their votes could dictate the results in several marginal seats.  Our reporter Sima Kotecha has been to the constituency of Wolverhampton South West - currently a marginal tory seat with a student population of 20,000. Vince Cable is Secretary of State for Business, Innovation and Skills and was deputy leader of the Lib Dems in the run-up the last election.
0740
Yesterday we ran an item on declining domestic visitors to major London art galleries. Outside London the numbers are very healthy, and that maybe that's why London isn't doing so well. Godfrey Worsley is director of the Baltic Centre for Contemporary Art & Chair of the Contemporary Visual Art Network and a representative body of institutions and individuals who work in contemporary art.
0750
The Daily Telegraph has announced it is to draw up new guidelines over links between news and advertising in its paper. Roy Greenslade is a former Editor of the Daily Mirror, media commentator and Professor of Journalism at City University.
0810
Greece heads to another round of negotiations today after dropping key demands for a bailout settlement (see 0710). Gavin Hewitt is the BBC Europe Editor.
0820
A teenager who converted to Islam less than a year ago and idolised the killers of Fusilier Lee Rigby is facing a lengthy jail term after being found guilty of plotting to behead a British soldier. Nineteen-year-old Brusthom Ziamani was believed to be on his way to carry out his plan when he was arrested in east London in August last year carrying a 12in knife and a hammer in a rucksack. Richard Barrett is a former director of global counter-terrorism operations for MI6 and former coordinator of the Al-Qai'da Monitoring Team at the UN and Hanif Qadir is founder and CEO of The Active Change Foundation, a grass roots charity created to prevent & counter violent extremism & terrorism.
0825
There's no doubt the NHS has been under strain this winter, we've heard of A&E departments struggling to cope and hospitals telling patients to stay away (see 0715). Our reporter Zoe Conway visited the wards in Southampton and is followed by David Pearson, President of the Association of Directors of Adult Social Services (ADASS) also Corporate Director - Adult Social Care, Nottingham County Council.
0830
There was a phone call last night between Donald Tusk, the President of the European Council and David Cameron to discuss how the EU should respond to the ongoing violence in Eastern Ukraine. Both expressed deep concern that since the ceasefire Russian-backed separatists have continued to attack Debaltseve. But how did they get to this point? A report out this morning from the EU Committee of the House of Lords has accused the two sides of "sleep walking" into the crisis in the Ukraine. Sir Andrew Wood is a former British Ambassador to Moscow.
0840
Professor Stephen Hawking has said if he could alter one human shortcoming it would be aggression. He says it was necessary in caveman days to get more food etc. but now threatens to destroy us all. He'd like it to be replaced by empathy. Dr Simon Underdown is Principal Lecturer in Human Evolution at Oxford Brookes University and Vice President of Royal Anthropology Institute.
0850
Chelsea FC has suspended three people from attending its ground after fans of the club appeared to prevent a black man from boarding a Paris Metro train on Tuesday. The football club said life banning orders will be issued if there is deemed sufficient evidence of the fans' involvement in the incident. Should clubs be doing more to tackle racism in football? Brendon Batson is a former professional footballer and is currently a consultant to the FA on equality.
0855
The war in Afghanistan has dominated the headlines for more than 14 years. The images of Afghanistan most familiar to viewers are mostly those of combat troops, of forward operating bases, of the aftermath of violence. But a new exhibition at the Imperial War Museum North aims to show a very different side to life in Afghanistan. British illustrator and journalist, George Butler, spent several weeks there at the end of 2014 while international troops were preparing to withdraw from the country. The resulting drawings – exhibited in the exhibition 'WithDraw' - depict 'life a pace back from the violence': people washing for prayers, shopping, farming, building, learning and living'. George Butler is a journalist and reportage illustrator and Jenny Matthews, a war photographer whose work has included a special focus on women in conflict.
All subject to change.
Broadcast