Main content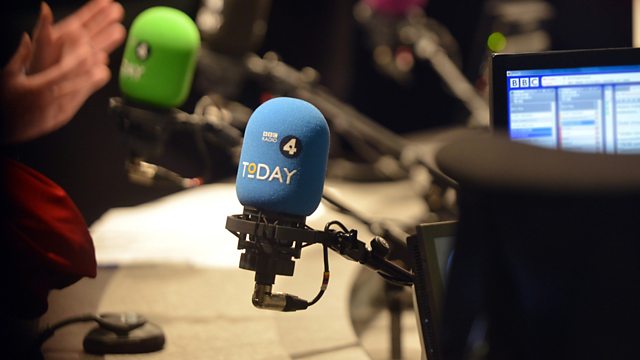 19/02/2015
Morning news and current affairs. Including Sports Desk, Weather and Thought for the Day.
Last on
Today's running order
0645
Sex workers in India are making a strong push for their trade to be legalised. There are about three million of them in the country.  And, in what's seen as a bold statement, the head of the country's top body for women's welfare has also called for sex workers to be given more rights to help protect them against exploitation. But many women's groups are against any move towards legalising the trade. They think this will further encourage trafficking, particularly that of young girls - which is already a huge problem in India. Yogita Limaye reports.
0650
Hundreds of thousands of people have taken part in marches in Argentina, to demand a full investigator into the death a month ago of the state prosecutor, Alberto Nisman. He was found with a gunshot wound to the head hours before he was due to testify against the country's President, Cristina Fernandez de Kirchner. Wyre Davies is our South America Correspondent.
0655
A fossil hidden away in a Doncaster museum for thirty years has turned out to be a new species of 200 million year old marine reptile. A palaeontologist from the University of Manchester first found the ichthyosaur fossil in 2008, and has now confirmed it to be a species not yet known to science. Palaeontologist Dean Lomax is Honorary Scientist at Doncaster Museum and associate researcher at the University of Manchester.
0710
Energy company Centrica reports its full year earnings this morning. The owner of British Gas is expected to reveal a dramatic slump in profits as it underlines the damage caused by the collapse in the oil price. Iain Conn is the  CEO of Centrica.
0715
The Department of Culture Media and Sport announced last week that visitor numbers at the galleries and museums it helps fund were up by 2 million in the last year on the previous year. Our arts editor Will Gompertz has been looking at those figures and has identified that most of that growth has come from foreign tourists, whilst galleries like the Tate and National Gallery have seen a significant decline in the number of UK residents visiting. Will Gompertz is the BBC Arts Editor.
0720
Newspapers have always depended to some extent on advertisers and it has often thrown up difficulties. For Peter Oborne, chief political commentator on the Daily Telegraph, the balance on his paper had swung too far. He asserts that stories about HSBC's Swiss banking arm and aggressive tax avoidance were downplayed because of its advertising account with the paper, and he walked out as a result. Veteran editor, Sir Harold Evans, arrived in Fleet Street at the Sunday Times nearly fifty years ago and thinks the problem is now taking on a new and maybe more dangerous form.
0730
A new study suggests the NHS is paying too much for new drugs. Health economists at the University of York say the approach used by the National Institute for Health and Care Excellence to work out what medicines are worth is doing more harm than good, leaving less money available for more cost-effective treatments. Professor Karl Claxton, Co-Author of research from the University of York and Sir Andrew Dillon, Chief Executive of NICE.
0740
The University of Portsmouth Dramatic and Musical Society is staging Allegro, a Rodgers and Hammerstein's musical. It was a flop when it came out in 1947 and never transferred to the West End. Although rarely performed, it is a show that was very important to the R&H duo, that's why the R&H London office is strongly behind the production. With minimal staging and a Greek chorus, it was not what audiences expected back then, especially coming in the wake of huge, spectacular shows like Oklahoma and Carousel. David Silito reports.
0750
Ukraine's president has called for a UN peacekeeping force to be deployed to monitor a ceasefire deal, after pro-Russian rebels forced Ukrainian troops out of the town of Debaltseve. Russia said Ukrainian forces had tried to fight their way out of the town after being encircled but Mr Poroshenko insisted they were never surrounded. The rebel advance on Debaltseve, which came in spite of the recent ceasefire agreement, has been widely condemned. Alexander Hug is deputy Chief Monitor of the OSCE's Special Monitoring Mission to Ukraine and has just returned to Kiev from Soledar, which is near to Debaltseve.
0810
Nottinghamshire's Police and Crime Commissioner Paddy Tipping has told this programme that victims of alleged abuse in children's homes have not been listened to sufficiently. Police and council leaders are now dealing with more than 100 allegations of historical child abuse at local authority run care homes. The claims involve the use of extreme violence and sexual abuse by staff in at least 13 different institutions over a 40 year period. A former senior social worker in Nottinghamshire has also told us that sexual abuse at care homes was reported on a number of occasions but police failed to act. Superintendent Helen Chamberlain, head of public protection at Nottinghamshire police follows a report from Tom Bateman.
0820
Al Jazeera journalist Peter Greste was freed earlier this month after spending 400 days in an Egyptian prison. Arrested in December 2013, he was tried on charges that included spreading false news and aiding the Muslim Brotherhood, alongside two of his Al-Jazeera colleagues, Mohamed Fahmy and Baher Mohamed. They were freed this week, but face a re-trial on Monday. Peter Greste joins us.
0830
The Home Secretary is in Washington at an anti-extremism summit. The aim is to highlight domestic and international efforts to prevent violent extremists and their supporters from radicalising, recruiting, or inspiring individuals or groups in the United States and abroad to commit acts of violence. Theresa May will be speaking at one of the plenary sessions on the importance of countering extremist messaging. In the margins of the summit she will also be discussing the issue of foreign fighters with her counterparts from Europe and the Middle East. Our North America Editor Jon Sopel spoke to Theresa May.
0835
A television series about the relationship between the Royal Family and the media is to be broadcast on BBC Two this evening following a delay. Reinventing The Royals, presented by Steve Hewlett, was originally due to be broadcast at the beginning of January but was postponed because of issues clearing archive footage with Clarence House. The programme's presenter; Steve Hewlett.
0840
UKIP is the new breakthrough force in British politics, boasting a new kind of politics and politician. And yet the party is led by a public school educated former stockbroker and its two MPs used to sit on the Conservative benches. So how different is it? Matthew Price reports from two neighbouring constituencies - Great Grimsby and Cleethorpes - where one of the UKIP candidates used to be a Tory and the Tory MP was rumoured to be on his way to the ranks of UKIP.
0845
The renowned physicist Michio Kaku, author of "The Future of the Mind" says we've learned more about our brains in the last 15 years than in the whole of human history and new technologies like MRI means we're entering a golden age of neuroscience. The human brain might be unusual territory for a theoretical physicist but Professor Kaku says many of these remarkable feats are already happening in our laboratories.
0850
Online political campaigning has ratcheted up a gear in the UK with the rise of negative and "polemical" YouTube videos. In the last month, the Conservative Party has published a slew of videos attacking Labour and Ed Miliband. Is Britain entering a new era of political attack ads and do they work? Joe Rospars, Co-Founder and CEO of Blue State Digital and the former Chief Digital Strategist for Obama for America attempts to answer.
0855
Jonathan Ive, Senior Vice President of Design at Apple, has given an interview to The New Yorker in which he reveals that he and Steve Jobs shared a 'lack of social smoothness', and as a result installed lifts at Apple HQ which give 'digital distractions' to employees forced to ride in elevators with colleagues. Are we so socially awkward that we need such distractions in elevators? Jason Whale is Sales Manager with Elevators Ltd, specialists in all types of lift service including modernisation.
All subject to change.
Broadcast