Main content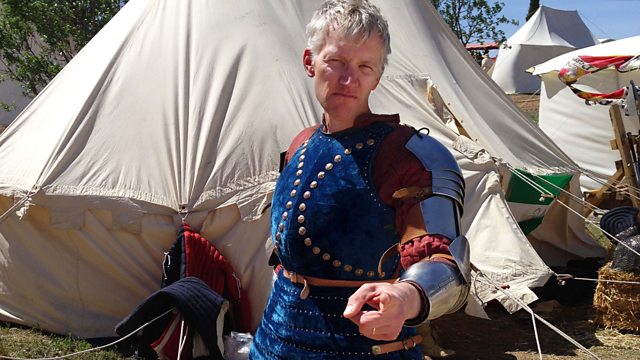 17/02/2015
Dr Matt Pope visits Oswestry to hear how local people are fighting the possibility of 117 houses being built close to one of our most important Iron Age hill forts.
Tom Holland is joined by archaeologist Professor Sir Barry Cunliffe and Tim Loughton MP, Vice Chair of the Archaeology All Party Parliamentary Group.
Dr Matt Pope reports from Shropshire where land close to Old Oswestry Hillfort might be allocated for housing which archaeologists fear will wreck its landscape context.
Tom talks to Professor Andy Beeby from the University of Durham about new research which is analysing ink on medieval parchments.
And Helen Castor joins food historian Pen Vogler in the kitchen to see how people prepared for Lent in medieval times.
Contact the programme by email: making.history@bbc.co.uk - or write to Making History, BBC Radio 4, PO Box 3096. Brighton BN1 1PL.
Producer: Nick Patrick
A Pier production for BBC Radio4.
Last on
Cooking Up A Feast For Lent
Helen Castor visits food historian and cook Pen Vogler, the author of Dinner with Mr Darcy to find out more about Shrove Tuesday and how people prepared for Lent before and after the Reformation.


These are a couple of recipes that Helen dug out for Making History:


To make Pancakes.The Good Huswife's Handmaide for the Kitchin1594 Take new thicke Creame a pinte, foure or fiue yolks of Egs, a good handfull of flower, and two or three spoonfuls of ale, strain them altogether into a faire platter, and season it with a good handfull of Sugar, a spooneful of Synamon, and a litle Ginger: then take a frying pan, and put in a litle peece of Butter, as big as your thombe, and when it is molten browne, cast it out of your pan, and with a ladle put to the further side of your pan some of your stuffe, and hold your pan aslope, so that your stuffe may run abroad ouer all the pan, as thin as may be: then set it to the fyre, and let the fyre be verie soft, and when the one side is baked, then turne the other, and bake them as dry as ye can without burning.


To make Egges in Lent.Take Hennes Egges, and put out cleane the white and the yolk. Then wash your shell clean, and take Almond milk, and seeth it with Jsonglas, or of the broth of a Pike or a Tench, and when it is sodden, take it off, but before yee take it from the fyre, ye must sea-son it with sugar and salt, and fill your Egge shels before the milke be colde. Then make a hole in the Egge aboue, and cut out so much of the white as yee will make your yolks, then collour your milke that ye left afore with Saffron, like the yolk of an Egge, and fill vp the hole againe therewith, and let it stand till it be occupied.

Spectroscopy and medieval documents
Professor Andy Beeby, a chemist at the University of Durham, is using a technique known as spectroscopy to analyse the materials used by monks and other scribes to produce medieval doc-uments.
Andy told the RSC's magazine The Mole that: 'In Raman spectroscopy, we shine a pure, single colour of light [from a laser] on the material in question, in our case a page, and the light scatters – it bounces off the molecules in the sample. Most of the light bounces off with exactly the same energy and hence the same colour. But a tiny fraction, about one in a million of the photons bouncing off the molecules comes off at a slightly different frequency: they have lost some of their energy to the molecules and therefore have a slightly different colour. By looking at the differencebetween the light that goes in and the light that comes back,' he says, 'you can work out the vibra-tional spectra of the molecules and therefore identify the substance.'
Andy first used the technique on the Durham Gospels which were then copied to give us the Lin-disfarne Gospels in 715AD. Spectroscopy can tell us that the colours used in the text were created by people he sees as very skilful early chemists. By using this technique we will be able to find out precisely what materials were used to make medieval documents and where those materials came from. In this way we can find out more about the documents and the interaction of different cultures and space over time.
Useful Links
Professor Andy Beeby
The Lindisfarne Gospels 
Royal Society of Chemistry
Andy Beeby's paper for University of Durham
Old Oswestry Hill Fort
Like every local authority, Shropshire County Council is having to make plans for new housing on brownfield as well as green-field sites.
For nearly 10 years, developers have had their eyes on land to the north of Oswestry next to one of Britain's most important iron-age hill forts. English Heritage has consistently objected to large scale development on this land but there is a small plot about 300 metres to the south-east of the fort which - if the design of housing was acceptable - it believes  wouldn't detract from the historic setting.
It's this setting that archaeologists are keen to preserve. The open fields to the east, north and west of the hill fort allows modern generations to appreciate how it dominated the local landscape - one of its pre-historic functions. Furthermore, leading researchers (like Barry Cunliffe) point out that there may probably be extensive archaeology around the fort. At the time of broadcast a Planning Inspector is deciding whether the small plot of land to the south-east can be added to land in Shropshire that's might be developed.
For Making History, archaeologist Dr Matt Pope from University College London went to Oswestry to find out why the hill fort is so important and how local people and English Heritage have been fighting to preserve this history.
Matt spoke to
Dr Rachel Pope
from the University of Liverpool  and Kate Clarke from
Hands Off Old Oswestry Hillfort
  Bill Klemperer is the Principal Inspector of Ancient Monuments for
English Heritage in the West Midlands
Broadcast