Main content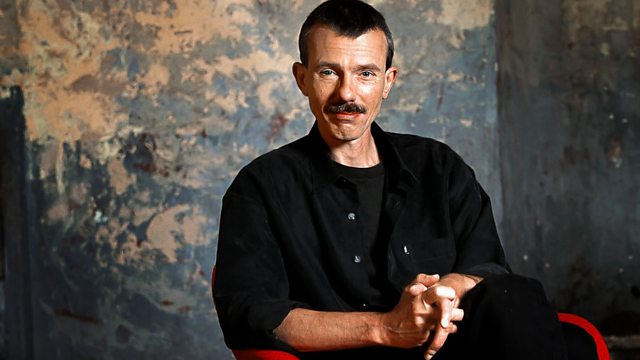 2014 Proms: Elgar's Enigma Variations
Jonathan Swain's selection includes the BBC Philharmonic and Juanjo Mena performing Elgar's Enigma Variations at the 2014 Proms.
BBC Proms 2014: the BBC Philharmonic and Juanjo Mena perform Elgar's Enigma Variations. Jonathan Swain presents.
1:01 AM
Walton, William [1902-1983]
Variations on a theme by Hindemith
BBC Philharmonic, Juanjo Mena (conductor)
1:24 AM
Moeran, E.J. [1894-1950]
Concerto for violin and orchestra
Tasmin Little (violin), BBC Philharmonic, Juanjo Mena (conductor)
1:57 AM
Horne, David [b.1970]
Daedalus in flight for orchestra (London Premiere)
BBC Philharmonic, Juanjo Mena (conductor)
2:09 AM
Elgar, Edward [1857-1934]
Variations on an original theme ('Enigma') Op.36 for orchestra
BBC Philharmonic, Juanjo Mena (conductor)
2:38 AM
Grieg, Edvard Hagerup (1843-1907)
Sonata for violin and piano no. 1 (Op. 8) in F major;
Vilde Frang Bjaerke (violin), Jens Elvekjaer (piano)
3:01 AM
Schumann, Robert (1810-1856)
Quintet for piano and strings (Op.44) in E flat major
Ingrid Fliter (piano); Ebène Quartet
3:31 AM
Haydn, Joseph (1732-1809)
Die Jahreszeiten (The Seasons) - oratorio (H. 21/3): Winter
Julia Milanova (soprano), Nikolay Yosifov (tenor), Pompey Harashtyanou (bass), Choir "Rodina" Rousse (Bulgaria), Rousse Philharmonic Orchestra, Georgi Dimitrov (conductor)
4:04 AM
Nielsen, Carl (1865-1931)
Chaconne for piano (Op.32)
Anders Kilström (piano)
4:13 AM
Lotti, Antonio (1666-1740)
Sonata in F major 'Echo-Sonate' for 2 oboes, bassoon and continuo
Ensemble Zefiro
4:23 AM
Mozart, Wolfgang Amadeus (1756-1791)
Ch'io mi scordi di te...? Non temer, amato bene (K.505) (concert aria)
Andrea Rost (soprano), Zoltán Kocsis (piano), Hungarian National Philharmonic Orchestra
4:34 AM
Fauré, Gabriel (1845-1924)
Fantasy for flute and piano
Lóránt Kovács (flute), Erika Lux (piano)
4:39 AM
Anonymous (12th century English)
Jesu Cristes milde moder
Sequentia: Benjamin Bagby (voice), Edmund Brownless (voice)
4:45 AM
Bach, Johann Sebastian (1685-1750)
Allein Gott in der Hoh' sei Ehr' - chorale-prelude for organ (BWV.662)
Bine Katrine Bryndorf (Organ of Hjertling Church, Jutland)
4:53 AM
Auric, Georges (1899-1983) arr. Philip Lane
Suite from 'Passport to Pimlico'
BBC Philharmonic, Rumon Gamba (conductor)
5:01 AM
Torelli, Giuseppe [1658-1725]
Sonata in D for Trumpet, Strings and Basso Continuo
Sebastien Philpott (trumpet) European Union Baroque Orchestra, Lars Ulrik Mortensen (conductor)
5:08 AM
Bach, Johann Sebastian (1685-1750)
Motet: 'Komm, Jesu, komm!' (BWV.229)
Danish National Radio Choir, Stefan Parkman (conductor)
5:18 AM
Sor, Fernando [1778-1839]
Introduction and variations on a theme from Mozart's Magic Flute (Op.9)
Ana Vidovic (guitar)
5:27 AM
Lipinski, Karol Józef (1790-1861)
Overture in D major (1814)
Polish Radio Symphony Orchestra in Cracow, Szymon Kawalla (conductor)
5:36 AM
Grieg, Edvard (1843-1907)
Ballade in G minor (Op.24)
Eugene d'Albert (1864-1932)
5:47 AM
Glick, Srul Irving (1934-2002)
Suite Hébraïque No.1 for clarinet and piano
James Campbell (clarinet), Valerie Tryon (piano)
5:58 AM
Suk, Josef (1874-1935)
Pohadka Zimniho Vecera (A Tale of a Winters evening) (Op.9)
Prague Radio Symphony Orchestra, Rudolf Vasata (conductor)
6:15 AM
Beethoven, Ludwig van (1770-1827)
Symphony No. 1 (Op.21) in C Major
Finnish Radio Symphony Orchestra, Jukka-Pekka Saraste (cond)
6:42 AM
Stravinsky, Igor (1882-1971)
Suite italienne for violin and piano (1925)
Alena Baeva (violin), Giuzai Karieva (piano).