Main content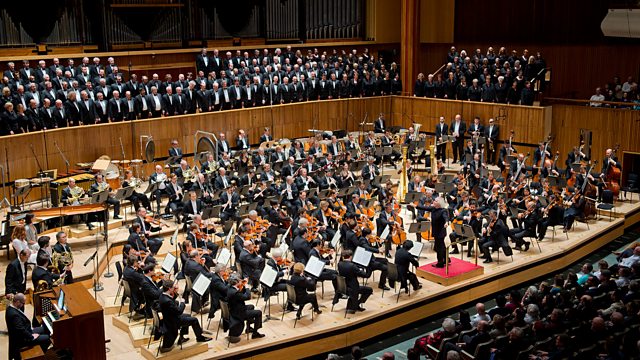 Berlin Philharmonic - Lachenmann, Mahler
Live from the Royal Festival Hall in London, Simon Rattle conducts the Berlin Philharmonic in Helmut Lachenmann's Tableau and Mahler's Symphony No 2 (Resurrection).
Simon Rattle and the Berlin Philharmonic close their London residency at the Royal Festival Hall with a work significant to both of them. Mahler's epic Second Symphony, beginning with its dramatic, brooding funeral march and ending in an overwhelming affirmation of Christian faith, was premiered in 1895 by the Berlin Philharmonic; and it was the 'Resurrection' Symphony that inspired the eleven-year-old Rattle to be a conductor. Fifty years later it's become something of a Rattle party-piece, a fitting climax to his sixtieth birthday celebrations in London.
Providing an upbeat to Mahler's transcendent symphony is Helmut Lachenmann's late 80s 'Tableau', a short, intense work which uses a huge conventional orchestra to unconventional ends. It's a perfect foil to the Mahler, a typical Rattle juxtaposition designed to make an audience sit up and think.
Presented by Petroc Trelawny.
Helmut Lachenmann: Tableau
Mahler: Symphony No 2 ('Resurrection')
Kate Royal (soprano)
Magdalena Ko?ená (mezzo-soprano)
London Symphony Chorus
City of Birmingham Symphony Orchestra Chorus
Berlin Philharmonic
Simon Rattle (conductor).
James Jolly talks to Norman Lebrecht and Jeremy Barham about Mahler's Symphony No 2.