Main content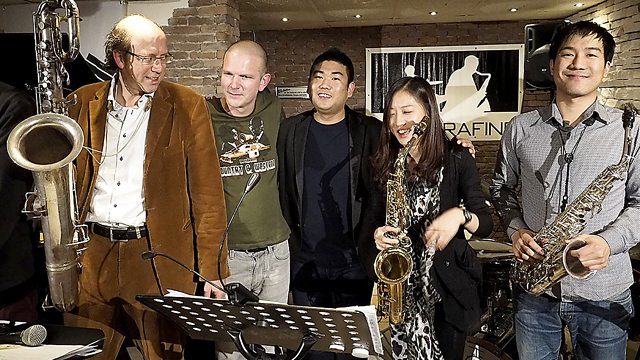 Supersax Korea
Julian Joseph presents Supersax Korea in a collaborative concert at the Unterfahrt Jazz Club in Munich, featuring musicians from Europe and Korea.
Julian Joseph presents concert music from 'Supersax Korea' recorded at the Unterfahrt Jazz Club, Munich. This collaborative concert , between musicians from Europe and Korea, was masterminded by German bassist Martin Zenker. During his studies in South Korea, at the Music Department at Kyung-Hee University, Zenker became an integral part of Seoul's burgeoning jazz scene. In South Korea, particularly the capital of Seoul there is a real thirst for jazz, the country welcomes many international musicians who come to visit and teach at the music conservatories and to perform at the various venues including the Jarasum International Jazz Festival which attracts over 100,000 visitors every year.
The musicians for tonight's musical exchange include:
Kim Jeeseok, alto saxophone, soprano saxophone
Jin Purem, alto saxophone
Im Dalkyun, tenor saxophone
Michael Lutzeier, baritone saxophone
Paul Kirby, piano
Martin Zenker, bass
Kim Minchan, drums.
Music and featured items
Martin Zenker Feature

Insights into the musical mind of bass player and Supersax Korea founder Martin Zenker.

Duration: 14:56

Supersax Korea Live

Duration: 31:48

Martin Zenker Feature

European Broadcasting Union Recording, recorded at The Unterfahrt Jazz Club, Munich in December 2014