Main content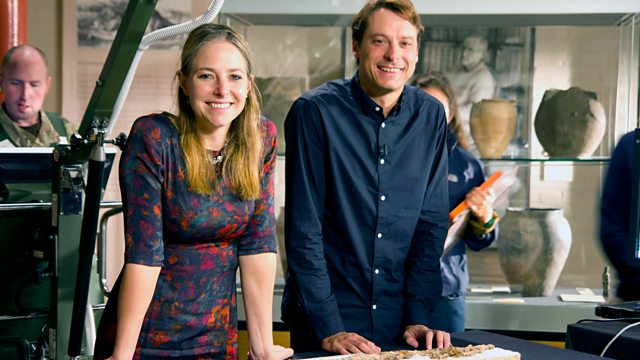 Alice Roberts and Matt Williams present 2014's most outstanding archaeology. In the west of Britain, sites include Barrowclump, Durotrigues Big Dig, Winchester and Ipplepen.
Professor Alice Roberts and archaeologist Matt Williams present 2014's most outstanding archaeology.
In the summer, archaeologists have been unearthing our history in hundreds of digs across Britain. They have gone to extraordinary lengths to uncover long lost treasures - retelling our story in a way only archaeology can.
With unique access to some of the country's best digs, our teams have been self-shooting their excavations to make sure the audience is there for every moment of discovery.
In this episode, we're in the west of Britain, and the archaeologists join us back in the Dorset Country Museum to look at the new finds and what they mean. Sites include:
Barrowclump: This Bronze Age burial site also holds dozens of Anglo-Saxon warrior graves. The archaeologists here are former British soldiers.
Durotrigues Big Dig: A glimpse into the twilight world after the Roman army left around 410AD.
Winchester: One of the UK's earliest hospitals, revealing insights into the lives and deaths of lepers.
Bronze Age Bling: Metal detectors unearth a Bronze Age hoard, revealing the secrets of childhood thousands of years ago.
Ipplepen: A huge Roman settlement in an area the Romans were not thought to have conquered.
Credits
| Role | Contributor |
| --- | --- |
| Presenter | Alice Roberts |
| Presenter | Matt Williams |
| Series Producer | Catherine Ross |
| Executive Producer | John Farren |
| Production Company | 360 Production |