Main content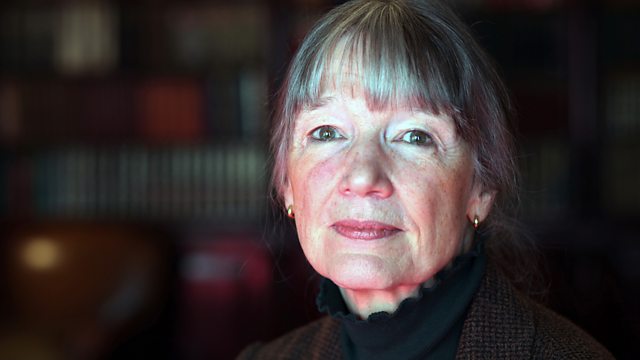 Anne Tyler on her new novel A Spool of Blue Thread
Anne Tyler on her new novel A Spool of Blue Thread, Elizabeth Harrower on publishing again after four decades and a close reading of Muriel Spark's manipulative Miss Jean Brodie.
Anne Tyler's writing career spans fifty years and twenty novels, including Breathing Lessons, The Accidental Tourist and A Patchwork Planet. She's a bestselling author who has won many awards including the Pulitzer Prize and National Book Critic Circle Award. Novelists, including Nick Hornby and Roddy Doyle, love her work. In a rare interview she talks to Mariella Frostrup about her new novel, her twentieth, A Spool of Blue Thread.
Also, the captivating story of the novel lost for over forty years: Australian novelist Elizabeth Harrower reveals why she gave up writing, and her literary admirer Eimear McBride tells Mariella why she finds Harrower's novels an acutely observed portrait of our most intimate relationships.
And Dr Sarah Dillon is back with another undercover investigation into the workings of our classic prose. In Dame Muriel Spark's The Prime of Miss Jean Brodie we see how we, as readers, are just as gullible to Miss Brodie's charms as her students.
Read the first chapter of 'A Spool of Blue Thread' by Anne Tyler
Booklist
A Spool of Blue Thread by Anne Tyler
Down in the City  by Elizabeth Harrower
The Long Prospect  by Elizabeth Harrower
The Catherine Wheel  by Elizabeth Harrower
The Watch Tower by Elizabeth Harrower
In Certain Circles  by Elizabeth Harrower
A Few Days in the Country and Other Stories, a forthcoming collection of short stories by Elizabeth Harrower
A Girl is a Half-formed Thing by Eimear McBride
This Week's Close Reading: 'The Prime of Miss Jean Brodie' by Muriel Spark
Miss Brodie said, 'So I intend simply to point out to Miss Mackay that there is a radical difference in our principles of education. Radical is a word pertaining to roots – Latin radix, a root. We differ at root, the headmistress and I, upon the question whether we are employed to educate the minds of girls or to intrude upon them. We have had this argument before, but Miss Mackay is not, I may say, an outstanding logician. A logician is one skilled in logic. Logic is the art of reasoning. What is logic, Rose?' ''To do with reasoning, ma'am,' said Rose, who later, while still in her teens, was to provoke Miss Brodie's amazement and then her awe and finally her abounding enthusiasm for the role which Rose then appeared to be enacting: that of a great lover, magnificently elevated above the ordinary run of lovers, above the moral laws, Venus incarnate, something set apart. In fact, Rose was not at the time in question engaged in the love affair which Miss Brodie thought she was, but it seemed so, and Rose was famous for sex.
Credits
| Role | Contributor |
| --- | --- |
| Presenter | Mariella Frostrup |
| Interviewed Guest | Anne Tyler |
| Interviewed Guest | Elizabeth Harrower |
| Interviewed Guest | Eimear McBride |
| Interviewed Guest | Sarah Dillon |