Main content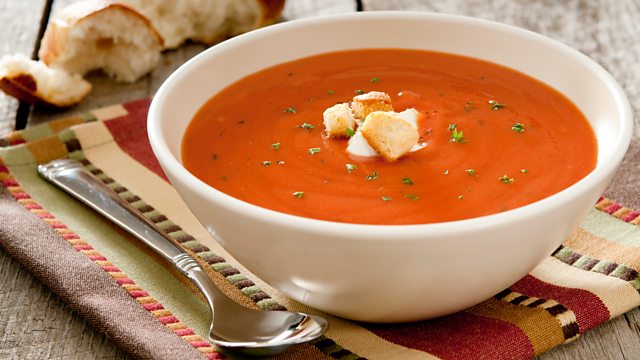 Soup and the British
Love-soup or laughing stock? Tim Hayward looks at how a dish to use up leftovers is now trendy and worth millions and roots out how brown Windsor soup gave the dish a bad name.
From a hearty warming bowl of chunky soup on a frosty Winter's day to the smooth comfort of home-made chicken soup when you're ill, the British, it seems, love soup. We spend £762million a year and the market's growing with trendy exotic flavours spicing up the choice on offer new gadgets to help make the dish and slimmers replacing juicing with 'souping', it's gaining pace.
Tim Hayward is passionate that this dish is more than simply an appetiser and keen to stamp out memories of wishy-washy, tasteless broths. Past horrors had made it a laughing stock with 'Brown Windsor Soup' being the punchline of many jokes in the 50s and symbolic of austerity and low-quality catering. He searches out the roots of this much-mocked comic dish, alongside Turtle and Bombay duck varieties, and seeks to clear its name.
Along the way he meets the man who made millions and revolutionised the market with fresh soups which are stealing our hearts from the old tins, gets top tips from the 'Soupsayer' and spins the colour wheel at the pub whose soup is always a mystery but 'never vegetarian'.
Presented by Tim Hayward.
Produced by Anne-Marie Bullock.
Credits
| Role | Contributor |
| --- | --- |
| Presenter | Tim Hayward |
| Producer | Anne-Marie Bullock |