Main content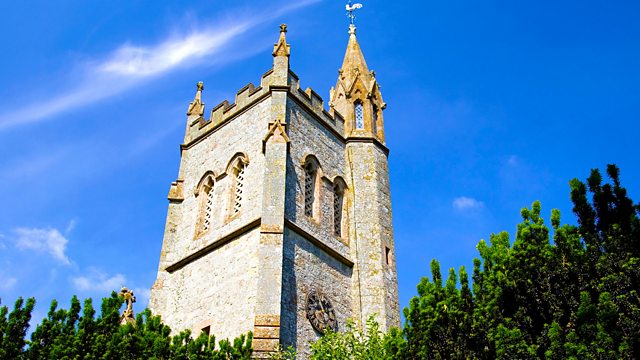 Fifty Shades of Love
A service from St Luke's, West Holloway
Dave Tomlinson writer of 'The Bad Christian's Manifesto' and 'How to be a bad Christian' reflects on God, love and passion for Valentine's Day.
Leader: Rhian Roberts
Music Director: Justin Butcher
Organist: Michael Haslam.
Last on
Fifty Shades of Love
Due to copyright restrictions on the Roman missal, only the introduction, homily and music details can be put on the website.
Please note:
This script cannot exactly reflect the transmission, as it was prepared before the service was broadcast. It may include editorial notes prepared by the producer, and minor spelling and other errors that were corrected before the radio broadcast.
It may contain gaps to be filled in at the time so that prayers may reflect the needs of the world, and changes may also be made at the last minute for timing reasons, or to reflect current events.

Opening announcement from Continuity:
It's ten past eight and time now to go to St Luke's in West Holloway to celebrate love human and divine on this Valentine's weekend. The preacher is the Reverend Dave Tomlinson, author of the book, 'How to be a bad Christian.' The service is introduced by Rhian Roberts and begins with a poem by George Herbert set to music by Ralph Vaughan Williams, The Call
Chorus: The Call  (words: George Herbert, music: R. Vaughan Williams)
Rhian Roberts:
Good morning and welcome to St Luke's.
You'd have been hard pressed to miss Valentine's Day yesterday, thanks to all the businesses so keen to help us remember this patron saint of lovers - about whom so very little is known.  A 5th century Pope described him as a saint 'justly reverenced among men but whose acts were known only to God'.   Today we take the opportunity to celebrate this mysterious saint, patron of the mysteries of love in all its many forms.
On days like this, it's decreed love must be in the air but women and men often find themselves quite unable to put into words the 'river deep, mountain high' magnitude of their emotions.  It's as if love is something of such puzzling complexity that it's no wonder our own words fall short of the mark. And often we turn to poetry for help - as we will during this service.
Fortunately we're surrounded by poets. The famous ones that ask 'How do I love thee?' and the everyday ones who suggest we feel their jackets as 'they're made of boyfriend material'. 
One poet, very local to this church, Martin Wroe writes;
'It's not easy to accept that
None of us really exists
Except when we exist for each other'
And so we begin by pondering the mysterious nature of love; the 'You had me at hello' kind with its swirling strings and promises of the eternally marvellous, to the 'I'm so glad you're here when I get home, what's for tea?' Every kind requires that 'we exist for each other' and not for ourselves alone. And wrapped all around it is the mysterious love of God – the love we hope to glimpse in each other.
Hymn: Love one another (Ewalry)  John Bell 
Rhian:
God's love has taught us to love and as human beings we express our love in friendship and with our bodies.  The intimate poetry of the Song of Solomon describes human passion in sensual language.
Reading by Rupert Smith:  Song of Solomon 2:10-13; 8:6-7 1.00 NRSV
A reading from the Song of Solomon
10 My beloved speaks and says to me:
'Arise, my love, my fair one,
   and come away;
11 for now the winter is past,
   the rain is over and gone.
12 The flowers appear on the earth;
   the time of singing has come,
and the voice of the turtle-dove
   is heard in our land.
13 The fig tree puts forth its figs,
   and the vines are in blossom;
   they give forth fragrance.
Arise, my love, my fair one,
   and come away.
6 Set me as a seal upon your heart,
   as a seal upon your arm;
for love is strong as death,
   passion fierce as the grave.
Its flashes are flashes of fire,
   a raging flame.
7 Many waters cannot quench love,
   neither can floods drown it.
If one offered for love
   all the wealth of one's house,
   it would be utterly scorned.
Choir:  Many waters cannot quench love (words: Song of Solomon, music: John L Bell)
Rhian: Wendy Cope's poem leads us away from the exotic world of King Solomon's court, to the everyday but equally thrilling romance of love in the city
Reading by Helen Kanmwaa: (from Wendy Cope, Serious Concerns, Faber & Faber, 2002)
Talk by Dave Tomlinson (Part 1)
I sent my first Valentines card to Janet Roberts, a classmate, and the first girl I ever had a crush on. We were both 13-years-old. I was far too scared to talk to her, so I loved the idea that I could send a message without her knowing who it was from.
Nowadays, Valentine's Day is a massive commercial event, and it seems hard to take Valentine's sainthood seriously amid this vast sea of pink fluffiness. Yet he does have an official feast day in the Anglican Church, with the optional rite of the renewing of wedding vows. He is after all the patron saint of engaged couples and happy marriages.
Yet if it were up to me, I'd go further and make Valentine the patron saint of romantic love and sexual passion. Why shouldn't the church have a specific day to celebrate these magnificent gifts – to recognise the grace in carnality?
I myself come from a church background where sex and passion were hardly mentioned, except in disapproving tones, or with shuffling discomfort. Certainly, we could never laugh about sex. Jokes about sex were 'dirty', 'vulgar' and definitely ungodly. If the subject was ever mentioned it was with solemnity.
Yet it has always seemed odd to me that Christians should feel awkward or embarrassed about sexual love, or in any way treat it as dirty or coarse, when we worship the God who created bodies and physical passion, and who took fleshly form in Jesus Christ, becoming a real human being with all the urges and desires the rest of us have.
Of course it is true that carnal desire is one of the most exploited aspects of human nature, and we certainly live in a vastly over-sexualised world, which, however, only makes it all the more vital that the church celebrates passion and romantic love – within the context of caring, co-equal, non-abusive relationships. 
One of my greatest pleasures as a vicar is to stand at the front of the church with two love struck people gazing into each other's eyes, making the most extravagant promises of their life: 'With my body I honour you, all that I am I give to you, and all that I have I share with you.'
When I meet a couple to discuss their wedding I always ask how they met. James and Linda had one of the best stories ever. James is an artist, and shortly after they met he gave Linda a picture – painted just for her, which she proudly hung on her bedroom wall.
A couple of years later, he telephoned her from New York where he was visiting on business.
'I'd like you to take the picture down and tear it apart', he told her.
'Why would I want to do that?', she asked incredulously.
Just do it…. please', he replied.
Against all her natural instincts, Linda removed the picture from the wall, ripped it out of the frame and tore the whole thing apart, only to discover, there on the back of the painting, in large letters, the question, 'Linda, will you please marry me?'
From the moment they met, James knew that Linda was the one; yet for two years, he kept shtum. And unbeknown to her, all that time, she slept with his proposal every single night.
Suspicious of anyone who could possibly be so romantic, I teasingly enquired of James how many other secret proposals hung on the walls of women's bedrooms!
I was assured that this was the only one.
Frankly, I find romantic love awesome – that raging flame which mostly appears out of nowhere and hurls people together, often for the rest of their lives.
Yet after four decades and more of marriage, I know that lasting relationships require something more than romance and passion.
Rhian: Our next hymn reflects on the God's love – a prayer that it may be kindled in the heart, like a holy fame.  Come down, O love divine.
Hymn:  Come down O love divine
Bianco da Siena (d. 1434) tr. R. F. Littledale (1833-90)

Reading by Andrew Harrison: 1 John 4: 16b, 18-21 NRSV
A reading from the first letter of St John – another shade of divine love, the love that spills over into human care and compassion.
God is love, and those who abide in love abide in God, and God abides in them. There is no fear in love, but perfect love casts out fear; for fear has to do with punishment, and whoever fears has not reached perfection in love. We love because he first loved us. Those who say, 'I love God', and hate their brothers or sisters, are liars; for those who do not love a brother or sister whom they have seen, cannot love God whom they have not seen. The commandment we have from him is this: those who love God must love their brothers and sisters also.
As John casts a light on love so does another writer, Robert Louis Stevenson. In this next choral piece one of his poems 'My Wife' is set to music by the contemporary composer, Samuel Pegg. In it the poet lists the attributes of his bride, Fanny Vandegrift and thanks 'The Great Artificer' and 'Mighty Master' for giving him such a mate. She was a  brave and adventurous woman and accompanied Stevenson on many of his travels.  Her ashes are buried with his at the summit of Mount Vaea in Samoa. The steep path to their graves is called 'The Road of Loving Hearts'.
Talk by Dave Tomlinson (Part 2)
Robert Louis Stephenson seemed to be passionate as well as pragmatic about love for his wife, the woman he describes as 'a fellow-farer true through life.'
 
But then George Bernard Shaw said of marriage that when two people are under the influence of the most violent, most insane, most delusive, and most transient of passions, they are required to swear that they will remain in that excited, abnormal, and exhausting condition continuously until death do them part.
I don't think Shaw was a big fan of marriage.  But of course it is true: no one can seriously hope to remain in a state of passion for the rest of his or her life. Not only would that be impossible, it would also be utterly intolerable! It would be like eating party food at every meal for the rest of your life! You'd soon be longing for meat and veg, or beans on toast.
Yet many do buy into the fantasy of marriage as a permanent romance with constant feelings of passion. I can't say how many people have told me, 'I don't love him (or her) anymore. We've fallen out of love.'
Now, I'm not fool enough to imagine that all relationships can (or even should) last forever. Indeed, I have personally helped some to end – even presided over services of separation. But love isn't simply something we 'fall' into or out of.
Passion brings people together, that's for sure, but it requires a different sort of love to keep us together. Jerome K. Jerome commented that falling in love was like catching measles. He went on to say that, like measles, it would pass, but that we shouldn't be concerned about this; that, it lies in our hands to kindle a much longer-lasting flame than passion – affection or friendship, the sort of love we experience in all kinds of relationships but which is also the basis of a successful partnership.
John Macmurray, the Scottish philosopher whose entire system of philosophy is based on the notion of friendship states that friendship is 'delight in the presence of the other.' It's the sense of belonging together, of being free to be oneself, of knowing that no sacrifice would be too great to make for the other.
In the course of my work I have witnessed many amazing gestures of love and friendship – none more moving or challenging than those at the end of a person's life. One amazing woman in our church actually booked a lonely-hearts ad for her husband in the newspaper, scheduled to appear a few months after her death. And yes, he is now happily remarried – the result of his former wife's undying friendship.
Love is costly, yet also deeply satisfying. A friend is someone who knows the song in your heart and can sing it back to you when you have forgotten the words. Or as George Eliot writes, 'No soul is desolate as long as there is a human being for whom it can feel trust and reverence.'
I recently took the funeral of Marie, a woman in his mid 80s. She had been married to Harry for 61 years. After the committal, I stepped back from the grave while relatives and friends said their goodbyes. Finally, Harry made his way to the graveside with a single red rose. Looking down to the coffin, he gestured with his hands, speaking to his departed wife for around a minute. It was an eternity. I couldn't hear what he said, I didn't wish to. But standing there I pondered how long 61 years really is. Yes, they'd known passion, but what would remain beyond death was their friendship.
If I were to sum up everything I believe about God in just one word, without doubt the word would be love. 'God is love' is the closest we get to a definition of God in the Bible.
And God is the source of every kind of love, including the romantic sort. Long may St Valentine remind us of the fact.
 
Rhian: And so we turn to our prayers for this day;
A moment of quiet and the space to breathe deeply.
Our prayers seem so small and inconsequential cast against the mountains of injustice and inequality across the world.  We ask that they might prompt us, and others, to take action so then they won't seem too small at all.
Lord help us to stand alongside children in places where their voices are never heard; where they grow up unsure if they will eat that day or where they will sleep.
That we may stand with the children who are sent out to work instead of out to school; with the ones who are mistreated and neglected, our hearts are with any child who has no one to love them.
Lord in your mercy
Congregation: Hear our prayer
Lord help us to stand alongside women anywhere where they're still seen as less important than men; where the birth of a female child is not welcomed, where girls are not thought worth educating, where women marry young and not where their hearts lie, when a life of servitude is all that waits for them.
Lord in your mercy
Congregation: hear our prayer
Be with us as we stand alongside those in places where they cannot build the life they would wish to; where people  live with the constant threat of violence, where they yearn to return to a home that has been taken from them, where they cannot protect their families from poverty, where they cannot find work to put their hearts into.
We pray for those the world over are not able to love as any child of God should be; anyone forced to keep their love secret for fear of reprisal and anyone who feels that love will never find them and take them home. 
Lord in your mercy
Congregation: hear our prayer

We thank you for showing us what love can be, even if we fall short of it most of the time. Thank you for those who show us the extraordinary depths and breadths that love can reach, for those who make our hearts soar, for those who make our hearts warm; for anyone who ever held our hand and held ourselves entire.
For the swirling stringed - what's for tea - mysterious normality of love,
For moments when we fully understand that we only really exist when we exist for each other.
Amen
 
Hymn:   Love Divine All Loves Excelling
Charles Wesley (1707-88)
 
Dave Tomlinson:
May the God who dances in creation, 
who embraces us with human love,
who shakes our lives like thunder,
bless us and drive us out with power
to fill the world with love and justice;
and the blessing of God
Creator, Liberator and Sustainer
be with you and remain with you always.
ALL:  AMEN
ORGAN VOLUNTARY:  Arrival of the Queen of Sheba, Handel
Broadcast