Main content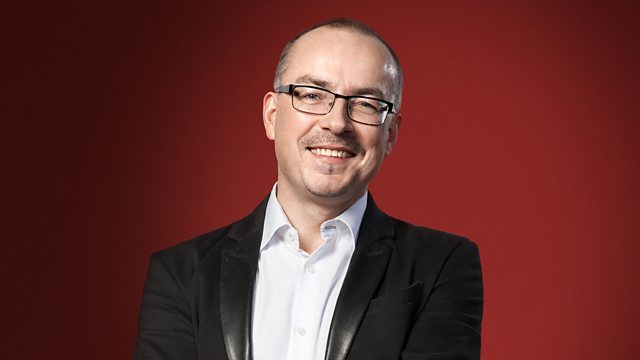 Building a Library: Clara Schumann: Piano Trio in G Minor
With Andrew McGregor. Building a Library: Clara Schumann: Piano Trio in G minor; new releases by women composers from the last ten centuries; Disc of the Week.
9.00am
LALANDE: Lecons De Tenebres, Miserere
Sophie Karthauser (soprano), Ensemble Correspondances, Sebastien Dauce (conductor)
HARMONIA MUNDI HMC902206 (CD)
Britten & Barber: Piano Concertos & Nocturnes
BARBER, S: Nocturne Op. 33; Piano Concerto Op. 38
BRITTEN: Piano Concerto Op. 13; Night Pieces (Notturno) for piano
London Symphony Orchestra, Emil Tabakov (conductor), Elizabeth Joy Roe (piano)
DECCA 4788189 (CD)
JS Bach/Schnittke: Sarah & Deborah Nemtanu
BACH, J S: Concerto for Two Violins in D minor, BWV1043; Violin Concerto No. 2 in E major, BWV1042; Two-part Invention No. 1 in C major, BWV772; Violin Concerto No. 1 in A minor, BWV1041; Two-part Invention No. 8 in F major, BWV779
SCHNITTKE: Concerto Grosso No. 3
Deborah Nemtanu (violin, viola), Sarah Nemtanu (violin), Orchestre de Chambre de Paris, Sascha Goetzel (conductor)
NAIVE V5383 (CD)
Brahms & Schumann: Lieder
BRAHMS: Dein blaues Auge, (No. 8 from Acht Lieder und Gesange Op. 59); Meine Liebe ist grun Op. 63 No. 5; Der Schmied Op. 19/4; Standchen Op. 106 No. 1; Wir wandelten, wir zwei zusammen Op. 96/2; Wie Melodien zieht es mir Op. 105 No. 1; Wiegenlied Op. 49 No. 4 (Lullaby)
SCHUMANN: Gedichte der Konigin Maria Stuart Op. 135; Lieder und Gesange aus Goethes Wilhelm Meister Op. 98a; Ich denke dein Op. 78, No. 3; Hoch, hoch sind die Berge Op. 138, No. 8 (from Spanische Liebeslieder); Familien-Gemalde Op. 34 No. 4; So wahr die Sonne scheinet Op. 37, No. 12; Ich bin dein Baum Op. 101 No. 3
Ann Murray (mezzo-soprano) Malcolm Martineau (piano), Hester Dickson (piano), Benjamin Appl (baritone), John Mark Ainsley (tenor), Johnny Langridge (tenor)
LINN CKD443 (Hybrid SACD)
09.30am Building a Library
Pianist and composer David Owen Norris sifts the available recordings of Clara Schumann's 1846 Piano Trio in G minor, one of her of finest compositions, to make a personal recommendation:
Top Recommendation:
C. Schumann - Piano Trio & Schubert - Rosamunde Quartet, String Trio
SCHUBERT: String Quartet No. 13 in A minor, D804 'Rosamunde'; String Trio in B flat major, D471
SCHUMANN, CLARA: Piano Trio in G minor Op. 17
Christian Tetzlaff (violin), Antje Weithaas (violin), Rachel Roberts (viola), Tanja Tetzlaff (cello), Gergana Gergova (violin), Volker Jacobsen (viola), Alban Gerhardt (cello), Gunilla Sussmann (piano)
AVI MUSIC AVI8553294 (CD)
10.20am Johanna Martzy
Johanna Martzy
BACH, J S: Sonata for solo violin No. 1 in G minor, BWV1001
BRAHMS: Violin Sonata No. 1 in G major Op. 78
DVORAK: Violin Concerto in A minor Op. 53
HANDEL: Sonata in A Major for violin and continuo, HWV361 Op. 1 No. 3
KREISLER: Rondino on a Theme by Beethoven; Danse Espagnole (after Falla)
RAVEL: Berceuse sur le nom de Faure
VIVALDI: Violin Sonata in D Major, RV10
RIAS-Symphonie-Orchester, Ferenc Fricsay (conductor), Johanna Martzy (violin), Jean Antonietti (piano)
AUDITE AUDITE23424 (2CD budget)
Johanna Martzy plays Mozart
MOZART: Violin Concerto No. 4 in D major, K218; Violin Concerto No. 3 in G major, K216
Johanna Martzy (violin), Radio-Sinfonieorchester Stuttgart des SWR, Hans Muller-Kray (conductor)
HANSSLER HAEN94230 (CD mid-price)
10:30am New Releases – Gillian Moore on new releases by women composers
Gillian Moore finds much to enjoy in new releases of music by women composers spanning ten centuries, from Hildegard of Bingen to Sofia Gubaidulina, by way of Lili Boulanger and Grazyna Bacewicz.
Saariaho: Quatre Instants, Terra Memoria & Emilie Suite
SAARIAHO: Quatre Instants; Terra Memoria for String Orchestra; Emilie Suite
Karen Vourc'h (soprano), Orchestre Philharmonique de Strasbourg, Marko Letonja (conductor)
ONDINE ODE12552 (CD)
Seven Sisters – Chamber Music by British Women
MCDOWALL: Le Temps Viendra
ELLICOTT: Aria
POOK: Wonderland
BEAMISH: Songs and Blessings
SOPHIA DUSSEK: Violin Sonata in D, Op.1
SMYTH: Cello Sonata in A minor, Op.5
DRING: Trio for flute, oboe and piano
Diana Ambache (piano), Anthony Robb (flute), Jeremy Polmear (oboe), Neyire Ashworth (clarinet ), Julie Andrews (bassoon), David Juritz (violin), Louise Williams (viola), Rebecca Knight (cello)
AMBACHE RECORDINGS AMB 6005 (CD)
Hildegard von Bingen: Vox Cosmica
ABELARD: Planctus David super Saul et lonatha
HILDEGARD: O tu suavissima; Divine Love (Karitas Habundat); Ave Maria; For the Creator (O Quam Mirabilis); O virtus sapientae
JOHANSEN, P: Meditation I; Meditation II; Meditation III; Meditation IV
Arianna Savall (singer, harp), Hirundo Maris
CARPE DIEM CD16304 (CD)
Stravinsky - Symphony of Psalms
BOULANGER, L: Psalm 130: 'Du fond de l'abime'; Psalm 129 'Ils m'ont assez opprime des ma jeunesse'; Psalm 24 'La terre appartient a l'Eternel'; Vieille Priere bouddhique
STRAVINSKY: Symphony of Psalms
The Monteverdi Choir, London Symphony Orchestra, Sir John Eliot Gardiner (conductor)
BRILLIANT CLASSICS 9015 (CD budget)
Bacewicz: Symphony for String Orchestra, Concerto for String Orchestra & Piano Quintet No. 1
BACEWICZ: Concerto for Strings; Symphony for string orchestra; Piano Quintet No. 1
Ewa Kupiec (piano), Capella Bydgostiensis, Mariusz Smolij
NAXOS 8573229 (CD budget)
Sofia Gubaidulina: Repentance
GUBAIDULINA: Repentance, for cello, bass and guitars; Serenade; Piano Sonata; Sotto voce
Jacob Kellermann (guitar), Lucas Brar (guitar), Franz Halasz (guitar), Hariolf Schlichtig (viola), Wen-Sinn Yang (cello), Philipp Stubenrauch (double bass), Debora Halasz (piano)
BIS BIS2056 (Hybrid SACD)
11.40am Disc of the Week
JS Bach: Actus Tragicus
BACH, J S: Trio Sonata No. 1 in E flat major, BWV525; Cantata BWV106 'Gottes Zeit ist die allerbeste Zeit' (Actus tragicus); Motet BWV229 'Komm, Jesu, komm!'; Chorale Prelude BWV654 'Schmucke dich, o liebe Seele'; Cantata BWV125 'Mit Fried und Freud ich fahr dahin'
Musica Amphion, Gesualdo Consort Amsterdam, Pieter-Jan Belder (director)
ETCETERA KTC1489 (CD + Book)