Main content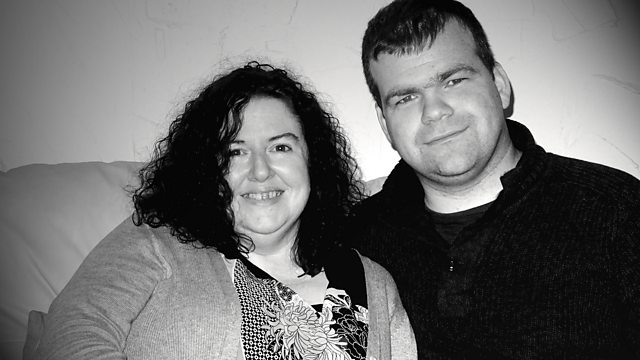 Young, Free, Single and Disabled
Suzy Beaumont explores the challenges faced by people with learning disabilities when finding love and friendship.
We all want love and friendship in our life, right? If you're single and looking for love you might try out the pubs and clubs, join groups, and possibly even online dating? But for the 26,000 people living in Scotland with a learning disability finding that special someone can be a bit trickier and what if you are gay or transgender as well?
How would you react if you read an online profile which disclosed a learning disability, be honest, would you respond? So does that mean people with learning disabilities can only find love with someone else who is learning disabled or is that shallow thinking?
Suzy Beaumont explores the challenges of seeking someone special.
Last on
Best friends John Paul and Michael refuse to let disabilities stand in their way.
Details of organisations which offer advice and support.
ENABLE Scotland provides a wide range of support services for people who have learning disabilities and their families, Visit enable.org.uk or call Enable Direct on 0300 0200 101, Monday to Friday between 9am and 5pm
Dates 'n' Mates is dating and friendship agency in Scotland, run by and for people with learning disabilities. If you're looking for a girlfriend or boyfriend they'll try and match you with someone and support you to meet up on your first date. If you're looking for friends they run social events where you can meet old and new friends and have fun. A membership fee applies.
Phone: 0141 427 2957
Email: dnm@c-change.org.uk
www.dates-n-mates.co.uk
dm2 Ayrshire are a friendship and social activity project in Ayrshire, run by and for people with a learning disability. They support members to develop, sustain and take control of their own friendships and social life in a safe and friendly environment. A membership fee applies.
Phone: 01563 825 515
Text: 07753497865
http://dm2ayrshire.org
get2gether (formerly Dates'n'Mates Lothian) is a membership organisation exclusively for people with disabilities to provide safe opportunities for love and friendship, to tackle isolation and to promote and support personal relationships.
Phone: 0131 656 9914
http://get2gether.org.uk
LGBT Youth Scotland provides a range of services for lesbian, gay, bisexual and transgender young people aged 12 – 25 including 1-2-1 support, online support and youth groups. They also work closely with professionals and organisations to ensure that LGBT young people are effectively supported and services are inclusive.
Phone: 0131 555 3940
Email info@lgbtyouth.org.uk
www.lgbtyouth.org.uk
TheSite is a digital lifeline for 16 to 25 year-olds. They provide non-judgmental support and information on everything from sex and exam stress to debt and drugs. TheSite's straight-talking emotional support is available 24 hours a day. On TheSite you can chat about any issue on their moderated discussion boards and in their live chat room, browse over 2000 articles and videos full of facts you can trust, read about the experiences of other young people in their True Life section, or ask one of their trained advisors any question, whether that's about friends, dating, love or family life. www.thesite.org/sex-and-relationships/single-life-and-dating/dating-and-disabilities-4685.html
C-Change is a Scottish charity, committed to supporting real positive change in the lives of individuals and families with support needs regardless of age and personal circumstances. Contact them by phone on 0141 427 2946 Monday to Friday between 9am and 5pm or visit www.c-change.org.uk
Relationships and counselling
The Spark is committed to ensuring that all Scottish residents have access to relationship support, through their free Relationship Helpline on 0808 802 2088 or via webchat at www.thespark.org.uk

They also offer Relationship Counselling for individuals, couples and families, available face to face, by telephone and online. There is a charge for these services; to find out more visit www.thespark.org.uk or via their appointments team on 0845 271 2711.
Relationships Scotland offers relationship counselling, family mediation, child contact centres plus a variety of other family support services. There is a change for services and you can find out more by phone on 0845 119 2020, or visit www.relationships-scotland.org.uk.
FamilyLine's free confidential helpline gives you the opportunity to talk with confidence to someone who will listen and support you with your worries and concerns. We can listen to you if you are experiencing difficulties with adult relationships, including separation and divorce. Our helpline is open 0900 to 1700 Monday to Friday 0808 800 5678 or email us at: help@familyline.org.uk
 
Broadcasts