Main content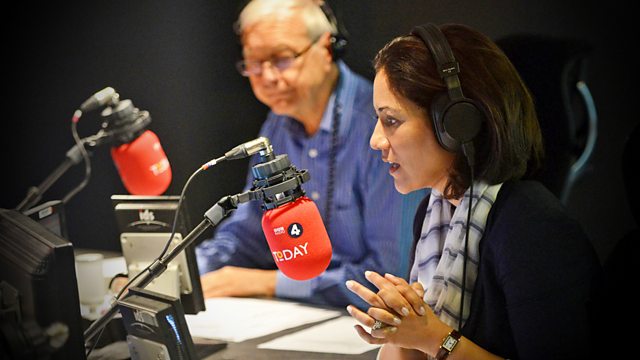 11/02/2015
Morning news and current affairs. Including Sports Desk, Yesterday in Parliament, Weather and Thought for the Day.
Clips

Today's running order
0645
Britain's urban areas are home to more types of wild bee than farmland, a study has found. Researchers at Bristol University say flowers planted in gardens and allotments are important for visiting bees. They are under threat from habitat loss and disease. Professor Jane Memmott is head of biology at the University of Bristol.
0650
More than one in three of us will develop cancer, but huge advances in genetics are transforming our understanding of the disease and how to combat it. The BBC's Panorama has been given unprecedented access to trials at the Royal Marsden and Institute of Cancer Research. The programme reports on the cancer patients who are pioneering a new generation of drug treatments. Patients given just months to live are keeping the disease at bay for years; for some there is even talk of a cure. Dr James Larkin is a consultant medical oncologist who was involved in the clinical trial at the Royal Marsden Hospital.
0710
A review into the treatment of NHS whistle-blowers has heard "shocking" accounts of suffering of staff who raised concerns. The chair of the inquiry, Sir Robert Francis, has told the BBC a "significant proportion" of health workers were afraid to speak up when they saw poor care or failings in patient safety. But he said there had been progress in improving accountability in the NHS. Sir Robert will publish his recommendations later this morning. Chris Hopson is Chief Executive of NHS Providers.
0715
The TV rights for Premier League football were sold yesterday for more than five billion pounds. Sky and BT were the successful bidders, with Sky securing around three-quarters of all the matches.  The deal will run from 2016, for three years. The bid is a seventy per cent increase on Sky and BT's current three billion pound deal, meaning each game will cost on average ten million pounds. So what will more money mean for the fans, the players and English football? Richard Scudamore is chief executive Premier League.
0720
President Obama has confirmed the death of an American aid worker, who was held hostage by Islamic State militants in Syria for eighteen months. He said the US would bring the killers of Kayla Mueller to justice. Islamic State said on Friday that the 26-year-old had died in a Jordanian airstrike, but American officials said they had seen no evidence of this. White House spokesman Josh Earnest said that however Miss Mueller died, Islamic State was responsible. Leslie Alamer was her friend.
0730
If you are diagnosed with dementia what can you and your loved ones do to make a difference to the rest of your life; to make sure you get all the care and support available to you; to keep you out of hospital or keep you from harm if you do end up in hospital; to keep you living independently; to help you stay well as long as possible and stop you going downhill faster than you need? These are the questions that Professor June Andrews seeks to address in her book "Dementia: the One-Stop Guide". John spoke to Professor Andrews and a couple, Linda and Paul Sinclair, still in the early years of coping with the illness.
0740
Three years after the cruise ship the Costa Concordia ran aground off the Italian coast, the trial of the man in charge of the vessel, Captain Francesco Schettino, is due to end today. He faces up to 26 years in jail if he's found guilty of the manslaughter of the 32 passengers and crew who died when the ship hit rocks off the Italian island of Giglio. Our chief correspondent Matthew Price is in Tuscany where the case is being heard.
0750
Scotland's first minister Nicola Sturgeon will today call for an end to austerity. In a speech in London Ms Sturgeon will attack the "one dimensional focus" on deficit reduction which she says has "categorically and comprehensively failed" with deeper cuts still to come. She will also set out proposals for an alternative economic strategy. Nicola Sturgeon is First Minister of Scotland and Leader of the SNP.
0810
A review into the treatment of NHS whistle-blowers has heard "shocking" accounts of suffering of staff who raised concerns. (See 0710)
We speak to a whistleblower and the man appointed by the Health Secretary to lead the Freedom to Speak Up Review in June 2014; Sir Robert Francis QC.
0820
The TV rights for Premier League football were sold yesterday for more than five billion pounds (see 0715). Andy Walsh is general manager FC United and Fiona Mcgee is National Council of the Football Supporters' Federation.
0825
NBC news anchor Brian Williams is being suspended for six months without pay following revelations that he exaggerated tales from an Iraq War mission in 2003. There is a widespread belief inside NBC that he may never actually return to the anchor chair he has held since 2004. Jon Sopel is the BBC's North America Editor.
0830
The leaders of Ukraine, Russia, France and Germany are due to meet in the Belarusian capital Minsk  later today, to try to put in place a peace deal to end months of fighting in Eastern Ukraine. Russian sources said officials who had been thrashing out final details in Minsk ahead of the meeting, had agreed terms for a ceasefire and the withdrawal of heavy weapons. But there was no confirmation of this from the Ukrainian side. Meanwhile on the eve of the summit, fighting on the ground intensified. It appeared that both sides, Ukrainian government forces and Russian backed rebels, were trying to make last minute territorial gains before any possible peace agreement. The German Foreign Minister said he hoped that a last minute explosion of violence would not put the meeting into doubt. The Ukrainian President Petro Poroshenko called it a last chance for a proper ceasefire in the conflict. Kostiantyn Yelisieiev is Ukrainian Ambassador to the European Union.
0840
Analysis seen by the BBC shows there are big differences in the range of subjects being offered by schools in England.  In many places there are what are described as "subject deserts" with few schools offering GCSEs in Physics, Chemistry and Biology or modern languages.  Researchers at Open Public Services Network, looked at the enrolment data for GCSE's in 2013, and revealed a link to deprivation and affluence - with schools in wealthier areas of the country more likely to offer a wider range of subjects. Charlotte Alldritt is RSA Director of Public Services and Bill Layland is headteacher of Kirkby High School on Merseyside.
0850
He's been hailed as one of greatest portrait artists of his generation and from tomorrow paintings by John Singer Sargent, of his friends and peers, go on display at the National Portrait Gallery. But what makes him stand out from his contemporaries? Richard Ormond, curator of Sargent: Portraits of Artists and Friends at the National Gallery and Nicky Phillips, a portrait artist, who was commissioned by Royal Mail to paint Queen Elizabeth II for the first class stamp series celebrating the 60th anniversary of her Coronation, attempt to answer the question.
All subject to change.