Main content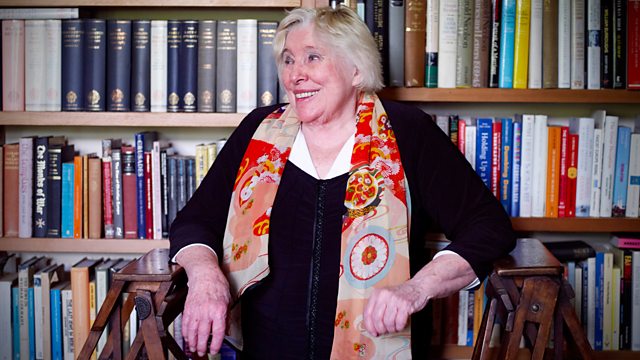 Writer Fay Weldon, Lorin LaFave on Internet Safety, Cultural Appropriation
Writer Fay Weldon talks about her favourite short stories and new novella. Following the murder of her son, Lorin LaFave discusses cyber safety for children. Jane Garvey presents.
Fay Weldon, author of The Life and Loves of a She-Devil, talks about becoming a writer and choosing her favourite short stories for her Mischief collection, which includes a new novella. Lorin LaFave, whose son was groomed and murdered by a man he met playing online games, discusses what can be done to create a safer internet for children. Eleanor Mills, Editorial Director of The Sunday Times and chair of Women in Journalism, on The Press Awards nominations. Journalist Yomi Adegoke and beauty and diversity lecturer Emmanuelle Dirix explore the impact of cultural appropriation.
Presenter: Jane Garvey
Producer: Claire Bartleet.
Chapters
Fay Weldon

Duration: 13:43

Internet Safety

Duration: 15:14

Press Awards

Duration: 04:23

Cultural Appropriation

Duration: 08:12

Fay Weldon

Novelist, screenwriter and essayist, most notably author of The Life and Loves of a She-Devil and The Cloning of Joanna May, Fay Weldon describes  herself as a chronicler of how society has changed, particularly for women.  The  ever shifting relationship between men and women: marriage, infidelity, divorce, contraception, abortion, motherhood, housework, and thwarted careers, are her enduring themes.  Now in her 80's, she's collected together twenty-one of her own favourite short stories written throughout her writing career under the title of Mischief, and including a new novella – a science fiction-type ghost story.  Jane Garvey speaks to the deliciously mischievous Fay Weldon.    

Internet Safety

Today, Safer Internet Day will be celebrated around the world with the slogan 'Let's create a better internet together'. On 17 February last year 14-year-old Breck Bendar was groomed and murdered by a man he met playing online games. Computer engineer Lewis Daynes was jailed for life in January and now Breck's mother, Lorin LaFave is campaigning for a safer internet for children. A new survey commissioned by the BBC reveals that more than half (57%) of 11-16 year olds questioned have done something considered risky or anti-social on networking sites with the majority (62%) saying peer pressure played a part.  Jane Garvey speaks to Lorin LaFave and Laura Higgins, operations manager for The UK Safer Internet Centre, about how peer pressure online impacts young people and what to do if you suspect cyber grooming is happening.

Press Awards

Nominations for the The British Press Awards were announced yesterday. The awards started in the 1970s and are voted on by a panel of journalists and newspaper executives.  Nearly all the categories are dominated by men and some don't even have a single female nominee.
Eleanor Mills is Editorial Director of The Sunday Times, a columnist – and  chair of Women in Journalism.  She joins Jane to discuss why are there still so few women breaking through.

Cultural Appropriation

Cultural appropriation is the concept of mainstream fashion and music labels taking inspiration from ethnic minority cultures. But when does this become more than just inspiration? When does this become dangerous, offensive or even patronising? And why so often is it women of colour who are objectified more so than men of colour? Yomi Adegoke is a journalist for VPoint, an online news and opinion magazine and creator of 'Birthday,' a separate online magazine aimed at young, Black women. Emmanuelle Dirix is a lecturer in Beauty & Diversity in Fashion Media at Syracuse University of London.

Credits

| Role | Contributor |
| --- | --- |
| Presenter | Jane Garvey |
| Interviewed Guest | Fay Weldon |
| Interviewed Guest | Lorin LaFave |
| Interviewed Guest | Eleanor Mills |
| Interviewed Guest | Yomi Adegoke |
| Interviewed Guest | Emmanuelle Dirix |
| Producer | Claire Bartleet |