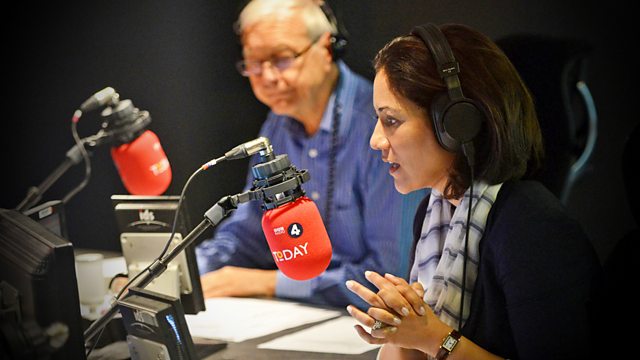 09/02/2015
Morning news and current affairs. Including Sports Desk, Weather and Thought for the Day.
Last on
Today's running order
0650
Labour could win a majority at the general election on a lower share of the vote than the Conservatives would need to do the same, a new report by Professor John Curtice has revealed. We speak to him from Glasgow.
0710
BBC Panorama has seen thousands of leaked accounts from HSBC's private bank in Switzerland. They show Britain's biggest bank helped clients cheat the country out of millions of pounds in tax. Details of thousands of accounts from HSBC's private bank in Switzerland have been leaked by a whistle-blower. The accounts cover up to 2007, and HSBC admits some individuals took advantage of bank secrecy to hold undeclared accounts. The bank says it has now changed. Kamal Ahmed is BBC business editor and Margaret Hodge MP is chair of the Public Accounts Committee.
0715
Labour has unveiled plans for a significant boost to paternity leave if it wins the election, doubling the time fathers can take off to four weeks. Rachel Reeves is shadow secretary of state for Work and Pensions.
0720
The Australian Prime Minister Tony Abbott has survived an attack on his leadership and defeated a so called spill motion. Out of 100 votes, 39 voted against him. Jon Donnison is our correspondent in Canberra.
0735
There's been a fall in the number of traffic police in England and Wales with some forces seeing a reduction of 70%. Nick Alston is Police and Crime Commissioner for Essex and Chairman the National Association of PCCs and Pete Williams from the RAC.
0740
Entertainment correspondent Colin Paterson reports on all the big winners from last night's BAFTA ceremony.
0750
Robert Lacey, author of the Kingdom and the House of Saud discusses the Prince of Wales' trip to Saudi Arabia which begins tomorrow as campaigners hope he raises the case of jailed blogger Raif Badawi.
0810
BBC Panorama has seen thousands of leaked accounts from HSBC's private bank in Switzerland (see 0710). Richard Brooks is former HMRC tax inspector and author of The Great Tax Robbery. David Gauke is financial secretary to the Treasury.
0820
In Egypt football league matches have been suspended indefinitely after violent clashes at a stadium in Cairo left at least 22 people dead. Many fans were crushed in a stampede after police used tear gas to disperse the crowds. Officials say fans of the team Zamalek tried to force their way into a premier league match against rivals ENPPI. It follows a tragedy three years ago when over 70 fans were killed after a game in Port Said. Akran Shaban is head of BBC Arabic and has been a fan of Zamalek since childhood.
0825
The Queen's favourite breed of dog, the Pembroke Welsh Corgi, has been listed on the vulnerable list by the Kennel Club for the first time in its history. Sussie Wiles is a Corgie owner. Carline Kisko is from the Kennel Club.
0830
Troika is a term been made famous by the Eurozone crisis, and it refers to the international inspectors who have the job of implementing austerity and reform in Greece, and other countries that have received international bailouts over the last few years. The new Greek government says it wants nothing to do with the Troika in its current form, and it won't extend its bailout when it expires at the end of the month. Europe Correspondent Chris Morris reports.
0835
Social media users who persistently spread racial hatred online could be given "internet ASBOs" blocking them from sites such as Twitter and Facebook under proposals to tackle rising levels of anti-Semitism. John Mann MP is chair of the All Party Parliamentary Inquiry Into anti-Semitism.
0840
The first straw-bale houses go on the open market this month. The seven affordable town houses are a result of EU-funded, University of Bath research, in association with the architecture firm ModCell. The houses are the first straw bale homes to be certified, so buyers can receive a mortgage. Tim McSweeney reports. Professor Pete Walker is head of the department of architecture and civil engineering at the University of Bath.
0845
The German Chancellor Angela Merkel is in Washington today. Russia's actions in Ukraine are likely to be a big part of her conversations with President Obama. The US and Europe are not united on the way to deal with Russia's actions in Ukraine. Aleem MaqBool is Washington correspondent.
0850
Tonight, for the first time, a new award will be handed out in memory of John Maynard Keynes, one of the most influential British economists of the 20th century whose ideas fundamentally affected modern macroeconomics.  What's less well known about Keynes is his passion for the arts, he founded the arts council England, persuaded the government to buy paintings, collected art and funded artists.  Richard Davenport-Hines has written a new biography ofKeynes. Dame Liz Forgan is on the judging panel and is former chair of the Arts Council England.

All subject to change.
So you think you know the Today programme?