Main content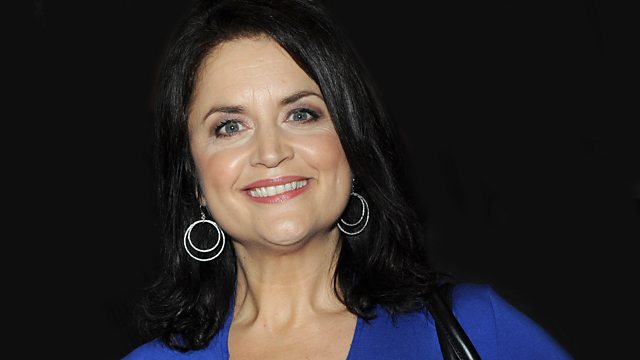 Ruth Jones
The actor and writer Ruth Jones joins Aasmah Mir and Richard Coles. And Beverley Knight shares her inheritance tracks.
The actress, script-writer and producer Ruth Jones joins Aasmah Mir and Richard Coles. Known for her role as 'Nessa Jenkins' in the BBC's award-winning sitcom Gavin and Stacey, she's now back on our screens in the comedy drama series Stella.
Trend forecaster James Wallman describes why we have more stuff than we could ever need. It's cluttering up our homes and making us feel 'stuffocated'. He explains why, rather than a buy a new watch or another pair of shoes, we should invest in shared experiences.
Listener Polly Loxton wrote to Saturday Live about the value of a handwritten letter. She explains why they have been central in her own life.
Anna Bailey accompanies Julian Lloyd Webber to a football match at Leyton Orient to find out how he spends his Saturday.
A visit to his local launderette inspired Luke Jerram to create the 'Play Me, I'm Yours' project - in which he installed pianos in various locations in 46 cities across the world. An estimated six million people have played or listened to the Street Pianos. He describes how the project has led to marriages, a peaceful protest and the film of a homeless man playing which has gone 'viral'.
Inheritance Tracks - the singer and actress Beverley Knight chooses: Touch the Hem of His Garment and A Change Gonna Come by Sam Cooke.
Ruth Jones stars in Stella, Fridays, 9pm, Sky 1.
Stuffocation by James Wallman, is published by Penguin.
Beverley Knight stars in Memphis the Musical at the Shaftesbury Theatre in London and has extended her run until July 2015.
Julian Lloyd Webber makes his conducting debut with the album 'And The Bridge is Love', which comes out at the end of the month; and he'll also be touring with his wife the cellist Jia Tschin Lloyd Webber, where he'll be talking about his career.
Last on
Julian Lloyd Webber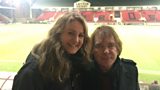 Anna Bailey meets Julian Lloyd Webber at a football match at Leyton Orient.
Studio photo- 07/02/2015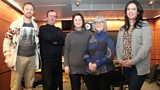 LtoR James Wallman, Richard Coles, Ruth Jones, Polly Loxton and Aasmah Mir.
Credits
| Role | Contributor |
| --- | --- |
| Presenter | Aasmah Mir |
| Presenter | Richard Coles |
| Interviewed Guest | Ruth Jones |
| Interviewed Guest | James Wallman |
| Interviewed Guest | Polly Loxton |
| Interviewed Guest | Anna Bailey |
| Interviewed Guest | Julian Lloyd Webber |
| Interviewed Guest | Luke Jerram |
| Interviewed Guest | Beverley Knight |
Broadcast