Main content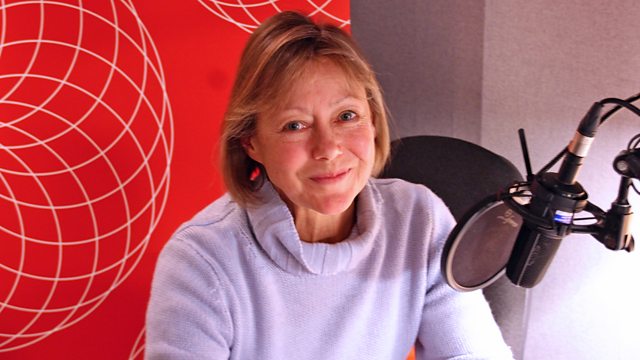 Thursday - Sarah Walker with Jenny Agutter
With Sarah Walker. Includes Five Reasons to Love the Viola; Musical Challenge; Artists of the Week: the Florestan Trio; Sarah's Essential Choice: Strauss: An Alpine Symphony, Op 64.
With Sarah Walker and her guest Jenny Agutter.
9am
A selection of music including '5 Reasons to Love...the viola.' Throughout the week Sarah makes the case for the viola, exploring repertoire ranging from Telemann's Viola Concerto in G TWV 51:G9 to Brahms' Geistliche Wiegenlied Op.91 No.2 and Schumann's Märchenerzählungen Op.132, performed by violists including Simon Standage, Cecil Aronowitz and Lawrence Power.
9.30am
Take part in our daily musical challenge: listen to the story and tell us what happens next.
10am
Sarah's guest this week is Jenny Agutter. An actress of both stage and screen, Jenny is well known for her performance as Roberta in the film adaptation of E. Nesbit's The Railway Children and is currently playing Sister Julienne in the hit television drama Call the Midwife. Jenny will be sharing a selection of her favourite classical music every day at 10am.
10.30am
Sarah's featured artists this week are The Florestan Trio: pianist Susan Tomes, violinist Anthony Marwood and cellist Richard Lester. From their formation in 1995 until they disbanded in 2012, the Florestans built a reputation as one of the world's leading piano trios. Sarah delves into their substantial discography, showcasing benchmark performances of works by composers including Fauré, Mendelssohn, Brahms, Schumann, Haydn and Beethoven.
11am
Sarah's Essential Choice
Richard Strauss
An Alpine Symphony, Op.64
Staatskapelle Weimar
Antoni Wit (conductor).
Music Played
5 reasons to love... the viola

artists of the week: the florestan trio

jenny agutter's choice

artists of the week: the florestan trio

essential Choice
Classical Consequences
One regular concert-goer at the Brussels Philharmonic made a habit of arriving at the concert hall equipped with a sketchbook and pencil. She would sketch the artist during the performance and have the picture autographed afterwards. When Prokofiev's turn came, however, he refused to sign the picture, considering it to be a poor likeness and claiming it looked more like Furtwangler. The usher explained to Prokofiev that the lady was a devoted subscriber, and pleaded with him to sign the picture. What happened next?
With a sigh, Prokofiev agreed, and signed the picture. Later, the usher examined the autograph more closely, and saw that Prokofiev had signed it "Furtwangler".
Time Travellers: the podcast