Main content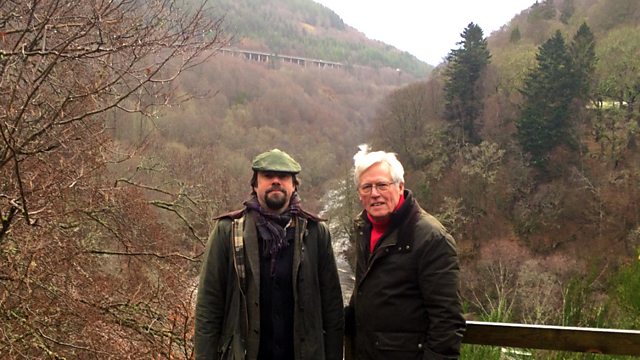 Burns Highlands
The team are in the Highlands of Scotland following in the footsteps of poet Robert Burns. Ellie Harrison learns how to drive a pony and carriage.
The team are in the Highlands of Scotland following in the footsteps of poet Robert Burns. John Craven is at the Falls of Foyers finding out about the great man's Highland tour. Foyers on the banks of Loch Ness is a stronghold for the elusive red squirrel - John discovers why. He also visits Killiecrankie, where he meets a fiddle player inspired by the work of a contemporary of Burns, musician Niel Gow. And he discovers how this landscape shaped the first battle of the Jacobite risings.
Ellie Harrison meets world-renowned photographer Colin Prior. Along with a group of local poets, she learns how to take inspiration from the landscape via the lens. She also heads into the Cairngorms where she takes the reins, learning how to drive a pony and carriage.
The hygiene standards in British farming are some of the best in the world. So why are hundreds of thousands of people still getting food poisoning from chickens every year in the UK? Tom Heap investigates.
Burns' Highland Tour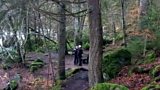 John Craven visits the Falls of Foyers in Scotland, one of the places, the great poet Robert Burns visited on his 600 mile long tour of the Highlands. It was here that Burns penned the lines 'Still thro' the gap the struggling river toils. And still, below, the horrid cauldron boils'.  Pauline Mackay from Glasgow University's project 'Editing Burns for the 21st Century' guides John through the life of this 'heaven taught ploughman'; from his humble beginnings as a farmer in Ayrshire to the elite literary circles of Edinburgh.   John and Pauline mark Burns night with the traditional meal of haggis, neeps and tatties, presented with bag pipes and Burns' verse 'Address to a Haggis'.
Find out more about Burns' Highland Tour
Colin Prior photography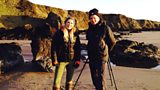 Ellie Harrison heads to St Cyrus beach, a diverse nature reserve on the Aberdeenshire coast.  It lies just north of Montrose, which was another stopping point on Burns' tour of his native country.  St Cyrus was a childhood haunt of world-renowned landscape photographer Colin Prior and still holds inspiration for him today.  Ellie meets Colin at sunrise for a masterclass on capturing that perfect moment in time.  She learns how Colin uses photographs to convey the transient, ever-changing nature of Scotland's scenery, as Burns did with verse.  Later on, Colin and Ellie are joined by modern-day poets Beth, Nikki and Lindsay. Colin inspires them, and Ellie, to take photographs which will give them a new perspective on the landscape, and also encourages them to create some poignant contemporary poetry.
Red squirrels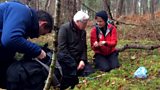 The Falls of Foyers flow into the murky depths of Loch Ness, famous for its elusive legendary creature, the Loch Ness monster.   John joins local ranger Katy Martin on the hunt for another secretive animal of the Great Glen; the red squirrel.   Although the squirrels remain hidden, Katy can find plenty of chewed pine cones, indicating their abundance in the area.   Thanks to the local pine martens, which have an appetite for chubby city-fed grey squirrels, the threat of invasion by rogue greys, and the deadly squirrel pox virus they carry, is kept at bay.
What can you do to help Scotland's red squirrels?
Anaerobic Digester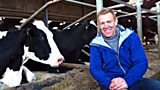 This week on Countryfile, Adam Henson visits a farm in Derbyshire where they're fighting tough times in the dairy industry by converting an incredible 35 tons of cow muck into electricity and cash every day. Traditionally bull calves born in dairy herds have very short lives, but on his visit to this farm Adam discovers that they rear their bull calves on a diet that contains bread to produce top quality rose veal and beef.
Killiecrankie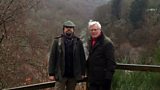 John continues in Burns' footsteps as he travels to Highland Perthshire. As well as writing, Burns made it his mission to collect music to wed his words to. He visited this area to share verse and tunes with fiddler Niel Gow.  John meets musician Pete Clark, who also draws inspiration from the Perthshire landscape, like Burns did before him. But Burns visited this landscape for another reason. 100 years before he came here, this magnificent landscape was the site of the bloody battle of Killiecrankie.  Historian Tony Pollard shows John the site where the first Jacobite battle took place. It was a conflict that changed the course of Scottish history, sparking the Jacobite risings.
Learn about the Battle of Killiecrankie
Why can't we crack campylobacter?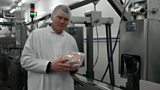 Each year around 280,000 people get ill from eating raw or undercooked chicken. It's all down to a bacteria called campylobacter and despite efforts from the poultry industry to get on top of the problem, a recent survey showed it's still rife in chickens found on supermarket shelves. Three years ago the Food Standards Agency promised Countryfile it was tackling the issue. They even set a target to more than halve the number of most highly contaminated birds. As we near the deadline Tom investigates why that target looks unlikely to be met, and sees some of the new ways chicken producers are trying to eradicate the bug.
Highland Ponies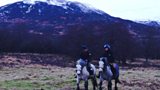 Ellie is in the Cairngorms National Park.   She is also following in the footsteps of Robert Burns, but this time from the vantage point of a sure-footed Highland Pony.  Lorraine Duncan from the Newtonmore Riding Centre takes Ellie on a pony trek, so that she can experience this rugged terrain and this hardy beast for herself. Burns made his Highland tour on horse and cart, pulled by his trusty pony Jenny – who just might have been a Highland pony.  Ellie takes the reins to learn how it is done. Ruaridh Ormiston shows her the ropes, and takes her on a spin through a hair-raising obstacle course.
Credits
| Role | Contributor |
| --- | --- |
| Presenter | John Craven |
| Presenter | Ellie Harrison |
| Presenter | Adam Henson |
| Presenter | Tom Heap |
| Executive Producer | William Lyons |
| Series Producer | Joanna Brame |