Main content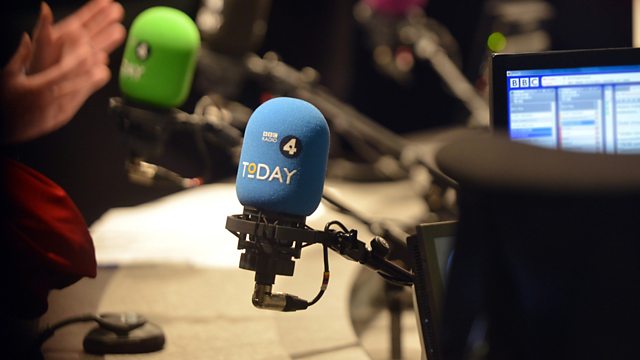 06/02/2015
Morning news and current affairs. Including Sports Desk, Yesterday in Parliament, Weather and Thought for the Day.
Last on

Today's running order
0710
Western leaders are launching a new diplomatic push to try to end fierce fighting in eastern Ukraine between government troops and pro-Russia rebels. Angela Merkel and Francois Hollande will meet Vladimir Putin today in Moscow, after meeting Ukraine's Petro Poroshenko in Kiev on Thursday to put together a new pace plan.  Dmytro Kuleba is Ukranian ambassador.
0715
A report into the coalition government's record on NHS reforms concludes that the upheaval caused by the Health and Social Care Act has been damaging and distracting. The report by the Kings Fund criticised the coalition for wasting its first three years implementing complex organisational changes rather than focusing on tackling the growing pressures on services and funding. Chris Ham is chief executive of the King's Fund.
0720
This Sunday Stephen Fry will be presenting the BAFTA awards, a few weeks on from marrying his partner Elliott Spencer. Last week he found himself at the centre of a row over God. The BBC's Colin Paterson has been speaking to Stephen Fry and he joins us now.
0725
The prime minister of Australia Tony Abbott is in trouble with his own party. It's partly because he decided to give the Duke of Edinburgh a knighthood. Jon Donnison reports.
0730
Today is the deadline for broadcasters to put in their bids for the rights to televise live Premier League matches for the two seasons from 2016. Two years ago BT and Sky paid just over £3bn for 154 matches. That works out at a staggering £6m a game. Our business editor Kamal Ahmed reports.
0740
The head of the Army, General Sir Nick Carter, has said it must do more to recruit soldiers from Britain's ethnic minorities, particularly from the Muslim population. There are currently fewer than 500 Muslim soldiers in the Army.  Afzal Amin is former British Army Officer.
0750
A new study from Public Health England has revealed this year's seasonal flu vaccine is barely able to protect people from the main strain of flu. The flu jab is effective only in 3% of the cases and vulnerable people like elderly and pregnant women are more likely to be at risk. Nick Phin is director of the Centre for Infectious Disease, Public Health England. Sophie Andrews is chief executive for The Silver Line.

0810
Western leaders are launching a new diplomatic push to try to end fierce fighting in eastern Ukraine (see 0710). US Secretary of State John Kerry and NATO Secretary-General Jens Stoltenberg will hold separate meetings with Russia's foreign minister, Sergei Lavrov at a summit in Munich. Meanwhile there has been intense fighting between Ukrainian and rebel forces, focused on the town of  Debaltseve in Eastern Ukraine. General Richard Shirreff is former NATO Deputy Supreme Allied Commander Europe.
0820
The actress Julianne Moore has been nominated for both a BAFTA and an Oscar for her role in 'Still Alice', a portrait of a woman in her 50s who develops Alzheimer's disease. The film is based on a best-selling novel by American neuroscientist Lisa Genova, and the Alzheimer's Society hopes it will encourage more people to talk about the disease. Our reporter Tom Bateman spoke to Julianne Moore at yesterday's UK premiere.
0830
To date, no one has been brought to justice in this country for the crime of female genital mutilation, and yet there are thousands of women living here who have undergone the procedure. The UN is calling today a worldwide day of zero tolerance on FGM - and this year Comic Relief is supporting a charity is trying to change attitudes by training community champions. It's called the Mojatu Foundation. We speak to Valentine Nkoyo, who works for the charity.
0840
Rugby Union's Six Nations championship kicks off this evening in Cardiff - Wales against England live on BBC1 TV and Radio Five-live. Statistics show that the number of rugby injuries per season has remained fairly stable since the game went professional 20 years ago. However, the players in the upper levels of the game are bigger, stronger and faster than before with the ability therefore to deliver more violent physical contact on the pitch. The game now has real concerns about concussion and its potential after-effects. Rob Bonnet reports.
0850
A Wikipedia editor is on a one-man mission to eradicate a grammatical error that really gets on his nerves.  Software engineer Bryan Henderson has dedicated years to removing the phrase 'comprised of' from the online encyclopedia. The 51-year-old, who is known as Giraffedata online, has made more than 47,000 edits of the phrase to date. Christopher Howse is columnist for the Daily Telegraph.

All subject to change.
Broadcast