Main content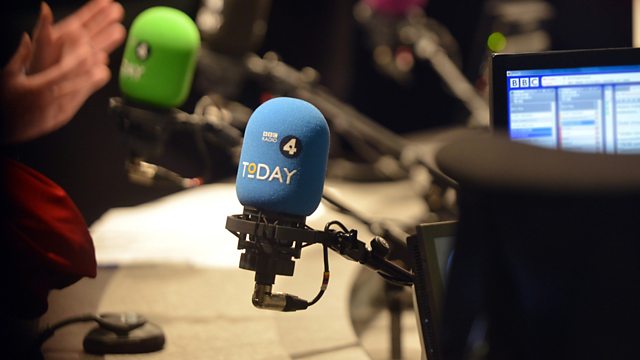 04/02/2015
Morning news and current affairs. Including Sports Desk, Yesterday in Parliament, Weather and Thought for the Day.
Last on

Clips

Today's running order
0710
Jordan has vowed to avenge the killing of its captured air force pilot by Islamic State militants after a video purported to show him being burnt alive. Jeremy Bowen is Middle East editor and Sir Richard Ottaway is chair of the Foreign Affairs Select Committee.
0715
The Home Secretary is expected today to announce changes to the public inquiry into child sexual abuse, including a new chair. It has lost two chairs since it was set up last summer. Alison Millar, from the solicitors Leigh Day, is representing many of the victims.
0720
Ed Balls has said the Labour Party has a number of supporters in the business world. We speak to Lord Digby Jones, who served as a trade minister under Gordon Brown and is a former head of the Confederation of British Industry.
0730
In Pakistan, the husband of a woman sentenced to hang for blasphemy has appealed to the international community to help his family. He also called on the Pakistani government to review its blasphemy law. Asia Bibi was the first woman to get the death sentence after she was accused of insulting the prophet Mohamed. She's denied the allegations and said this happened to settle an old score. We speak to the Right Reverend Michael Nazir-Ali, who works with persecuted Christians worldwide.
0745
Bodyguards: the faceless suits who are always in the background when leading politicians or royals take the stage. Their job is to protect and ensure their subject comes to no harm. John Warwicker, who served three Prime Ministers for almost six years at Downing Street in the late seventies, has written a book about the experience.
0750
One in two people in the UK will be diagnosed with cancer at some point in their lives, according to new research. Cancer Research UK says this estimate, published in the British Journal of Cancer using a new method of calculation, replaces the previous forecast of more than one in three people developing the disease. Harpal Kumar is chief executive of Cancer Research.
0810
Jordan has vowed to avenge the killing of its captured air force pilot by Islamic State militants after a video purported to show him being burnt alive.  Reuters are reporting this morning that Jordan has executed a female jihadist who Jordan had tried to exchange for the pilot.  And that Jordan has executed one other Iraqi Islamist. 
Jordan has been one of the prized Arab members of the US-led coalition against IS, prized because its involvement is proof this is not a Western war on Islam. But within Jordan, that involvement has not had universal support. Paul Adams is our correspondent in Amman.
0815
It's believed the Home Secretary Theresa May will announce the new chair of the public inquiry into child abuse today, as well as changes to the scope and format of the inquiry.  It is widely expected that the inquiry will be made statutory and the existing panel will be abandoned and they will reconstitute it through a formal appointment process.  Mark Easton is home editor. Tim Loughton MP is former children's minister.
0820
It is a year since part of the sea wall at Dawlish in Devon was destroyed by a storm, severing the railway line that runs along that stretch of coast. The tracks were left hanging in mid-air and it was two months before the line was able to reopen. Britain has many miles of coastal railways; picturesque but always vulnerable to the immense power of the sea. Nick Higham reports from one of those scenic lines, in Cumbria.
0830
Today Alexis Tsipras, the new Greek Prime Minister, is travelling to Brussels to meet the Presidents of the European Commission and Council, before seeing the French President Francois Hollande in Paris.  These are the latest stops in a charm offensive being waged by Mr Tsipras and his finance minister Yanis Varoufakis, who today meets with the ECB.  Klaus-Peter Willsch is member of the Bundestag and CDU politician, he opposed the Greek bailout in 2010 and continues to do so now. Yiannis Bournous is representative of Syriza at the Executive Board of the European Left Party.
0840
Ministers have failed to honour a pledge made in the wake of the Winterbourne View abuse scandal to move patients with learning difficulties out of hospitals and into community care, the Whitehall spending watchdog, the National Audit Office, has said. Nikki Fox is disability affairs correspondent.
0845
The Archbishop of Canterbury will deliver a lecture on the need to reconnect wealth creation with social justice at Church Hall at 6pm. A debate will then commence on how to put the agenda of inclusive growth into action. Kamal Ahmed is business editor.
0850
Harper Lee, author of To Kill a Mockingbird, is to publish her second novel, Go Set a Watchman this summer, a work which the reclusive writer had believed lost for decades, and in which her beloved character Scout will be seen as an adult. Erica Wagner is author and journalist and Man Booker Prize judge. Tracy Chevalier is author of 'Girl with a Pearl Earring' and 'The Last Runaway'.

All subject to change.
Broadcast