Main content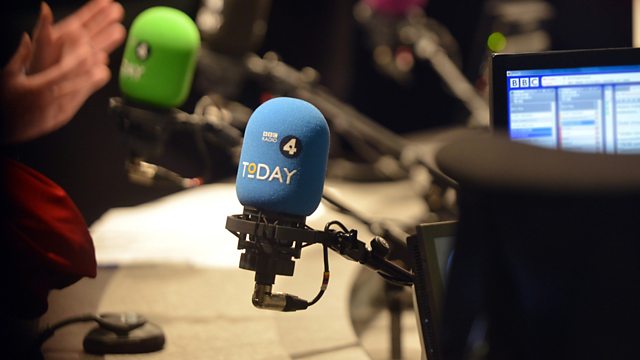 03/02/2015
Morning news and current affairs. Including Sports Desk, Yesterday in Parliament, Weather and Thought for the Day.
Last on
Today's running order
0650
The public needs to be engaged more in big data projects in health care and biomedical research. That's according to a new report by the Nuffield Council for Bioethics which also calls for greater transparency about how such personal data is being used. Dr Susan Wallace is a member of the Nuffield Council on Bioethics Working Party.
0710
MPs will today decide whether to approve proposals to allow the creation of IVF babies with DNA from three different people. MPs will have a free vote at the end of a 90-minute debate on a controversial amendment to the 2008 Human Fertilisation and Embryology Act. If they back the change, mitochondrial donation techniques aimed at preventing serious inherited diseases will be legalised. Professor Lisa Jardine is former chairwoman of the Human Fertilisation and Embryology Authority. Dr Lee Rayfield is the Bishop of Swindon.
0715
David Cameron announced on Monday that if the Conservatives are in government after May 7th school standards would be improved by imposing new leaderships on failing schools.  Either head teachers who are in charge of successful schools or academy trusts could be brought in to run those schools Ofsted deem as requiring improvement.  Carl Ward is head teacher of Haywood Academy, a secondary school in Stoke on Trent.
0720
MPs are warning the government not to forget small, rural communities in the roll-out of high-speed internet connections. There's a target of rolling out superfast broadband to 95 per cent of the country by 2017. But a report from the Commons committee overseeing rural affairs says the other five per cent of householders could feel increasingly cut off. Anne McIntosh is chair of the Environment, Food and Rural Affairs Committee. Ed Vaizey is minister of state for Culture and the Digital Economy.
0730
The government's strategy on combating alcohol abuse in the army is not working according to the lead on military health at the Royal College of Psychiatrists.  Professor Neil Greenberg, a former Surgeon Commander in the Royal Navy, says teaching soldiers about the harmful effects of alcohol abuse is a waste of time because it doesn't stop them from binge drinking.  Air Vice Marshal Ray Lock is a retired senior RAF officer who is now the chief executive of the Forces in Mind Trust.
0745
Football, at least the top level, is awash with money. The multi-million pound nature of the business is controversial. One of the most powerful agents in the game, the Portuguese Jorge Mendes, who has handled the transfer of Cristiano Ronaldo, has launched a passionate defence of the way money has poured into football. Our sports editor, Dan Road, has been talking to him.
0750
In November, European Commission President Juncker scrapped the role of chief scientific adviser. It wasn't an entirely surprising move, as the position was brought in by his predecessor, Barosso. But Anne Glover, who held the position for the duration of Barosso's presidency and is stepping down this month, says she's concerned about how the EU will make decisions on science and environment policy without a chief advisor there to provide unbiased evidence. We speak to Anne Glover.
0810
MPs will today decide whether to approve proposals to allow the creation of IVF babies with DNA from three different people (see 0710). Vicky Holliday is the mother of a one-year-old daughter who has a Mitochondrial  Disorder; she wants to have another baby using the kind of treatment that MPs are debating whether to legalise later today. Jacob Rees-Mogg is Conservative MP for North East Somerset and will vote against the proposals.
0820
The Conservatives are setting out what they would do on "English Votes for English Laws" if they win the General Election. The party says English MPs would get a veto over income tax rates in England and other laws affecting just England. However, MPs from across the UK would continue to be able to debate and vote on English laws. William Hague is leader of the Commons.
0830
It's one month since Boko Haram militants attacked the Nigerian towns of Baga and Doron Baga. Exactly what happened and the number of deaths is unknown but a BBC investigation suggests that several hundred were killed during the attacks. The anniversary comes as the African Union backs plans for a regional force to fight the Islamist insurgency amid continuing violence in the region, including an attack yesterday on a campaign rally minutes after the president Goodluck Jonathan had left. Thomas Fessy is our West Africa correspondent.
0835
A character from the hit US TV series "Breaking Bad" has been given his own spin off show. "Better Call Saul" is based around the character of Saul Goodman, the crooked lawyer from Breaking Bad. But do spin-offs ever really work? Julia Raeside writes about television for the Guardian. Andrew Billen is TV critic  for The Times.
0840
The lights are going out in South Africa because of a power crisis the President blames on apartheid, which ended a generation ago. The country's economy, already lagging behind many others on the continent, is expected to take a further hit. Our Africa correspondent Andrew Harding reports from Johannesburg.
0850
A new four part documentary series 'Inside the Commons' takes viewers behind the scenes to show parts of the Parliamentary Estate which have never been filmed before. Film-maker Michael Cockerell asked for permission for six years before it was granted and his cameras followed MPs inside the Parliamentary estate over the course of a year. The first episode will be screened on Tuesday evening on BBC2 at 9pm. Michael Cockerell is the documentary maker. Sarah Champion is Labour MP for Rotherham, she features prominently in the first episode of the series.

All subject to change.
Broadcast