Main content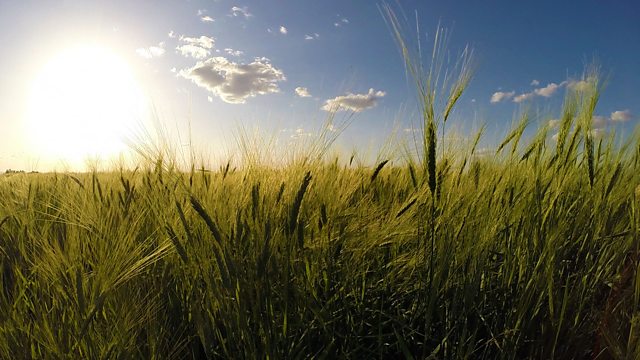 The Grain Divide
Dan Saladino discovers a global movement rethinking the most widely cultivated food plant on Earth - wheat.
Wheat has, since the dawn of agriculture, been especially treasured amongst all of the food crops, and is now the most widely cultivated food plant on the planet. However, the relationship between humans and wheat has changed a great deal in recent times.
With a high-profile documentary film, 'The Grain Divide', about to go on global release, Dan Saladino discovers a worldwide movement of farmers, bakers and breeders rethinking and rediscovering wheat - from long-lost varieties and flavours to re-imagining the future of our relationship with this grain.
The film's Director, JD McLelland, explains how his film aims to change perceptions of wheat - and why this matters. Dan also talks to one of the stars of the film, chef Dan Barber - who's breeding a new variety of wheat named Barber Wheat, and is leading the charge to look again at the taste of wheat.
On the archipelago of Svalbard, far north of the northernmost point of mainland Norway, is the Svalbard Global Seed Vault. Tunneled into the permafrost there lies a store of seeds like no other - which serves as a 'backup' facility, with samples from every country in the world.
It houses the largest collection of wheat varieties on the planet. Dr Cary Fowler, who helped to set up the seed vault - reveals about the role wheat's past has to play in our future.
Dan also meets Andy Forbes from Brockwell Bake, sourdough specialist Vanessa Kimbell and author of "Our Daily Bread - A History of the Cereals" - Professor Åsmund Bjørnstad... as well as Gotland farmer Curt Niklasson, whose life has been changed forever by the contents of a wooden treasure chest.
Presenter: Dan Saladino
Producer: Rich Ward.
Last on
Heritage Sourdough Recipe
The basic guide to baking a sourdough boule, using heritage flour by Vanessa Kimbell, baker and teacher.
We have been eating bread for over 10,000 years, and there are 3,000 year old depictions of the royal bakery in the tomb of Rameses III, in Egypt's Valley of the Kings. Sourdough is, in fact, the way in which we baked all leavened bread until the 1880s, and the grains that were used are what we now call heritage grains.
Typically most ancient grains have a lower gluten structure, which give the bread its lift, so to get the best of both modern crumb and ancient flavour this recipe uses 20% heritage flour blended with today's strong white. You can use any heritage flour, but my favourites are Rivet, Emmer, Einkorn and Khorasan wheats, and Spelt.
Allow yourself about 3 –4 hours for the dough to be mixed, folded and shaped ready to place in the coldest part of the fridge to prove overnight.
(If you are new to bread making, you can, instead of shaping the dough and putting it into a banneton, grease a 2lb bread tin liberally with butter, let the dough rise in it overnight in the fridge and then bake as per the recipe instructions below.)

 Equipment:
A large mixing bowl
A round banneton
2 clean tea towels
A baking stone or a Dutch oven
A large heatproof pan
A sharp knife or 'lame' to slash the dough with

 Ingredients:
300g water
100g sourdough leaven ('starter')*
100g of heritage flour
400g organic strong white flour (and some extra for dusting your banneton)
10g fine sea salt
semolina, to dust
Makes: 1 loaf
 
Early evening
 
Mix (6:00pm)
In a large bowl whisk your water and starter and mix well. Add all the flour and salt and mix until all the ingredients come together into a large ball.
Cover with a damp cloth and let the dough rest in a cool environment for about 2 hours.
Fold (8:30pm)
Lift and fold your dough over, do a quarter turn of your bowl and repeat three more times. Repeat 3 times at 15 minute intervals with a final 15 minute rest at the end.
Shape (9:30pm)
Shape the dough lightly into a ball then place into a round banneton dusted with flour (If you don't have a banneton then use a clean tea towel dusted with flour inside a colander). Dust the top with flour, then cover with a damp tea-towel
Prove
Leave to one side for an hour then transfer to the fridge (about 10.30 – 11pm), and leave to prove there for 8 – 12 hours.

Bake (between 7:00 and 11:00am)
The next morning preheat your oven to 220°C for at least 30 minutes before you are ready to bake. Place your baking stone in the oven and a large pan of boiling water underneath (or use a Dutch oven). The hydration helps form a beautiful crust. Dust the baking stone with a fine layer of semolina, which stops the bread sticking.

Then put your dough onto the baking stone and slash the top with your blade. This decides where the bread will tear as it rises. Bake for 40 minutes.
Turn the heat down to 180°C (and remove the lid if you are using a Dutch oven) and bake for another 15 – 20 minutes.  You need to choose just how dark you like your crust but I suggest that you bake until it is a dark brown – it tastes much better.

Storage
Sourdough is really best left to cool completely before slicing and is even better if left for a day to let the full flavour develop.
Once your sourdough has cooled, store in a linen or cotton bread bag, or in a folded tea towel.
Note: if you don't like a crunchy crust on your sourdough bread, simply wrap your bread in a clean tea towel whilst it is still warm.
* To make 100g of leaven, use 2 tablespoons of sourdough starter, 50g of filtered water and 50g of strong white flour, mix well and leave, covered on the side in the kitchen.  It will be lively and bubbly and ready to bake with after 8 hours.
Credits
| Role | Contributor |
| --- | --- |
| Presenter | Dan Saladino |
| Interviewed Guest | JD McLelland |
| Interviewed Guest | Cary Fowler |
| Interviewed Guest | Andy Forbes |
| Interviewed Guest | Vanessa Kimbell |
| Interviewed Guest | Asmund Bjornstad |
| Interviewed Guest | Curt Niklasson |
| Producer | Rich Ward |
Broadcasts