Main content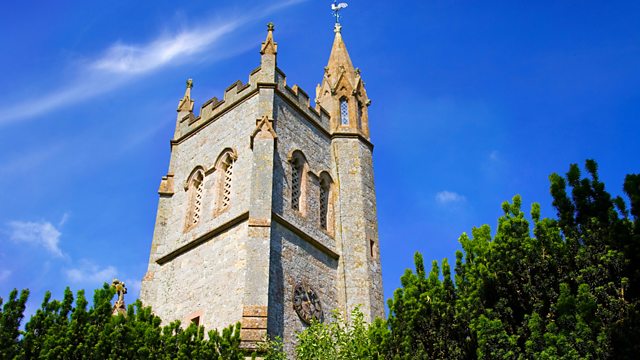 01/02/2015
What does it mean to 'seek the peace and prosperity of the city'?. The outworking of God's command is the theme of a service from Lisburn Cathedral in Co Antrim.
What does it mean to "...seek the peace and prosperity of the city..." and what might that look like in practice? The outworking of God's command within a community context is the theme of today's service from Lisburn Cathedral in Co Antrim. Led by the Rev Simon Genoe, the preacher is Canon Sam Wright and the music is led by the Cathedral Choir and Worship Group.
Led by: Rev Simon Genoe
Preacher: Canon Sam Wright
Readings: Psalm 111, Mark 1:21-28
Music:
Be thou my vision, O Lord of my heart (Trad)
This I Believe (Hillsong)
Cornerstone - My hope is built on nothing less (Hillsong)
10,000 reasons - Bless the Lord O my soul (Redman)
Forever, He is glorified (Bethel)
Praise to the Lord, the Almighty (Neander)
Music Group Leader: Aaron Boyce
Organist: Andrew Skelly.
Script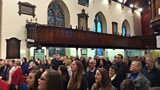 Sunday Worship from Lisburn Cathedral - 1st February 2015 : Radio 4 Announcement
What does it mean to seek the peace and prosperity of a city? That's the theme addressed in today's Sunday Worship from Lisburn Cathedral in County Antrim. The preacher is Canon Sam Wright. The service is led by the Reverend Simon Genoe and begins with the hymn "Be Thou My Vision".
Hymn: Be Thou My Vision
Be thou my vision, O Lord of my heart,
Naught be all else to me, save that thou art;
Thou my best thought in the day and the night,
Waking and sleeping, thy presence my light.
Be thou my wisdom, be thou my true word,
I ever with thee, and I thou with me Lord;
Thou my great Father, and I thy true heir;
Thou in me dwelling, and I in thy care.
Be thou my breastplate, my sword for the fight;
Be thou my whole armour, and be thou my might;
Thou my soul's shelter, and thou my high tower,
Raise thou me heavenward, O Power of my power.
High King of heaven, when the battle is done,
Grant heaven's joy to me, O bright heaven's sun,
Christ of my own heart, whatever befall,
Still be my vision, O Ruler of all.
Simon:
Good morning and a very warm welcome. "Seek the peace and prosperity of the city in which God has placed you, pray for it also, for its welfare will determine your welfare." Words from Jeremiah chapter 29 that we take as our inspiration for all we do here as a Church of Ireland congregation in the centre of Northern Ireland's third largest city. We recently celebrated 350 years of serving this community – and it's the service of our City which is the theme of our service this morning. We hope you experience the presence of God and are blessed and encouraged as we worship this morning.
We begin in prayer, acknowledging our brokenness before God and asking for his loving help…
Heavenly Father, we confess that while you have called us to be people of prayer, we have often been too busy to pray, or so self-reliant that we didn't see the need.
We repent… and turn to live for you
Holy Spirit, you have called us to seek the peace and prosperity of those around us, we have often placed our own ambitions ahead of your calling on our lives.
We repent… and turn to live for you
King Jesus, you have shown us that you are the way, the truth and the life and sent your enabling Spirit to empower us to follow you, but we have often become distracted, tempted or tired and turned away from your path.
We repent… and turn to live for you,
In Jesus' Name we pray, Amen.
Emily Lester is going to read from Jeremiah chapter 29, beginning at verse 4. These are Jeremiah's words to those who've been deported from their home to exile in a strange land.
Jeremiah 29: 4-11 - read by Emily Lester
This is what the Lord Almighty, the God of Israel, says to all those I carried into exile from Jerusalem to Babylon: "Build houses and settle down; plant gardens and eat what they produce. Marry and have sons and daughters; find wives for your sons and give your daughters in marriage, so that they too may have sons and daughters. Increase in number there; do not decrease.
Also, seek the peace and prosperity of the city to which I have carried you into exile. Pray to the Lord for it, because if it prospers, you too will prosper." Yes, this is what the Lord Almighty, the God of Israel, says: "Do not let the prophets and diviners among you deceive you. Do not listen to the dreams you encourage them to have. They are prophesying lies to you in my name. I have not sent them," declares the Lord.
This is what the Lord says: "When seventy years are completed for Babylon, I will come to you and fulfill my good promise to bring you back to this place. For I know the plans I have for you," declares the Lord, "plans to prosper you and not to harm you, plans to give you a hope and a future."
This is the Word of the Lord
Thanks be to God.
Simon
Our next song is called "Bless the Lord" and expresses our desire to give Him the worship he deserves in all situations.
Hymn: 10,000 Reasons
The sun comes up, it's a new day dawning
It's time to sing Your song again
Whatever may pass and whatever lies before me
Let me be singing when the evening comes
Bless the Lord oh my soul, Oh my soul worship His Holy name Sing like never before, Oh my soul I'll worship Your Holy name  
You're rich in love and You're slow to anger
Your name is great and Your heart is kind
For all Your goodness I will keep on singing
Ten thousand reasons for my heart to find
Bless the Lord oh my soul…
And on that day when my strength is failing
The end draws near and my time has come
Still my soul will sing Your praise unending
Ten thousand years and then forevermore
Bless the Lord oh my soul…    
Simon
Our Cathedral has recently undergone an extensive restoration to make it more useful not only to our congregation but also the wider community. We challenged ourselves to go through the doors to bring new life and hope to the city where God has placed us.
Zara Genoe is part of the team who rose to that challenge. They invited every member of the church to go out into the city with the good news of Christ. I've asked Zara to tell us how people responded last Easter during, what we called "The Big Church Serve".
Big Church Serve: Zara
When the organising team were planning the first Big Church Serve last year, we really didn't know what the up-take from the congregation would be. We wanted to enable every member of our Church to go into our city to share God's love. But we shouldn't have doubted the congregation's enthusiasm! On the first morning it was so humbling to see a church-full of petrified but willing people ready to step out of their comfort zones and serve God.
So for four full days, in the city centre and in Hillhall – a housing area within the parish – over 100 people engaged in serving our community through litter-picking, gardening, kids' clubs, carwash, giveaways, pampering zone, cage-football, photo booths, painting fences, and cleaning up graffiti – there really was something for everyone to get involved in!
By the first evening teams were just busting to share their experiences of having prayed with people on the street, of having had meaningful conversations, and of being incredibly well received in both locations. Throughout the week, we received thank you cards, chocolates, facebook messages and so much encouragement from people who were touched by God's love being expressed in these practical ways.
The Big Church Serve undoubtedly blessed the community, but serving God in this way also blessed our Church. People were enabled to use their gifts for Him, people became more confident in sharing their faith and talking about Jesus, and we grew closer as a family as a result of serving together during Holy Week.
Most importantly, the Big Church Serve wasn't just an event, the service and engagement with our community has continued and flourished and this Holy Week, we're gearing up again for another Big Church Serve, and we can't wait to spend some more time sharing together, meeting new people from our community and serving God!
Simon
This next song tells the resurrection story which inspires all that we do, and two thousand years later we're still excited about it.
Hymn: Forever He is Glorified
The moon and stars they wept
The morning sun was dead
The Saviour of the world was fallen
His body on the cross
His blood poured out for us
The weight of every curse upon Him
One final breath He gave
As heaven looked away
The Son of God was laid in darkness
A battle in the grave
The war on death was waged
The power of hell forever broken
The ground began to shake
The stone was rolled away
His perfect love would not be overcome
Now death where is your sting?
Our resurrected King
Has rendered you defeated
Forever He is glorified Forever He is lifted high (And) Forever He is risen He is alive, He is alive
Sam
Next Wednesday morning I am going to have the privilege of sharing my experience as Rector regarding our cathedral's successful restoration, conservation and modernisation. I'm going to speak to the Royal Society of Ulster Architects about the outcome and benefits of the work that was carried out.
One of the other speakers will be an architect called Dawson Stelfox. He's been involved in the restoration of some of Northern Ireland's most iconic structures, like the Albert Clock in Belfast and the Nomadic ship – built by Harland and Wolff at the same time as the Titanic. However his greater claim to fame, is being the first person from Ireland to reach the summit of Mount Everest.
On recalling the most frightening moment there, he said: "I was like a little boy, not sure of where to go, when I suddenly got this bird's eye view of my location. I was looking down on myself and I could see I was too low down and how to get back".
He then describes how instinct kicks in and you fight your way through the crux, the particular point of difficulty. A barrier is broken and confidence gained.
Not many of us will face such a tremendous challenge as Dawson did on the world's highest mountain.
Our vision for the Cathedral from the outset was for more than a transformed building, our prayer was for lives to be transformed and for the transformation of the City of Lisburn.
We are delighted with the beautiful building, with our Coffee Room that welcomes people in each day, with the Lisburn Community Choir who meet here – some of whom are singing with us this morning, the Christmas Tree Festival that drew many thousands of people, the interest clubs, the Victorian afternoon teas, and the schools, musical societies and City Council who can now hold regular concerts in this historic building.
It's quite a transformation from a building that just a few years ago stood mostly vacant for six days a week. The ongoing task, however is to rise to the challenge of transforming lives and in doing so to transform our city.
The scripture verse that has been our inspiration is Jeremiah chapter 29, verse 7; "… seek the peace and prosperity of the city where I have sent you. Pray to the Lord for it, because if it prospers, you too will prosper." You heard a little earlier from Zara how that vision is beginning to be worked out.
This particular word from the Lord inspires and motivates everything we do.
The world we live in today is increasingly mobile. Big cities like London, New York and Tokyo seem to offer wealth, culture and sophistication. This transient generation can move to these centres of the world. Yet wherever we live, a lifestyle that puts affluence and success as the highest priority often carries with it a price, families can be divided and even lose touch with each other. The recent economic collapse carries a high price tag of people falling into debt, marriage break down, homelessness and hunger. From our perspective here, many who lose their roots with their home church also lose their faith in God. It is to such a generation that Jeremiah has a powerful word to say, because his people had been brought as captives to a foreign land.
Some false prophets claimed they would soon be back home, but Jeremiah warned the people ".. do not listen to prophets and diviners among you who deceive you".
The truth was that they would be exiles in Babylon for a long time and he told them to build… plant…marry and have sons and daughters. Then in verse 7 comes their greatest challenge; ",,to seek the peace and prosperity of the city where I have sent you".
Just as the people then were told to engage, we are called by God to put our whole hearts into the communities where he has placed us. We are not to be deceived by false hopes that great material wealth will offer true happiness. We are to fulfil God's plans and purposes by sharing the true, lasting hope that is found with Christ.
We sing of that true hope in the song… Cornerstone… , which takes the words of an old hymn - My hope is built on nothing less – and adds to it a visionary chorus.
HYMN: CORNERSTONE (MY HOPE IS BUILT ON NOTHING LESS)
My hope is built on nothing less than
Jesus blood and righteousness
I dare not trust the sweetest frame
but wholly trust in Jesus name
Christ alone, Cornerstone, weak made strong, in the Saviors love through the storm he is Lord, Lord of all
When darkness seems to hide his face
I rest on his unchanging grace in every high
and stormy gale my anchor holds within the veil
Christ alone, Cornerstone…
Then he shall come with trumpet sound
oh may I then in him be found
dressed in his righteousness alone
faultless stand before the throne.
Christ alone, Cornerstone…
  Sam
Caroline Webb is going to read now from Luke chapter 4, beginning at verse 15, about how the Spirit of the Lord was on Jesus.
Luke 4: 16 – 21 – read by Caroline Webb
Jesus went to Nazareth, where he had been brought up and on the Sabbath day he went into the synagogue, as was his custom. He stood up to read and the scroll of the prophet Isaiah was handed to him. Unrolling it, he found the place where it is written;
"The Spirit of the Lord is on me, because he has anointed me to proclaim good news to the poor.
He has sent me to proclaim freedom for the prisoners and recovery of sight for the blind, to set the oppressed free, to proclaim the year of the Lord's favour."
Then he rolled up the scroll, gave it back to the attendant and sat down. The eyes of everyone in the synagogue were fastened on him. He began by saying to them, "Today this scripture is fulfilled in your hearing."
This is the word of the Lord. Thanks be to God.
Sam
What a remarkable occasion this was in Nazareth! After reading from a passage we refer to today as Isaiah chapter 61 – a text which speaks of the Messiah for whom Israel was waiting, Jesus declared himself to be that Promised One by saying; "today this scripture is fulfilled in your hearing."
Jesus' purpose was to proclaim the good news to the poor with little earthly hope, to proclaim spiritual freedom to those bound by sin and Satan, to deliver the message of salvation that God wanted everyone to hear and experience. That's why he was anointed, the Holy Spirit empowered Christ – to help sinful, needy people find their way back to God. And that's why later the ascended Christ sent the Holy Spirit to the awaiting disciples in the upper room.
The Holy Spirit was poured out to accomplish all God's purposes, and top of that list is the empowering of God's people to reach the world with the gospel of Christ.
Acts chapter 1, verse 8 says "But you will receive power when the Holy Spirit comes on you; and you will be my witnesses in Jerusalem, and in all Judea and Samaria, and to the ends of the earth."
If we lose sight of God's heart of love for the world – we will experience little of the Spirit's power. However, when we reach out with the purpose of sharing the good news of salvation through Christ; whenever we are determined to help the spiritually blind see and to set the oppressed free, we can prayerfully expect the Holy Spirit to work in power.
This has been our experience as we engage in events like the Big Church Serve where ordinary Christians tell the good news of Easter – that Christ is indeed risen and offers freedom and new life to all.
So what is the hope that Jesus offered that day in the temple in his home town? The text speaks plainly – he offered good news to the poor, freedom for the prisoners and even recovery of sight to the blind…. Freedom from oppression and favour from God to all people. When the good news of Jesus Christ invades a community it's not just these physical things that can change but spiritual sight…. Freedom from the fears that imprison us. That's what trust in Jesus brings about.
It's a resurrection message of hope, vibrancy and life from Jesus for all people. So this morning, I ask you to rise to the challenge and go on an adventure with Jesus as the one who gives you new life and offers peace and hope to our city and to the community where you live.
Let us pray;
Christ the Lord of all, release your Holy Spirit on all who proclaim your good news that your love, grace and peace may be seen afresh in the communities where you have placed us. Amen.
Simon
The Apostles Creed expresses our foundational beliefs as Christians, we will now respond to the message by singing a modern version of the Creed.
Hymn: This I believe (I believe in God our Father)
Our Father everlasting
The all creating One
God Almighty
Through Your Holy Spirit
Conceiving Christ the Son
Jesus our Savior
I believe in God our Father I believe in Christ the Son I believe in the Holy Spirit Our God is three in one I believe in the resurrection That we will rise again For I believe in the name of Jesus
Our Judge and our Defender
Suffered and crucified
Forgiveness is in You
Descended into darkness
You rose in glorious life
Forever seated high
I believe in God our Father I believe in You I believe You rose again I believe that Jesus Christ is Lord I believe in God our Father I believe in life eternal I believe in the virgin birth I believe in the saints' communion And in Your holy Church I believe in the resurrection When Jesus comes again For I believe, in the name of Jesus I believe in God our Father
Simon
So now, we come before God with our prayers for ourselves and for others…
God, we thank you that you have revealed yourself to us, through creation, through the Bible, and most powerfully through Jesus. We thank you that through His cross, you beckon us toward healing, forgiveness and freedom . We pray that all would experience a transforming taste of your glorious presence,
Your touch brings healing,
Stretch out your mighty hand
Holy Spirit, we pray for those in our midst, in our city, and throughout our communities that need your comfort and help today. Those who are ill, worried, lonely, depressed, disappointed or grieving. We acknowledge that faith doesn't spare us from these things, but we pray that you would stand with all who are in need and use your Church to stand with them also.
Your touch brings healing,
Stretch out your mighty hand
Lord Jesus, we pray for our world – for situations that reflect the brokenness of humankind. We pray for all those who have been caught up in floods, wars and violence this week and in particular, we pray for the people of Japan. Bring comfort, fill them with your Spirit and give them the hope that is found in Christ.
Your touch brings healing,
Stretch out your mighty hand. Amen
We pray in the words Jesus himself taught us, saying…
Our Father in heaven, hallowed be your name, your kingdom come, your will be done, on earth as in heaven. Give us today our daily bread. Forgive us our sins as we forgive those who sin against us. Lead us not into temptation but deliver us from evil. For the kingdom, the power, and the glory are yours now and for ever. Amen.
Our closing hymn this morning gives praise to God who made everything, reigns over everything and loves to bless His people - we sing "Praise to the Lord the Almighty, the King of Creation."
Go out into the world in peace: have courage;
hold on to what is good; return no one evil for evil; help the suffering;
honour all;
love and serve the Lord,
rejoicing in the power of the Holy Spirit.
With God's help we will.
And the blessing of God Almighty,
the Father, the Son, and the Holy Spirit,
be upon you, and remain with you forever.
Amen
.
Hymn: Praise to the Lord the Almighty
Praise to the Lord, the Almighty, the King of creation!
O my soul, praise him for He is thy health and salvation!
All ye who hear, now to His temple draw near,
Joining in glad adoration.
Praise to the Lord, who o'er all things so wonderfully reigneth,
Shieldeth thee gently from harm, or when fainting sustaineth:
Hast thou not seen how thy heart's wishes have been
Granted in what He ordaineth?
Praise to the Lord who doth prosper they work and defend thee;
Surely His goodness and mercy shall daily attend thee;
Ponder anew what the Almighty can do,
Who with his love doth befriend thee.
Praise to the Lord! O let all that is in me adore Him!
All that hath life and breath, come now with praises before Him!
Let the Amen sound from his people again;
Gladly for aye we adore Him.
Sunday Worship came live from Lisburn Cathedral in County Antrim. The leader was the Reverend Simon Genoe and the preacher Canon Sam Wright. The organist was Andrew Skelly and the worship leader Aaron Boyce. The producer was Etta Halliday. Next week's Sunday Worship will be a Mass live from Brentwood Cathedral.
"One of the most extraordinary Christian leaders alive today" is the way Archbishop Justin Welby describes Archbishop Desmond Tutu. Radio 4's Worship programmes during Lent this year take Tutu's  Book 'In God's Hands', which is this year's Archbishop of Canterbury's Lent book,  as inspiration  across the holy season. Downloadable resources are available from the Sunday Worship web pages
.