Main content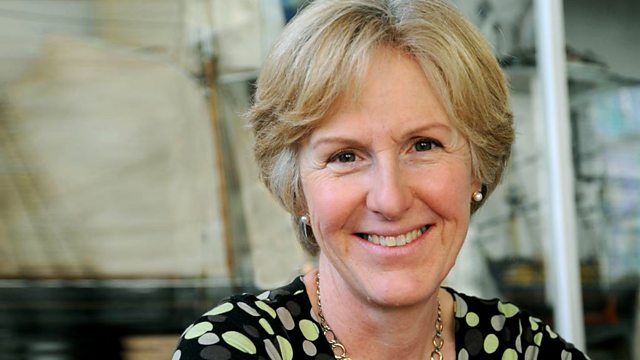 Ingrid Fliter in Schumann's Piano Concerto
Catriona Young's selection includes Ingrid Fliter performing Schumann's Piano Concerto with the Norwegian Radio Orchestra.
Ingrid Fliter performs Schumann's Piano Concerto with the Norwegian Radio Orchestra. Catriona Young presents.
12:31 AM
Schumann, Robert [1810-1856]
Concerto in A minor Op.54 for piano and orchestra
Ingrid Fliter (piano), Norwegian Radio Orchestra, Giancarlo Guerrero (conductor)
1:02 AM
Beethoven, Ludwig van [1770 -1827]
Symphony no. 8 in F major Op.93
Norwegian Radio Orchestra, Andrew Manze (conductor)
1:29 AM
Dussek, Jan Ladislav (1760-1812)
Sonata in D major (Op.31 No.2)
Andreas Staier (fortepiano - Broadwood-Hammerflügel, 1805)
1:42 AM
Reicha, Antoine (1770-1836)
Clarinet Quintet in B flat major (Op.89)
Joze Kotar (clarinet), Slovenian Philharmonic String Quartet
2:05 AM
Kraft, Antonín (1749-1820)
Concerto for Cello and Orchestra in C (Op.4)
Michal Kanka (cello), Prague Chamber Orchestra, Pavel Safarik (concert master)
2:31 AM
Prokofiev, Sergey (1891-1953)
Symphony No.5 (Op.100)
Bulgarian National Radio Symphony Orchestra, Milen Nachev (conductor)
3:12 AM
attrib. Mozart, Wolfgang Amadeus [1756-1791]
Partita in B flat (K.Anh.C 17'2)
The Festival Winds
3:27 AM
Dedekind, Constantin Christian [1628-1715]
Der Herr ist mein Hirte Concerto for Soprano, Violin & Continuo
Annette Schneider (soprano), Musica Alta Ripa, Hermann Max (director)
3:33 AM
Liszt, Franz (1811-1886)
Etude No.5 in B flat major; Feux-follets - from 12 Études d'exécution transcendante for piano (S.139)
Janina Fialkowska (piano)
3:37 AM
Dvorák, Antonín (1841-1904)
Romance for violin and orchestra in F minor (Op.11)
Jela Spitkova (violin), Slovak Radio Symphony Orchestra, Ondrej Lenard (conductor)
3:49 AM
Palestrina, Giovanni Pierluigi da (c.1525-1594)
Ad te levavi oculos meos - motet for 4 voices
Silvia Piccollo (soprano), Annemieke Cantor (alto), Marco Beasley (tenor), Furio Zanasi (bass), Paolo Crivellaro (organ), Alberto Rasi (viola da gamba), Chorus of Swiss Radio, Lugano, Diego Fasolis (conductor)
3:55 AM
Fauré, Gabriel (1845-1924)
Elegy for cello and piano (Op.24)
Tsuyoshi Tsutsumi (cello), Emmanuel Strosser (piano)
4:02 AM
Dukas, Paul (1865-1935)
Villanelle for horn and orchestra
Esa Tukia (horn), Finnish Radio Symphony Orchestra, Michel Adelson (conductor)
4:09 AM
Falla, Manuel de (1876-1946)
Siete canciones populares españolas
Jard van Nes (mezzo soprano), Gérard van Blerk (piano)
4:23 AM
Bach, Carl Philipp Emanuel (1714-1788)
Cantata: Heilig, Heilig (Wq.217/H.778)
Netherlands Chamber Choir, Amsterdam Baroque Orchestra, Ton Koopman (conductor)
4:31 AM
Handel, Georg Frideric (1685-1759)
Trio Sonata in G major (Op.5 No.4)
Tafelmusik Baroque Soloists
4:45 AM
Gibbons, Orlando [1583-1625], Walton, William [1902-1983]
Drop, Drop, Slow Tears (2 settings by Gibbons and Walton)
Gabrieli Consort, Paul McCreesh (director)
4:51 AM
Debussy, Claude (1862-1918)
Estampes for piano
Roger Woodward (piano)
5:06 AM
Mozart, Wolfgang Amadeus (1756-1791)
Flute Quartet No.1 in D major (K.285)
Carol Wincenc (flute), Chee-Yun (violin), Nokuthula Ngwenyama (viola), David Finckel (cello)
5:21 AM
Glazunov, Alexander Konstantinovich (1865-1936)
Lyric poem for orchestra in D flat major (Op.12)
West Australian Symphony Orchestra, Vladimir Verbitsky (conductor)
5:32 AM
Grieg, Edvard Hagerup (1843-1907)
Sonata for violin and piano no. 1 (Op. 8) in F major
Vilde Frang Bjaerke (violin), Jens Elvekjaer (piano)
5:53 AM
Rosenmüller, Johann (c.1619-1684)
Gloria for SATB, cornett, 2 violins, 2 violas and bass continuo
Johanna Koslowsky (soprano), David Cordier (tenor), Gerd Türk (tenor), Stephan Schreckenberger (bass), Carsten Lohff (organ), Cantus Cölln, Konrad Junghänel (director/lute)
6:09 AM
Röntgen, Julius (1855-1932)
Piano Trio in C minor (Op.50 No.4) (1904) for violin, cello and piano
Alexander Kerr (violin), Gregor Horsch (cello), Sepp Grotenhuis (piano).