Main content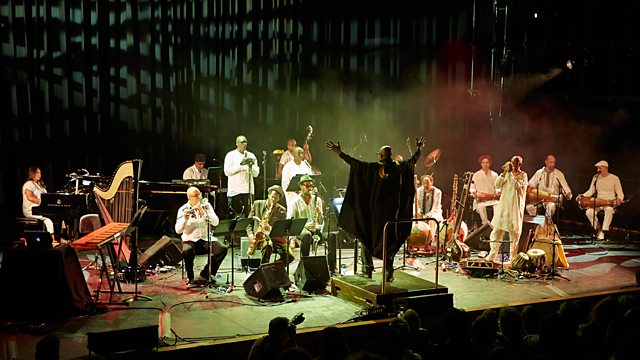 Enlightenment (In the Spirit of A Love Supreme by John Coltrane)
Jez Nelson presents a concert given at the 2014 Meltdown Festival in which the Enlightenment Ensemble performs a new arrangement of John Coltrane's classic album A Love Supreme.
The Enlightenment Ensemble perform a re-envisioning of John Coltrane's classic album A Love Supreme.
Fifty years since its original release, A Love Supreme remains one of the most celebrated and sacred works in the jazz canon. To mark its anniversary at the 2014 Meltdown Festival, British flautist and composer Rowland Sutherland took on the challenge to write a new arrangement for the 14-piece Enlightenment Ensemble, directed by Black Top's Orphy Robinson. Their performance draws on Coltrane's global spirit, channelling ideas from different cultural and musical backgrounds - with voices, kora and bata drums integrated alongside Robinson's xylosynth and traditional jazz instrumentation. Among the line-up, saxophonist Steve Williamson delivers stunning Coltrane-esque bursts on the tenor, bass clarinettist Shabaka Hutchings provides some of the set's standout solos while drummer Mark Mondesir grooves ferociously. It's at once a joyous homage and an inventive exploration of new territory.
Presenter: Jez Nelson
Producer: Miranda Hinkley.
Last on
Music Played
Composers and flautist Rowland Sutherland joins Jez in the Studio

Archive Interviews with Alice Coltrane, McCoy Tyner, Elvin Jones, Ashley Kahn, Evan Parker on A Love Supreme

John Coltrane

A Love Supreme: Part II - Resolution

A Love Supreme.
Impulse!.

The Enlightenment Ensemble in concert at the Queen Elizabeth Hall, Southbank Centre, London on 22 June 2014

Enlightenment Ensemble

Enlightenment (In The Spirit Of A Love Supreme)
Enlightenment Ensemble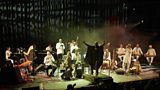 Photos by Roger Thomas © 2014 – All Rights Reserved
Line up:
Rowland Sutherland – arranger, flutes
Orphy Robinson – musical director, xylosynth 
Steve Williamson – tenor saxophone
Shabaka Hutchings – bass clarinet
Juwon Ogungbe  – voice
Cleveland Watkiss – voice
Tunde Jegede – kora
Tori Handsley – harp
Pat Thomas – keyboards
Nikki Yeoh – piano
Ansuman Biswas – tablas, santoor, waterphone 
Adé Egun – bata drums
Crispin Robinson – bata drums 
Dave Pattman – bata drums 
Oli Nevill – bata drums 
Neil Charles – bass
Mark Mondesir – drums
Broadcast