Main content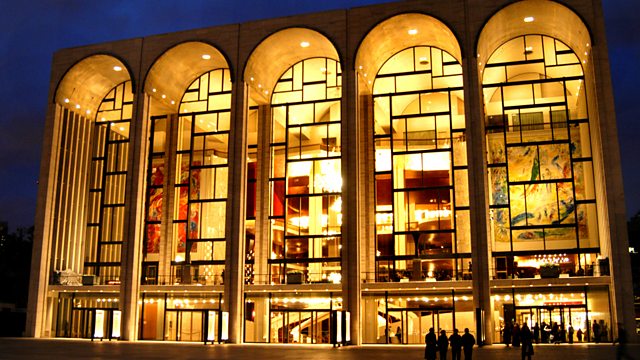 Offenbach's Les Contes d'Hoffmann
From the Metropolitan Opera in New York, Yves Abel conducts Offenbach's opera Les contes d'Hoffmann, with Vittorio Grigolo, Erin Morley, Hibla Gerzmava and Christine Rice.
The poet Hoffmann is in a tavern waiting for his love, Stella to return from singing the star role in an opera. He tells the stories of his past three loves, all of which have ended in disaster; the mechanical doll Olympia who gets ripped apart, Antonia who sings herself to death, and the courtesan Giulietta who steals Hoffmann's reflection. When Stella finally arrives, Hoffmann is drunk and she leaves with Lindorf, Hoffmann's rival for her affections.
Vittorio Grigolo sings the tortured poet, and the three heroines are played by Erin Morley, Hibla Gerzmava and Christine Rice. Thomas Hampson sings the Four Villains, and Yves Abel conducts Offenbach's sparkling score.
Presented from the Met by Mary Jo Heath and Ira Siff.
Olympia.....Erin Morley (Soprano)
Antonia/Stella.....Hibla Gerzmava (Soprano)
Giulietta.....Christine Rice (Mezzo-soprano)
Nicklausse.....Kate Lindsey (Mezzo-soprano)
Hoffmann.....Vittorio Grigolo (Tenor)
Four Villains.....Thomas Hampson (Baritone)
New York Metropolitan Opera Orchestra
New York Metropolitan Opera Chorus
Yves Abel (Conductor).