Main content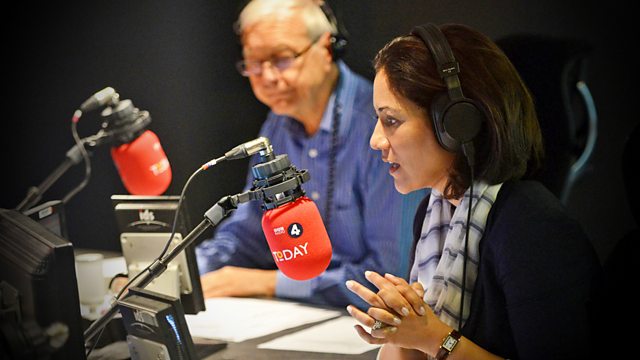 28/01/2015
Morning news and current affairs. Including Sports Desk, Yesterday in Parliament, Weather and Thought for the Day.
Today's running order
0650
Japan's Prime minister Shinzo Abe has condemned the latest video from Islamic State threatening to kill Japanese hostage Kenji Goto within 24 hours. In the video the Japanese hostage warns that his life is now in grave danger, and pleading for the Japanese and Jordanian govenrment's to agree to a prisoner swap to save his life. Rupert Wingfield-Hayes is the BBC's correspondent in Tokyo.
0710
An end to austerity. That's the promise of the new Greek government. The Greek cabinet meets today and it has promised a lot to the electorate. But, can it deliver? Yesterday, Germany warned Athens that it must continue to pay its creditors. Can a way be found to satisfy both the Greek people and the countries propping up its economy? Carl Bildt is former Swedish Prime Minister.
0715
Budgets for social care, helping older people with washing and dressing for example, are under increasing pressure, just as the population grows older. The BBC is launching an online guide to the costs of providing this care, aiming to help people understand how the system works across the UK. Alison Holt reports.

0720

The fate will be decided on Wednesday of the first group of beavers to live in the wild in England for 500 years. The family was found in Devon last year. Officials are considering whether to put them into captivity, because of fears they may have parasites or damage the environment with their dam building. John Maguire reports from the River Otter this morning in Ottery St Mary in East Devon. 
0730
Yesterday militants attacked a hotel used by foreigners in Libya's capital, killing at least nine people and injuring 12 others.  A Twitter account linked to Islamic State said the militant group had carried out the attack. Libya's unrecognised government of Tripoli is claiming this was an assassination attempt on their Prime Minister who was in the building at the time. Ian Pannell is the BBC's international correspondent. Deborah Jones is US ambassador to Libya.
0740
A Sun-like star (named Kepler-444 ) with orbiting planets, dating back to the dawn of the galaxy, has been discovered by an international team of astronomers. At 11.2 billion years old it is the oldest star with Earth-size planets ever found and proves that such planets have formed throughout the history of the universe. Our solar system is 4.5 billion years old. Dr Daniel Huber is an astrophysicist at the University of Sydney and co-author of the research.
0750
On Tuesday, Liberia announced that the country is almost free of Ebola, with only five confirmed cases. The economies of West Africa have suffered along with their people. Those worst hit by Ebola, Liberia, Sierra Leone and Guinea, were all experiencing high levels of growth before the crisis of between 4 and 12% for 2014. Other countries such as Senegal who have been indirectly affected have seen their tourism industries devastated. Elizabeth Ohene is a writer and former Ghanaian government minister. Jason Nkoju is a Nigerian businessman.
0810
Councils say they'll have to divert £1.1bn from other services to fund social care. Rapidly rising social care demand is causing problems for the NHS – the government says a lack of social care provision is making the A&E crisis worse. Labour yesterday said the solution was integrating health and social care. Dr Sam Barrell is chief clinical officer at South Devon and Torbay Clinical Commissioning Group. Chris Ham is chief executive of the King's Fund.
0820
The American podcast 'Serial' was not only a huge success for the team that created it, but is also credited with boosting the popularity of storytelling on radio. Its many fans are desperately searching for something new after the series came to an end. The concept of the radio documentary dates back to 1920s Europe and its history has been explored by Virginia Madsen, senior lecturer at Macquaire University in Sydney.
0830
New research published in the British Medical Journal today shows that pregnant women are more likely to quit smoking if financial rewards are offered as part of a treatment plan. As part of the study, pregnant women were offered £400 in shopping vouchers if they could prove they had stopped smoking. Professor Linda Bauld is of the University of Stirling, which led the study. Mel Fallowfield is a mum of two who smoked all the way through her first pregnancy and part way through her second.
0835
A basic spelling mistake, in which a single letter 's' was left out of an official document, caused the collapse of a 124-year-old family business and the loss of 250 jobs. Philip Davison-Sebry is former co-owner of Taylor and Sons Limited.
0840
Counter terrorism police have recruited an unconventional ally in their efforts to prevent British teenagers being radicalised and going to fight in Syria for IS. They have worked with comedian Humza Arshad AKA "Humza Badman" to make a short film called "I'm a Muslim not a terrorist". After success in the East Midlands, the film is being rolled out to schools across the country. We speak to Humza, who has gained millions of fans for his hugely popular 'Diary of a Badman' video series on YouTube.
0850
Earlier this week a French court banned a couple from naming their daughter 'Nutella' on the grounds that the name might expose the child to 'mockery or disobliging remarks.'  Another French court recently overruled parents who wanted to name their daughter 'Fraise' ('Strawberry') - but the judge decided the child might be teased because of a French colloquial expression "ramène ta fraise", meaning "get over here" or "butt in". Lucy Cavendish is a journalist and mother whose daughter goes by the name of 'Sparkle'. Kate Fox is a social anthropologist and author of 'Watching the English'.

All subject to change.