Main content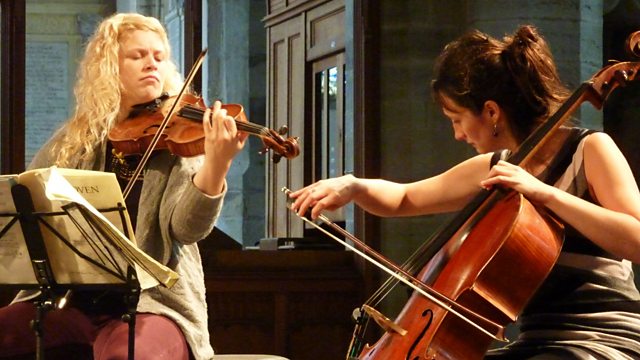 The Cavaleri Quartet in a concert given at the 2014 Presteigne Festival. Gorecki: String Quartet No 1. MacMillan: Memento. Beethoven: String Quartet in E flat.
Continuing this week's series from festivals around Wales, today's lunchtime concert comes from the picturesque border town of Presteigne, where a music festival has been flourishing for over 30 years. Marking this year's Polish theme, in a concert given in St. Andrew's Church, the Cavaleri Quartet's programme brings together Henryk Gorecki's vivid, folk-influenced String Quartet, Op.62 and a lesser known gem among Beethoven's String Quartets, his Op.74.
Henryk Gorecki: String Quartet no.1, Op.62 "Already it is Dusk"
James MacMillan: Memento
Beethoven: String Quartet in E flat, Op.74 "Harp".
Cavaleri Quartet.