Main content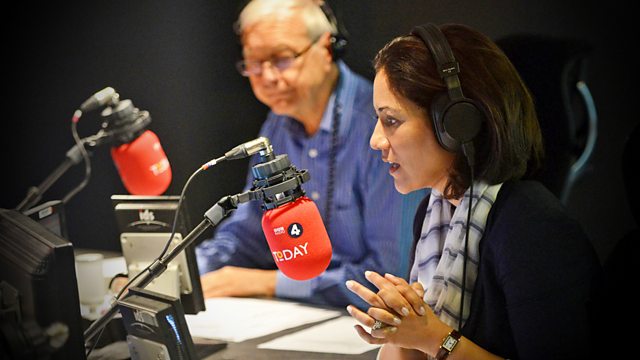 27/01/2015
Morning news and current affairs. Including Sports Desk, Yesterday in Parliament, Weather and Thought for the Day.
Today's running order
0650
The use of children to fight in wars, sadly, is all too commonplace in some parts f the world. In south Sudan there are moves to help some of these child soldiers, around 230 out of an estimated 3000 are expected to be released. The Cobra faction of the South Sudan Democratic Movement has done a deal with the government and is releasing the children to Unicef. It is hoped the others, making up around 3000 in all, will also be released in time. An estimated 12,000 child soldiers have been fighting in the current conflict. Fatuma Ibrahim is UNICEF's chief of child protection in South Sudan.
0710
An emergency has been declared in several US states as a storm bringing hurricane-force winds and 90cm of snow barrels down on the north-east. Non-emergency vehicles have been banned on New York City's 6,000 miles of roads after 23:00 local time (0400 GMT). Christie Craighead lives with her daughter in Concord, New Hampshire. Ashley MacCallum is originally from the UK but has lived in Cape Cod, New England for 20 years.
0715
Drugs taken by more than half of those aged over 65 in Britain have been linked to an increased risk of dementia. A large study published in the journal JAMA Internal Medicine found that common over-the-counter and prescription medications used to treat heart problems, sleeping difficulties and allergies could mean that users are 50 per cent more likely to develop the disease. Dr Eric Larsen is vice president at Group Health, the co-operative health provider which led the research.
0720
The Today programme has spoken to a number of prominent Greek politicians and economists over the last week or so. Last week John Humphrys interviewed Renna Douorou, the Syriza governor of greater Athens. On Monday we heard from Yanis Varoufakis, another prominent figure who is expected to be a senior figure in the new Greek government as well as the Nobel prize winning economist Sir Christopher Pissarides. What they have in common is they are alumni of Essex University. After British students, Greeks are the second highest nationality at the university, so why the connection, and why were so many on the radical left? Professor Todd Landman is executive dean, Faculty of Social Sciences, Essex University.
0730
Ed Miliband will today give details of Labour's 10 year plan for the NHS, including new safety checks to identify people at risk of hospitalisation in England, financial incentives for carers to spend more than 15 minutes on appointments and 5000 new homecare workers to treat the terminally ill in their own beds. Mr Miliband will warn that "the future of the NHS is at stake" in the May 7 general election, with victory for the Conservatives threatening to result in changes which would leave the service "unrecognisable". Andy Burnham is shadow health secretary.
0740
There's a rather curious exhibition at the Horse Hospital arts venue in London of what look like X-rays. Look closer and you'll see that the images of parts of skeletons have been used, just like vinyl, to record music. It is music that was banned in the Soviet Union during the cold war and was smuggled in. The bootlegs became known as 'bones' or 'ribs'. The exhibition, called X-Ray Audio, was curated by Stephen Coates.  Victoria Bazoeva is a Russian music journalist.
0750
The public inquiry opens on Tuesday morning into the death of the Russian former spy Alexander Litvinenko, who died as a result of radiation poisoning in London in 2006. As he lay dying, Alexander Litvinenko pointed the finger of blame for his poisoning at the Kremlin and Vladimir Putin.  Two men, Andrey Lugovoi and Dimiri Kovtun are believed by police to have actually slipped radioactive polonium into a cup of tea. They deny it. Gordon Corera is our security correspondent.
0810
The prime minister has been setting out the Conservatives' economic stall and making it very clear that a claim not just of competence but of proven success is to be at the heart of their appeal in the election.  He spoke on Monday about his desire to cut taxes. The party will be talking about tightening the cap on welfare payments and using the money saved to spend on apprenticeships.  
Yet because of the failure to get rid of the annual deficits in this parliament, something that was promised but has not happened, there is still economic pain to come, around £20bn of cuts in the next parliament. We speak to David Cameron and political editor Nick Robinson.
0830
No-one can be exactly sure how many men, women and children perished in the Nazi death camp at Auschwitz near the City of Krakow, but we know it was enough to make the place an enduring symbol of the evils of Nazism and of Hitler's attempt to wipe out Jews in Europe.
Today a ceremony at Auschwitz will mark the 70th anniversary of the camp's liberation by the Red Army and representatives of governments from many parts of the world will gather to hear the stories of the hundreds of survivors who'll be there. But as our correspondent, Kevin Connolly, who'll be at the ceremony reports, there was a time when the survivors found it much harder to get anyone to listen to their shocking stories.
0835
Nato has accused Russia of escalating the crisis in eastern Ukraine in recent days by sending more of its own troops into the country. Violence there is at its worst since a ceasefire was agreed last September. Casualties have mounted, including in the government-held port of Mariupol, where Kiev says 30 civilians were killed in rebel shelling on Saturday. Sarah Rainsford is our Moscow correspondent.
0845
President Cristina Kirchner of Argentina has said she will disband Argentina's intelligence service, after a prosecutor was found dead just hours before he was to make explosive allegations against her.  Alberto Nisman, 51, was found in his Buenos Aires home with a gunshot to  the head on January 18, the day before he was to go before a congressional  hearing to accuse Kirchner of obstructing his investigation into a 1994 bombing  at a Jewish charities federation office. Juan Mendez is United Nations special rapporteur on torture.
0850
A toddler's life has been saved, after a replica of her heart was made with a 3D printer. Two-year-old Mina Khan was born with a hole in the wall between two chambers of her heart which left her struggling to survive. It was feared that the hole was too big to treat, until doctors at St Thomas' Hospital in London created a precise copy of her heart, including its defect, enabling them to perfect the complicated procedure needed to cure her before they did it for real. Natasha Buckley is mother of Mina. Reza Razavi is professor of Paediatric Cardiovascular Science at King's College London.
All subject to change.