Main content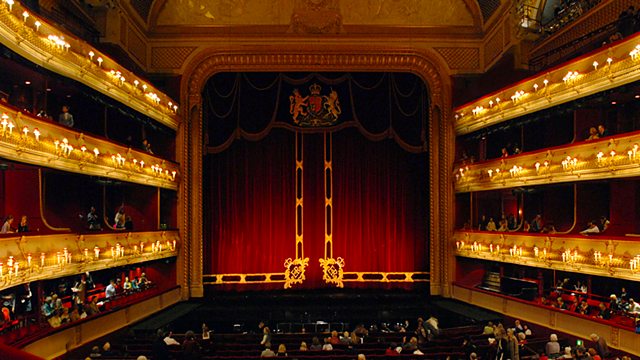 Mozart's Idomeneo
From the Royal Opera House, Covent Garden, Marc Minkowski conducts a performance of Mozart's Idomeneo. With tenor Matthew Polenzani and soprano Sophie Bevan.
It's another one of those tricky situations from the world of Greek Myth. Idomeneo, King of Crete, hits a storm as he's sailing back home after a tiring stint in the Trojan War. In return for being spared a briny end, Idomeneo rashly promises Neptune that he'll sacrifice the first human being he sees on landing. Inevitably, that person is his son, Idamante. Idomeneo thinks he can forget his obligation but Neptune thinks otherwise and, to help jog Idomeneo's memory, sends a monster to ravage Crete.
Add to that the de rigueur love triangle (Idamante is loved by Trojan princess Ilia and Greek princess Elettra; he loves Ilia but not Elettra, which makes her cross) and you have a standard eighteenth-century opera plot that could so easily have fallen into the hands of any hack composer.
Happily for us, it came the way of a certain 24-year-old Wolfgang Amadeus Mozart who, desperate to show what he could do, threw everything he had at it.
The result was exceptional, even in Mozart's peerless operatic output. With its gripping dramatic sweep and characterisation, coupled to audacious writing for orchestra and chorus, Idomeneo pushes beyond the boundaries of eighteenth-century operatic convention. No wonder Mozart had a soft spot for it for the rest of his life.
Marc Minkowski conducts an international cast including tenor Matthew Polenzani in the title role, countertenor Franco Fagioli as Idamante, and sopranos Sophie Bevan and Malin Byström as his love rivals.
Recorded last November at the Royal Opera House, Covent Garden, the production was the UK debut for director Martin Kušej. His post-modern take on Idomeneo set the opera in a dystopia where father and son vie to assert their opposing political systems over a subjugated populace in thrall to a fishy cult.
Martin Handley is joined by Nicholas Kenyon to discuss both music and controversial stage action. And in the interval at 8.45pm Berta Joncus explores the fascinating and uniquely documented background of Idomeneo's genesis.
Idomeneo.....Matthew Polenzani (Tenor)
Idamante.....Franco Fagioli (Countertenor)
Ilia.....Sophie Bevan (Soprano)
Elettra.....Malin Bystrom (Soprano)
Arbace.....Stanislas De Barbeyrac (Tenor)
High Priest of Neptune.....Krystian Adam (Tenor)
Voice of Neptune.....Graeme Broadbent (Bass)
Royal Opera House Orchestra
Royal Opera House Chorus
Marc Minkowski (Conductor).
Synopsis
Act I
Idomeneo, King of Crete, has been victorious in the lengthy war against Troy. He has sent Trojan prisoners to his home country in advance of his return. Among them is Princess Ilia, who is secretly in love with Idamante, Idomeneo's son. Idamante graciously frees the prisoners and in return receives the thanks of both the Trojans and his own people. This gesture goes against the policies of his absent father and is a rejection of his regime. It also makes Idamante the object of Elettra's anger. She had fled to Crete after her brother Orestes murdered their mother, but she now hopes to win Idamante's love.
Arbace announces that Idomeneo has died on his return journey. Elettra now sees her hopes for Idamante dwindling and surrenders herself to her hatred of her rival Ilia. A mighty tempest leaves everyone awestruck. Idomeneo, whom everyone thought was dead, emerges from it. He recognizes that his son is a danger to the old order. He pretends that in return for his deliverance from the storm he must sacrifice the first human being he meets on his return. This proves to be Idamante – though he as yet does not recognize his father. However, even when he does, Idomeneo remains distant and warns his son that it would be better if they did not meet again. Idamante remains behind, stricken with grief. The return of Idomeneo and the resurgence of his power are greeted with jubilation.
Act II
Arbace mourns the state of the land and sees suicide as the only way out. Idomeneo explains to Arbace that he must kill his own son. In order to avoid this act of murder, he decides to send Idamante and Elettra to Argos and set them on the throne of Elettra's father. Idamante loves only Ilia, but cannot confess his love for her. Idomeneo is astonished at how friendly Ilia is to him and realizes that she loves Idamante. Idomeneo sees the liberation of the prisoners as the cause of all that is wrong and a portent of his downfall. Elettra feverishly awaits her departure with Idamante and is delighted at this enforced love. But their farewells are halted by an insurrection and their plans for departure thwarted. Idomeneo admits that he is the guilty party and offers up himself in atonement.
Act III
Ilia bemoans her love. Idamante reveals his feelings to her, but believes his duties lie in the struggle. Elettra and Idomeneo discover the two lovers. Idomeneo orders his son to leave. Idamante decides he would rather die alone, but Ilia wishes to follow him, while Elettra desires only revenge.
The High Priest demands that Idomeneo end the bloody revolt and insists on the sacrifice. Idomeneo announces that his son must die, which prompts general consternation. Arbace comes running and tells of Idamante's victory over the tremendous power of the state; this merely confirms Idomeneo in his murderous intentions. The priests prepare for the sacrifice of Idamante. Just as it is to be carried out, Ilia casts herself between them and offers up herself instead of Idamante. At this same moment, an unknown voice announces the end of Idomeneo's rule and nominates Idamante and Ilia as the new ruling couple. Elettra departs in a fury. Idomeneo yields, and the people celebrate their new rulers.
Olaf A. Schmitt
Translation by Chris Walton