Main content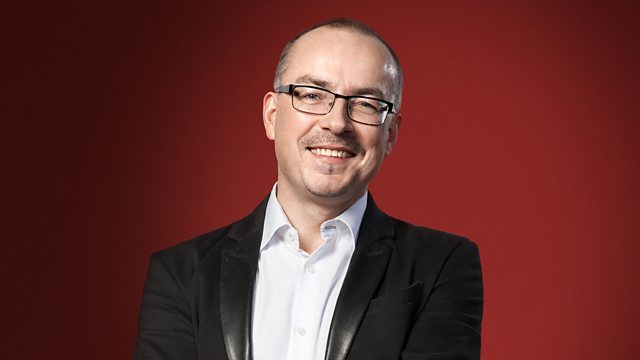 Building a Library: Bartok: Music for Strings, Percussion and Celesta
With Andrew McGregor. Including Building a Library: Bartok: Music for Strings, Percussion and Celesta; vocal music by Handel; Disc of the Week: Brahms: Three Violin Sonatas.
9.00am
STEFFANI: Niobe Regina di Tebe
Karina Gauvin (Niobe), Philippe Jaroussky (Anfione), Amanda Forsythe (Manto), Aaron Sheehan (Clearte), Terry Wey (Creonte), Jesse Blumberg (Poliferno), Colin Balzer (Tiberino), Jose Lemos (Nerea), Boston Early Music Festival Orchestra, Paul O'Dette and Stephen Stubbs (musical directors)
ERATO 2564634354 (3CD budget)
Hindemith: Sonatas for piano and….
HINDEMITH: Violin Sonata in G minor Op. 11 No. 6; Sonata for Trumpet and Piano; Sonata for Alto Horn & Piano in E flat major; Sonata for Trombone and Piano; Sonata for Cello & Piano in E major (1948)
Isabelle Faust (violin), Jeroen Berwaerts (trumpet), Teunis van der Zwart (althorn), Gerard Costes (trombone), Alexander Rudin (cello), Alexander Melnikov (piano)
HARMONIA MUNDI HMC905271 (CD)
Schubert: Piano Works
SCHUBERT: Piano Sonata No. 20 in A major, D959; Moments Musicaux (6), D780 Op. 94
Michael Korstick (piano)
CPO 7777662 (2CD)
9.30am Building a Library
Rob Cowan joins Andrew for a live edition of Building a Library comparing recordings of the Music for Strings, Percussion and Celesta by Bela Bartok.
Top recommendation – NOT currently available but due be reissued In 2015:
BARTOK: Music for Strings, Percussion and Celesta
Budapest Festival Orchestra, Ivan Fischer
Also highly recommended:
Bartok: Music for Strings, Percussion & Celeste
BARTOK: Music for Strings, Percussion & Celesta, BB 114, Sz. 106; Divertimento for Strings, Sz. 113; Hungarian Sketches, BB 103, Sz. 97
Hungarian National Philharmonic Orchestra, Zoltan Kocsis (conductor)
HUNGAROTON HSACD32510 (Hybrid SACD)
10.20am Reissues: The Martinon Legacy
Jean Martinon: The Philips Legacy
DEBUSSY: Prelude a l'apres-midi d'un faune
DUKAS: The Sorcerer's Apprentice
FALLA: Noches en los jardines de Espana; El Amor Brujo
FAURE: Pavane Op. 50
HONEGGER: Pastorale d'ete
MOZART: Symphony No. 31 in D, K297 'Paris'; Symphony No. 32 in G major, K318; Symphony No. 33 in B flat major, K319
PROKOFIEV: Symphony No. 1 in D major Op. 25 'Classical'; The Love for Three Oranges: Suite Op. 33a
ROUSSEL: Le Festin de l'Araignee Op. 17 - fragments symphonique; Bacchus et Ariane Op. 43 - Suite No. 1; Bacchus et Ariane Op. 43 - Suite No. 2
Eduardo del Pueyo (piano), Corinne Vozza (contralto), Orchestre des Concerts Lamoureux, Jean Martinon (conductor)
AUSTRALIAN ELOQUENCE ELQ4805588 (3CD budget)
10.50am New Releases with Hannah French
HANDEL: Messiah
Lucy Crowe (soprano), Tim Mead (counter-tenor), Andrew Staples (tenor), Christopher Purves (baritone), Le Concert d'Astree Orchestre et Chœur, Emmanuelle Haim (conductor)
ERATO 2564624055 (2CD mid-price)
Heroes from the Shadows - Handel Arias
HANDEL: Poro, re dell'Indie, HWV28: Sinfonia; Dover, giustizia, amor (from Ariodante); Pena tiranna (from Amadigi); Son contenta di morire (Radamisto); Son nata a lagrimar (from Giulio Cesare); Son qual stanco pellegrino (from Arianna in Creta); Se fiera belva ha cinto (from Rodelinda); Voi, che udite il mio lamento (from Agrippina); Par che mi nasca in seno (from Tamerlano); Son contenta di morire (Radamisto); Senti, bell'idol mio (from Silla); L'aure che spira (from Giulio Cesare); Amadigi di Gaula: Ballo di poston e pastorelle; Io seguo sol fiero (from Partenope); Non so se sia la speme (from Serse); Serse: Sinfonia; Scipione: Sinfonia; Partenope: Sinfonia; Orlando: Sinfonia
Philippe Jaroussky (counter-tenor), Nathalie Stutzmann (contralto, conductor), Orfeo 55
ERATO 2564623177 (CD)
HANDEL: Israel in Egypt, HWV54
Julia Doyle (soprano), Maria Valdmaa (soprano), David Allsopp (counter tenor), James Gilchrist (tenor), Roderick Williams (bass), Peter Harvey (bass), Netherlands Chamber Choir, Le Concert Lorrain, Roy Goodman (conductor)
ETCETERA KTC1517 (2CD mid-price)
Handel: Music for Queen Caroline
HANDEL: Coronation Anthem No. 3, HWV260 'The King Shall Rejoice'; Te Deum in D major 'Queen Caroline', HWV280; The Ways of Zion do mourn, HWV 264
Tim Mead (countertenor), Sean Clayton (tenor), Lisandro Abadie (baritone), Les Arts Florissants, William Christie (conductor)
LES ARTS FLORISSANTS EDITIONS AF004 (CD)
Handel: Operatic Arias
HANDEL: Destero dall'empia dite (from Amadigi di Gaula); M'ai resa infelice (from Deidamia); Piangero la sorte mia (from Giulio Cesare); Scherza in mar (from Lotario); Ombre piante, urne funeste (from Rodelinda); Se'il mio duol (Rodelinda); Tutta raccolta ancor (from Scipione); Orrida agli occhi miei (from Ariodante); Ah crudel! (from Rinaldo); Sommi Dei! (Radamisto); Barbaro! Barbaro partiro (from Radamisto)
Emma Bell (soprano), Scottish Chamber Orchestra, Richard Egarr (conductor)
LINN BKD252 (CD mid-price)
11.45am Disc of the Week
Brahms: The Three Violin Sonatas
BRAHMS: Violin Sonatas Nos. 1-3 (complete); Sonatensatz (Scherzo from the F.A.E. sonata), WoO 2
Augustin Dumay (violin), Louis Lortie (piano)
ONYX ONYX4133 (CD)