Main content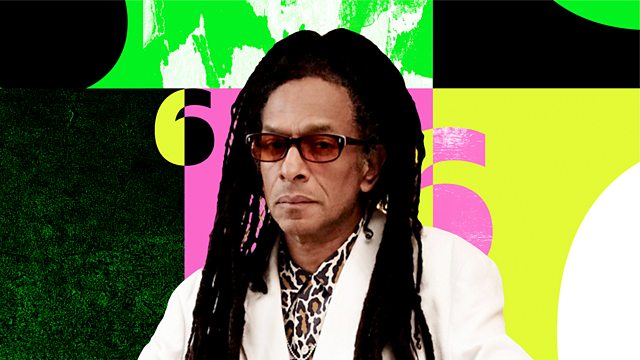 Crucial Vinyl: Talking Heads - Remain in Light
The Don's Crucial Vinyl, an album that has shaped his musical taste, is Remain in Light by Talking Heads.
Don Letts' Crucial Vinyl feature returns this week. He picks an album that has moved him and helped shape his musical taste. He plays three tracks from it and explains why the album means so much to him. This week he selects Remain In Light by Talking Heads. Released in 1980, it was the band's fourth album.
Don says: "One of the best albums to come out of the 80s. Remain In Light was produced by long-time collaborator Brian Eno and utilised African poly-rhythms, samples and loops which was quite innovative back in those days. To me, Remain In Light was a seamless blend of different styles and that resulted in a very individual and refreshing sound - definitely a must-.
Last on
Music Played
Criolo

Cartão De Visita

Convoque Seu Buda.
Oloko Records.

Paul Simon

The Boy in the Bubble

The Paul Simon Anthology (Disc 2).
Warner Bros.
3.

I‐Roy

Whap'n Bap'n

Babylon (The Original Soundtrack).
Chrysalis.
4.

Errors

Lease Of Life

(single).
Rock Action Records.
001.

The Jacques

Pretty DJ

Pretty DJ EP.
25 Hour Convenience Store.

RSD

Jim Screechy Dub (feat. Big Youth)

Mixwork in Dub.
Echo Beach.
12.

Dubxanne

Message In A Bottle

Police In Dub.
Echo Beach.
6.

Talking Heads

Once In A Lifetime

Talking Heads

Seen And Not Seen

Remain In Light.
Sire.
4.

Talking Heads

Born Under Punches The Heat Goes On

Remain In Light.
Rhino.
1.

Lee "Scratch" Perry

Mr. Music

History, Mystery & Prophesy.
Island.
1.

The Beatles

Come Together (Rhythm Scholar Remix)

Bunny Lee Allstars

Ivan Itler The Conqueror

BC Camplight

You Should've Gone To School

Dirty Gold

California Sunrise

Roar EP.
Autumn Tone Records.
2.

D'Angelo And The Vanguard

Prayer

Black Messiah.
RCA/Sony Music.
8.

The Twinkle Brothers

Never Get Burn

Liam Hayes

Long Day

Slurrup.
Fat Possum Records.
9.

Afrikan Sciences

Evolved In Twists

Ras Ibuna

Riddim In I

Diverse Doctrine.
Kadamawe Musick.
2.

Colin Blunstone

Say You Don't Mind

The Greatest Hits Of 1972 (Various).
Premier.

El Michels Affair

Too Late To Turn Back

(single).
Daptone Records.

New Zion Trio

Slow Down Furry Dub

Michael Riesman

Jesus' Blood Never Failed Me Yet (feat. unknown homeless man)

Jesus' Blood Never Failed Me Yet.
Universal International Music B.V..
3.
Broadcast