Main content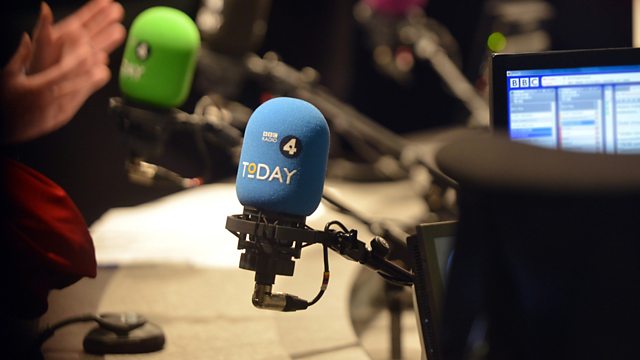 21/01/2015
Morning news and current affairs. Including Sports Desk, Yesterday in Parliament, Weather and Thought for the Day.
Clips

Today's running order
0650
The Government has been warned that standards of forensic science provision in England and Wales are in danger of slipping.  A report by the National Audit Office says police forces are increasingly relying on unregulated scientific experts to analyse samples taken from suspects and crime scenes.  Kerri Allen is an independent forensic scientist who worked for the Forensic Science Service for many years.
0710
US President Barack Obama has declared an end to the financial crisis and pledged economic policies to benefit all Americans, in his annual State of the Union address to Congress. In a speech devised to appeal to working families, Mr Obama outlined his strategy for "middle-class economics". "It's now up to us to choose who we want to be over the next fifteen years," he said. John Zogby is a pollster and founder of Zogby Analytica.
0715
John Humphrys is in Greece ahead of the general election there on Sunday. He's been speaking with Syriza's Rena Dourou.
0720
Doctors could spot twice as many heart attacks in women if they used a more sensitive blood test, say researchers. The blood test is approved for use in the UK, but not all hospitals currently use it. It works by looking for traces of a protein called Troponin that's released by the heart if it's damaged. Dr Nick Mills is cardiologist at the Edinburgh Royal Infirmary.
0730
Of all the countries in Europe, Greece has been hit hardest by austerity. That is the main issue at the elections on Sunday. John Humphrys explains why he is surprised at what has NOT happened in Greece during these years of austerity.
0750
There's been an angry response to the announcement that the official Chilcot Inquiry into the Iraq War will not publish its long-awaited report before the general election in May. The inquiry chairman, Sir John Chilcot, will set out his reasons for the further delay in an exchange of letters with David Cameron on Wednesday, according to Government sources. Tim Farron is the Liberal Democrats' foreign affairs spokesman.
0810
The election here in Greece at the weekend is seen as a battle between left and right, but it's just as much a battle between old and new.  Ever since the military dictatorship ended 40 years ago, the country has been run by the same two parties taking it in turn.  However, this election is different. The favourites to win are a party of the far left, Syriza, who had almost no support until very recently. John Humphrys has been speaking to a couple, Vangelis and Mika Yero Yannis, at their car dealership, to find out what makes the party so popular.
0820
There is some open mouthed horror in Westminster at the news of the delay of the Chilcott Inquiry into the Iraq war, a delay we are going to hear today that will take the publication beyond the election.  What impact if any will it have on politics? Nick Robinson is our political editor.
0825
We often get letters of complaint from listeners frustrated at the noise of presenters typing on their computer keyboard during interviews. How distracting or annoying is it for the listener? Is it rude to the guest, or are such noises to be expected given the live news environment? And what is the general etiquette with typing loudly in public? Tom Hodgkinson is editor of the Idler. Kate Chisholm is radio critic for the Spectator.
0830
Fifteen years after the end of the Harold Shipman murder trial, the Government's being urged to stop delaying bringing in changes to the system for certifying deaths which were meant to prevent more doctors murdering their patients. Chris Bird's mother Violet was murdered by Harold Shipman in 1993. Dr Suzy Lishman is president of the Royal College of Pathologists.
0840
Every year Davos is flooded with the world's political and business elite. This year, British government representation is rather thin on the ground, neither David Cameron nor George Osborne are here. However, the Duke of York will be, making his first public appearance since allegations of sex with an underage woman emerged in court papers filed in the United States.
0850
The Ukrainian military has accused Russia of attacking its forces in Eastern Ukraine. Military spokesman Andriy Lysenko said regular Russian units had attacked in the Luhansk region, much of which is under pro-Russian rebel control. There has been no independent verification of these claims: Russia denies sending troops into Ukraine but admits "volunteers" are fighting for the rebels. Oliver Carroll is a freelance journalist in Donetsk, writing for The Independent, Politico and Newsweek.

All subject to change.