Main content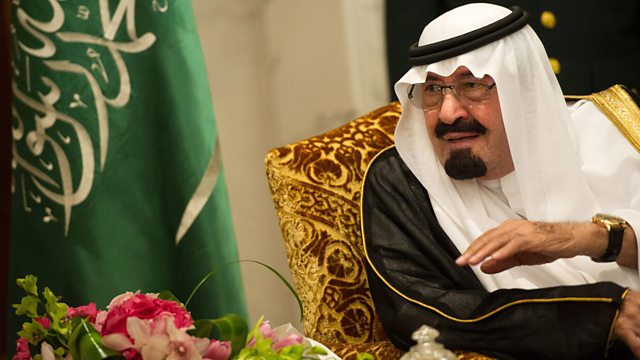 Lord Brittan, King Abdullah of Saudi Arabia, Professor John Bayley, Anne Kirkbride
Obituary series with Matthew Bannister, featuring Tory politician Lord Brittan, King Abdullah of Saudi Arabia, Oxford don John Bayley and Coronation Street actress Anne Kirkbride.
Matthew Bannister on
The former Tory Home Secretary Lord Brittan. As Leon Brittan, he also served as Secretary of State for Trade and Industry and as a European Commissioner.
Also: King Abdullah of Saudi Arabia. He was the thirteenth of at least forty-five sons of the founder of modern Saudi Arabia and seen as a cautious reformer.
John Bayley, the eccentric Oxford don whose memoir of his life with the novelist Iris Murdoch was made into a film.
And Anne Kirkbride the actress who played Deirdre in Coronation Street for more than forty years.
Lord Brittan
Matthew spoke to journalists Matthew Parris and Michael White.
Born 25 September 1939; died 21 January 2015 aged 75. 
King Abdullah of Saudi Arabia (pictured)
Matthew spoke live to the historian Robert Lacey who has written books about the Saudi kingdom.
Born August 1924(?); died 23 January 2015 aged 90.
Professor John Bayley
Matthew spoke live to his friend, Professor Valentine Cunningham.
Born 27 March 1925; died 12 January 2015 aged 89.
Anne Kirkbride
Damon Rochefort, one of the writers on Coronation Street, pays tribute.
Born 21 June 1954; died 19 January 2015 aged 60.
Credit
| Role | Contributor |
| --- | --- |
| Presenter | Matthew Bannister |