Main content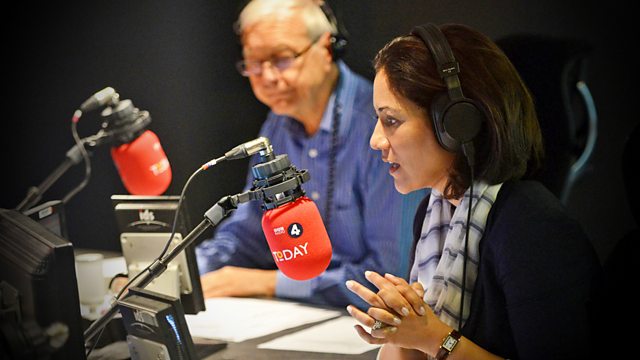 23/01/2015
Morning news and current affairs. Including Sports Desk, Yesterday in Parliament, Weather and Thought for the Day.
Clips

Today's running order
0650
People considering paying for cosmetic surgery need better information about who can carry it out safely, and the likely outcome, according to the Royal College of Surgeons. The college has published plans for safeguards, including a voluntary register requiring surgeons to show they have the appropriate skills and experience. But some surgeons say this should be compulsory. Steve Cannon is chair of the Cosmetic Interspecialty Surgeon Committee.
0710
King Abdullah of Saudi Arabia has died at the age of 90, ending the reign of the world's oldest monarch and leaving one of the most influential countries in the Middle East facing a period of fresh political uncertainty. Sir William Patey is former British Ambassador to Saudi Arabia.
0715
Broadcasters have put forward new proposals for the TV election debates after David Cameron refused to take part unless the Green Party was included. The BBC and ITV would stage debates involving the Conservatives, Labour, Lib Dems, Greens, UKIP, SNP and Plaid under the proposals. Whoi Bram Sschilham is political editor-in-chief at Dutch public broadcasters NOS.
0720
The Duke of York has reaffirmed previous statements made on his behalf by Buckingham Palace, that he had not had sex with an underage teenager. In his first public appearance since a US woman alleged she was forced to have sex with him when she was 17, Prince Andrew at the World Economic Forum in Davos said he was there to focus on his work. Ingrid Seward is editor in chief of Majesty magazine.
0730
Pro-smoking campaigners have criticised the government for its plans to introduce plain packaging for cigarettes.  The move could come in by 2016, but campaigners say there's no evidence that packets encourage people to smoke. Labour has already pledged to ban images on packets if it wins power. Doctors say the move would save thousands of lives. Australia became the first country to ban all images and words, apart from public health warnings, from cigarette packs in December 2012. Axel Gietz is director of corporate affairs for Imperial Tobacco Group Plc, who have 44% of the tobacco market in the UK.
0740
The spectre of crisis is once again hanging over Europe, the reason for the European Central Bank's big move yesterday was the flat lining of the Eurozone, a stubborn lack of growth that some fear could mark a permanent malaise. Its ramifications are being felt beyond the euro nations, Britain needs the recovery of the European market, and even Switzerland, which prides itself on being a safe haven, a bastion of order, has had a taste of instability in recent days. 
0750
Politicians have been remembering the former Conservative Home Secretary, Leon Brittan, who has died from cancer aged 75.  Lord Brittan served in Margaret Thatcher's Cabinet during the 1980s before spending a decade in Brussels as a European Commissioner. Last year, he denied claims he'd mishandled a dossier containing allegations about a paedophile ring in Westminster while he was in office.  Tom Symonds is BBC correspondent. Lord Deben is a former Conservative cabinet minister and lifelong friend of Leon Brittan.
0810
King Abdullah of Saudi Arabia has died at the age of 90 (see 0710). He'll be succeeded by his half-brother, Crown Prince Salman. Frank Gardner is BBC security correspondent. Robert Lacey is a historian and author of two books on Saudi Arabia.
0815
If the European Central bank's plan for the Eurozone is to work, it will need the banks to play along. The eurozone's biggest lender is the Spanish bank Santander, chaired by Ana Botin, who has just returned to Spain after running Santander UK, and who is the highest profile woman in the global banking industry.
0820
Brian May and Roger Taylor of Queen are currently on tour with new front man Adam Lambert. The former American Idol contestant sings all the parts originally performed by Freddie Mercury. But does it work? Can replacement front men ever do the original vocalist justice, or do they spoil the original identity of the band? Kate Mossman is arts editor of the New Statesman. Pat Kane is one half of the duo Hue & Cry.
0830
Glaxo Smith Klein has announced that the first batch of its candidate Ebola vaccine is being shipped to West Africa and is expected to arrive in Liberia later today. The shipment, containing an initial 300 doses of the candidate vaccine, is the first to arrive in one of the main Ebola affected countries and will be used to start the first large-scale efficacy trial of experimental Ebola vaccines in the coming weeks. Sir Andrew Witty is chief executive of Glaxo Smith Klein.
0840
Poor households with children and the richest families in the UK have lost most financially from the tax and benefit changes under the Coalition government, according the independent think tank the IFS. It says that middle to higher income groups emerged from the austerity years remarkably unscathed. James Browne is senior research economist and a co-author of the IFS report.
0845
The book that seems to be getting everyone talking this year is 'The End of Power' by Moises Naim, a former Venezuelan government minister who also edited the journal Foreign Policy. His book received an unexpected and stratospheric boost a few weeks ago when the Facebook founder Mark Zuckerberg chose it to launch his online book club. We speak to Moises Naim.
0850
After a summer of war in Gaza and bloody clashes on the West Bank, Israel has suffered a winter wave of attacks, the latest wounding a dozen bus passengers in Tel Aviv. The catalyst for much of all this was the abduction and murder of four teenagers, three Jewish and one Israeli Arab, in June and July. Yesterday we heard an interview with the parents of Naftali Fraenkel, one of the three Jewish boys who were abducted and murdered while hitching home from their religious school on the occupied West Bank. This morning, our Correspondent, Mike Thomson talks to the mother and father of 16 year-old Mohammed Abu Khdeir, who was killed in an apparent revenge attack for the deaths of Naftali and his two friends.
0855
Voices from families and loved ones telling familiar stories can help people come out of a coma according to new research. Neuroscientists at Northwestern Medicine and Hines VA Hospital found that when patients heard the voice of a family member calling out their name or reciting stories while they were in an MRI, showed increased brain activity, eventually leading to an earlier wake. Theresa Pape is lead author of research paper and neuroscientist in physical medicine and rehabilitation.

All subject to change.