Main content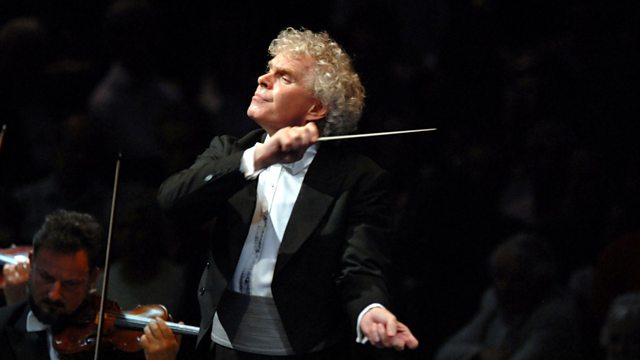 Simon Rattle conducts the City of Birmingham Symphony Orchestra in a concert given in Frankfurt. Beethoven: Symphony No 4; Funeral March (Leonora Prohaska); Symphony No 5.
Celebrating Simon Rattle: the complete Beethoven symphony cycle from 1995, recorded in Frankfurt with the CBSO. Tonight: Symphonies 4 and 5.
Presented by Tom Service
Beethoven: Symphony No 4
Funeral March from Leonora Prohaska, WoO96
Symphony No 5
CBSO
Conductor Simon Rattle
This cycle of Beethoven Symphonies and Overtures was recorded in Frankfurt when Sir Simon Rattle was Chief Conductor of the CBSO, and has never been broadcast before. It is a fascinating record of one of the most successful partnerships between conductor and orchestra in the history of British music.
Part 2:
Schoenberg: Five Orchestral Pieces
Webern: Six Orchestral Pieces
Berg: Three Orchestral Pieces
Berlin Philharmonic
Simon Rattle, conductor
Debussy: Rondes de Printemps
CBSO
Simon Rattle, conductor.
Stephen Johnson and the BBCSO with Grant Llewellyn explore Beethoven's Fifth Symphony.