Main content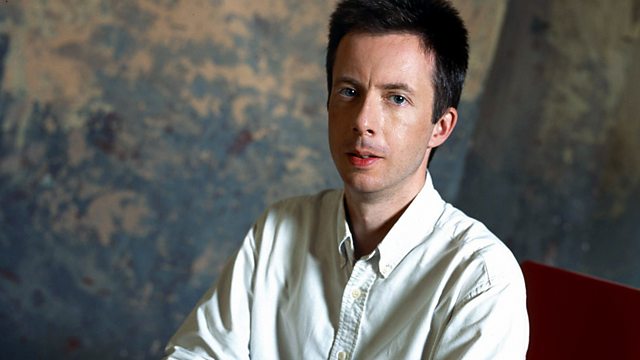 Swedish Radio Symphony Orchestra
John Shea's selection includes the Swedish Radio Symphony Orchestra performing works by Brahms, Faure and Debussy. Paul Lewis is the soloist in Brahms's First Piano Concerto.
The Swedish Radio Symphony Orchestra play works by Brahms, Faure and Debussy. Paul Lewis is the soloist in Brahms's First Piano Concerto. John Shea presents.
12:31 AM
Brahms, Johannes
Concerto no. 1 in D minor Op.15 for piano and orchestra
Paul Lewis (piano); Swedish Radio Symphony Orchestra; Daniel Harding (conductor)
1:21 AM
Fauré, Gabriel
Pelleas et Melisande - suite Op.80
Swedish Radio Symphony Orchestra; Robin Ticciati (conductor)
1:39 AM
Debussy, Claude
La Mer - 3 symphonic sketches for orchestra
Swedish Radio Symphony Orchestra; Robin Ticciati (conductor)
2:05 AM
Weber, Carl Maria von (1786-1826)
Quintet for Clarinet and Strings in B flat (J.182) (Op.34)
Lena Jonhäll (clarinet) with the Zetterqvist String Quartet: Mats Zetterqvist & Per Sporrong (violins), Mikael Sjögren (viola), Ewa Rydström (cello)
2:31 AM
Schutz, Heinrich [1585-1672]
3 sacred pieces - Anima mea liquefacta est SWV.263 for 2 tenors, 2 instruments and organ (from "Symphoniae sacrae" 1629); Adjuro vos, filiae Jerusalem SWV.264 for 2 tenors, 2 flutes and continuo; Siehe, wie fein und lieblich ist (Psalm 133) SWV.412 for chorus, 5 instruments and continuo
Kölner Kammerchor , Collegium Cartusianum, Peter Neumann (conductor)
2:45 AM
Martinu, Bohuslav (1890-1959)
Polkas and Études for Piano, Book III
Antonín Kubálek (piano)
2:54 AM
Haydn, (Franz) Joseph [1732-1809]
Symphony no. 73 (H.1.73) in D major "La Chasse"
Slovenian Radio & Television Symphony Orchestra, Pavle Dešpalj (conductor)
3:16 AM
Szymanowski, Karol (1882-1937)
String Quartet No.2 (Op.56)
Royal String Quartet
3:34 AM
Mendelssohn, Felix (1809-1847)
Sonata in D major (1844) (Op.65 No.5)
Erwin Wiersinga (organ)
3:43 AM
Satie, Erik (1866-1925), arr. for orchestra by Darius Milhaud (1892-1974)
Jack-in-the-box pantomime
CBC Vancouver Orchestra, Mario Bernardi (conductor)
3:50 AM
Tchaikovsky, Pyotr Il'yich [1840-1893]
Tatyana's Letter Scene from the opera "Eugene Onegin" (Act I Scene 2)
Joanne Kolomyjec (soprano, Tatyana), Calgary Philharmonic Orchestra, Mario Bernardi (conductor)
4:03 AM
Berlioz, Hector (1803-1869), transcribed by Liszt, Franz (1811-1886)
Danse des sylphes (S.475) transc. for piano from 'La Damnation de Faust'
Wanda Landowska (piano)
4:08 AM
Monteverdi, Claudio (1567-1643); text: Ottavio Rinuccini (1562-1621)
Lamento della ninfa (from libro VIII de madrigali - Venice 1638)
Concerto Italiano; Rinaldo Alessandrini (harpsichord & director)
4:13 AM
Kreisler, Fritz (1875-1962)
Praeludium and allegro in the style of Gaetano Pugnani for violin and piano
Tobias Ringborg (violin), Anders Kilström (piano)
4:19 AM
Vivaldi, Antonio (1678-1741)
Concerto in C major, RV.444 for recorder, strings & continuo
Il Giardino Armonico: Giovanni Antonini (recorder/director), Enrico Onofri & Marco Bianchi (violins), Duilio Galfetti (violin/viola), Paolo Beschi (cello), Paolo Rizzi (violone), Luca Pianca (theorbo), Gordon Murray (harpsichord)
4:31 AM
Mozart, Wolfgang Amadeus (1756-1791)
Divertimento in D major (K.136)
National Arts Centre Orchestra, Pinchas Zukerman (conductor)
4:45 AM
Rachmaninov, Sergey [1873-1943]
Prelude no.13 in D flat major
Lukas Geniusas (piano)
4:51 AM
Cavalli, Francesco (1602-1676)
Dixit Dominus à 8 - from 'Musiche sacre concernenti messa, e salmi concertati con istromenti, imni, antifone et sonate' (Venice 1656)
Balthasar-Neumann-Chor, Balthasar-Neumann-Ensemble, Thomas Hengelbrock (conductor)
5:03 AM
Glinka, Mikhail Ivanovich [1804-1857]
Overture from Ruslan i Lyudmila
Oslo Philharmonic Orchestra, Vladimir Jurowski (conductor)
5:08 AM
Abel, Carl Friedrich (1723-1787)
Trio in F major for 2 flutes and continuo
Karl Kaiser and Michael Schneider (flutes), Rainer Zipperling (cello), Harald Hoeren (harpsichord)
5:17 AM
Sibelius, Jean (1865-1957)
Petite Suite - for brass septet
Royal Academy of Music Brass Soloists
5:25 AM
Hellendaal, Pieter (1721-1799)
Concerto grosso for strings and continuo in F major, Op.3/3
Combattimento Consort Amsterdam
5:36 AM
Beethoven, Ludwig van (1770-1827)
Sonata for piano No.17 in D minor (Op.31 No.2) 'Tempest'
Sviatoslav Richter (piano)
6:00 AM
Moritz, Landgrave of Hessen-Kassel (1572-1632)
Pavan
Nigel North (lute)
6:05 AM
Britten, Benjamin (1913-1976)
Serenade for tenor, horn and string orchestra (Op.31)
Benjamin Butterfield (tenor), James Sommerville (horn), Manitoba Chamber Orchestra, Simon Streatfield (conductor).