Main content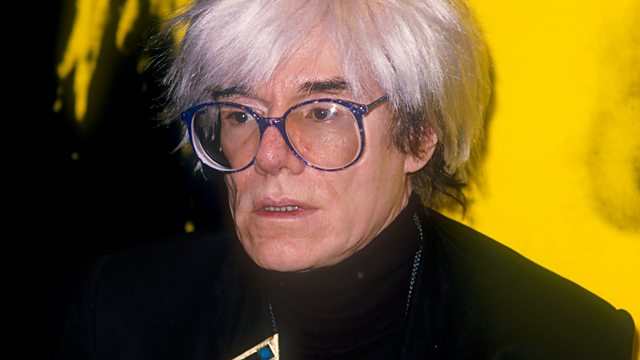 Andy Warhol's Factory Friends
Paul Morley talks to those who lived, worked and visited Andy Warhol's Factory in New York, most famous for being associated with Candy Darling and Edie Sedgwick.
It's fifty years since Andy Warhol opened his first factory in New York - an artist's studio and a centre of the counter-culture; a creative hub; a social melting pot; a workplace and a dive.
Smoking pot on the roof or screen printing in the studio, the Factory drew celebrities from David Bowie to Elizabeth Taylor, to be painted, fed or feted. But it was the young artists, poets, drug addicts, transsexuals and the society girls gone mad or bad, who along with Warhol himself created the legend of the Factory.
Legend maybe, but the truth, as presenter Paul Morley says, "is more prosaic". So many of the more famous Factory people died young. Candy Darling, the gorgeous transgender acolyte; Valerie Solanas, who shot Warhol; Edie Sedgwick, Factory superstar, and dancer Freddy Herko. Last year alone several more central Factory people died - Ultra Violet, Lou Reed and Taylor Mead amongst them.
Many more are left - but they are probably somewhat less famous - though they are survivors. Some are wise, and some are even prepared to talk.
Whether there for a day or years, visiting the Factory, and Andy Warhol, left a lasting impression on all of these Factory survivors. In tenements and tea rooms, Paul Morley - who briefly met Warhol himself - tracks down survivors to hear first-hand accounts of life before and after the Factory.
He meets Warhol superstar Bibbe Hansen, mother of Beck, who found her way into the Factory at the age of 14; Robert Heide, playwright and witness to intimate moments in Warhol's relationship; Vincent Freemont, film-maker and self-confessed Warhol 'Lifer'; Bob Colacello editor of 'Interview' magazine at 23; and photographer Christopher Makos, Californian surf-boy who was friends with Warhol till the final days.
Morley also burrows beneath the Manhattan sidewalks to find artist Robert Yucakis, now caretaker at the Tenement Musuem, who brushed against the Silver Factory's walls and moved away to preserve his sanity.
He also pays homage to the Warhol collection at MOMA, and hears from film maker Catherine O'Sullivan-Shorr, who once had the Velvet Underground staying in her spare-room.
Related links
Transmitting Andy Warhol - http://www.tate.org.uk/whats-on/tate-liverpool/exhibition/transmitting-andy-warhol
Warhol After Dark - http://www.tate.org.uk/whats-on/tate-liverpool/special-event/warhol-after-dark
Producer: Sara Jane Hall.
Last on
Broadcasts

Featured in...
Katie Derham shares her favourite moments from across the year on Radio 3