Main content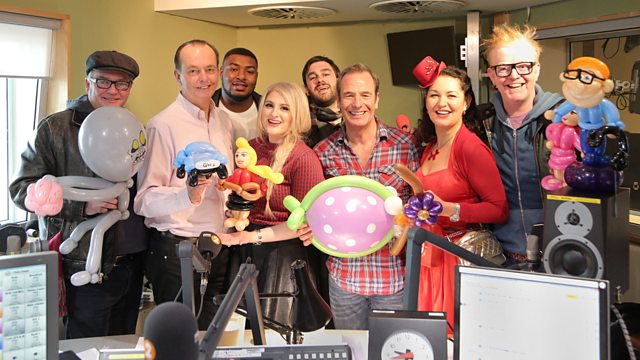 Charlie Higson, Robson Green, Quentin Willson, Meghan Trainor and Miss Ballooniverse
Chris gets that Friday feeling going with 500 Words judge Charlie Higson, actor and fisherman Robson Green, car crazy Quentin Willson, singer Meghan Trainor and Miss Ballooniverse.
Last on
Clips

Music Played
Steve Harley & Cockney Rebel

Make Me Smile (Come Up and See Me)

20 Number 1's Of The 70's (Various).
MFP.

The Waterboys

November Tale

Modern Blues.
Harlequin And Clown.
001.

Imelda May

Johnny Got A Boom Boom

(CD Single).
Universal Classics & Jazz.
1.

Faces

Stay with Me

Glam Crazee - Various Artists.
Virgin.

Squeeze

Up The Junction

Big Squeeze: The Very Best Of Squeeze.
Universal/A&M.

Si Cranstoun

Never Gonna Let You Go

(CD Single).
EastWest.
001.

Manic Street Preachers

(It's Not War) Just The End Of Love

(CD Single).
Columbia.
16.

Florence + the Machine

You've Got The Love

Now That's What I Call Music 74 (Various Artists).
Now.
5.

The Marcels

Blue Moon

60's Number Ones Vol 1.
Old Gold.

Simple Minds

Let The Day Begin

(CD Single).
Caroline.
001.

Dexys Midnight Runners

Jackie Wilson Said (I'm in Heaven When you Smile

Very Best Of Dexy's Midnight Runners.
Mercury.

Morecambe & Wise

Bring Me Sunshine

Summer Holiday (Various Artists).
Sony Music.

Pratt & McClain

Happy Days

Television's Greatest Hits Volume 3 70s & 80s.
Silva Screen Records Ltd.

Queen

Love Kills

(CD Single).
Virgin EMI Records.

The Proclaimers

I'm Gonna Be (500 Miles)

Now 13, Part 2 (Various Artists).
Now.

Jack Savoretti

Home

(CD Single).
BMG Chrysalis.
Pause for Thought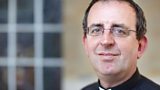 From Rev'd Richard Coles, cleric and broadcaster:<?xml:namespace prefix = "o" ns = "urn:schemas-microsoft-com:office:office" />
Watching Wolf Hall? Skulduggery by candlelight, everyone wearing hats indoors, men of unimaginable power with desperately vulnerable necks. Peter Cosminsky's telly version of Hilary Mantel's books is a tour de force, capturing the deadly huddle of Tudor politics as compellingly as I Claudius did the deadly politics of Ancient Rome for a telly viewers in the70s.
Tudor politics – of which as a Church of England parson I'm an outcome – are fearsomely complex and bewilderingly distant from our own age (although in City boardrooms and indeed on the executive floor of Broadcasting House fates of lesser mortals are decided no less pragmatically). So to make such sense of that era and do so with such clarity is a praiseworthy achievement indeed.
Particularly deserving of praise is the hypnotising performance of Mark Rylance as Thomas Cromwell, Henry VIII's universally competent Secretary. A glance here, a slight incline of the head there; sometimes just not doing anything at all; a triumph of understatement that reveals not what the character does, but who the character is.
This is compelling, I think, not only because its technically dazzling but because it reminds of an essential truth. We are human beings, not just human doings. In snakes-and-ladders worlds where reputations are made and lost, it is all too easy to lose sight of that, which is why Thomas Cromwell, unmoved and unmoving at the centre of things, is so watchable. What would he have made of our world and its power politics, insisting on numbers for everything, net present values, captured with metrics about as sensitive and sophisticated as Call of Duty Black Ops Declassified, capturing, in fact, nothing worth knowing, missing what's essential.
We're not primarily about doing – we're about being – and all that guff about Key Performance Indicators, measurable outcomes and baseline assessments completely misses the point. And if that sounds elitist, it isn't, because I don't just mean Tudor potentates, or Executive Heads of Down-Cascading Multiplatform Content, I mean everyone – it's what we're all all about: being first; not doing.
Smelling the flowers, ambling around, looking at stuff.  
Broadcast